Bite Size Apple Pies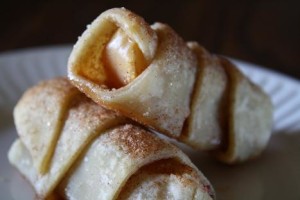 ½ c. sugar
2 tsp. cinnamon
1 pkg. (14.1 oz..} refrigerated pie crust
3 tbsp. melted butter, divided
2 medium tart apples, each cut into 8 wedges
In a small bowl, combine the sugar and cinnamon. Set aside 1 tablespoon of the mixture.
On a lightly floured surface, unroll the pie crust. Brush the crust with 2 tablespoons of melted butter, sprinkle with the cinnamon sugar (except the 1 tablespoon you set aside).
Cut each pastry sheet into 8 one-inch strips, each will be about 8 inches long. Wrap one strip around each apple wedge, placing sugared side of pastry against apple.
Place the wrapped apples on a parchment paper (or Silpat) lined baking sheet. Brush the top of each mini apple pie with melted butter and sprinkle with the remaining cinnamon sugar. Bake at 425 for 13-15 minutes or until pastry is golden brown. Serve warm.