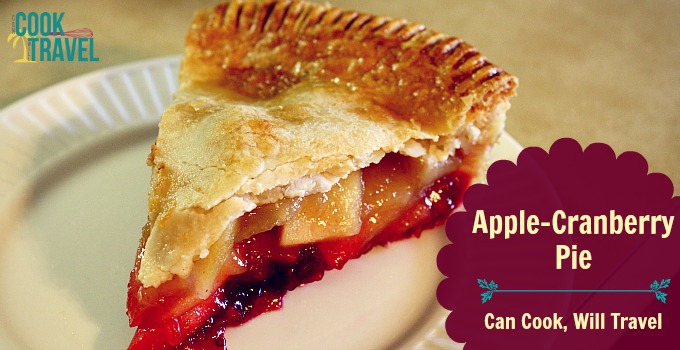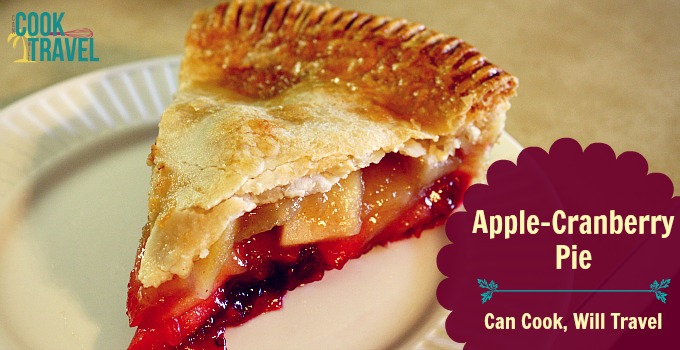 (Recipe can be found at Cook's Illustrated site here.)
Step by Step Instructions:


This pie is full of flavor and all you need is this: 2 Pie crusts (for top and bottom layers of pie), Corn Starch, Cinnamon, 1 Egg White, Orange Juice, Sugar, 2 cups of Fresh or Frozen Cranberries, Salt, 6-7 medium-sized sweet apples that are peeled, cored, and sliced about 1/4 inch thick (I used Fuji apples).

Begin by combining 2 cups of cranberries, 1/4 cup of orange juice, 1/2 cup of sugar, 1/4 teaspoon of cinnamon, and 1/4 teaspoon of table salt in a medium saucepan over medium-high heat. You'll want to bring the mixture to a boil and stir regularly.

Then in a large bowl combine 1 tablespoon of cornstarch, 1/2 cup of sugar, 1/4 teaspoon of cinnamon, and 1/4 teaspoon of salt.

Then add the apples to the bowl and combine the mixture well. While the cranberries cook, heat the apple mixture in a microwave-safe bowl stirring every 3 minutes.

After about 10 minutes, the cranberries are cooked. You'll be able to tell when you scrape the bottom of the pan and the mixture doesn't cover it back up (as you'll see above). The mixture will be a jam-like consistency.

Remove the pan from the heat and add 1/4 cup of water and stir the cranberry mixture. Let the pan sit and cool. It will take about 30 minutes.

After about 10-14 minutes of microwaving the apples, they are cooked. The liquid will be thick and glossy and the apples will be tender and will begin to be translucent on the edges. Can I just say how amazing my kitchen smelled at this point?! Let the apple mixture cool as well. It will also take about 30 minutes for them to cool. At this point I put the 2 cooled fillings into storage containers and refrigerated them. But once they are cool, you can proceed with putting the pie together.

Preheat the oven to 425 degrees. Place a cookie sheet rimmed cookie sheet in the oven to preheat as well. Roll out 1 disc of dough to 12-inches in diameter on a floured surface. I used pre-made pie crust, but I still needed to roll them out slightly to get it to a 12-inch circle.

Then carefully roll the dough onto the rolling pin to help you ease it into the pie plate. You'll want about an inch of dough around the edges

Using a spoon, I carefully spread the cranberry filling over the bottom of the pie plate so that it was in an even layer.

The apple mixture is then spooned carefully over the cranberry layer and mounded up slightly in the center of the pan as shown above.

Using the same process with the first crust, roll it into a 12-inch circle and carefully lay it over the top of the crust.

I used kitchen shears to cut off the dough so only half an inch was hanging over the side of the pie plate. Then I folded the edges of both crusts over and tucked them under so that the edge of the crust was at the edge of the pie plate.

With a fork, I pressed the edges together so that they were crimped and sealed.

Finally I whisked an egg white and brushed it over the top of the pie and the edges of the crust. Then I sprinkled 1 tablespoon of sugar over the top.

Then I placed the pie on the rimmed sheet (I lined mine with parchment paper) and baked it for 20-25 minutes. You want the pie to be light golden brown.

Here you can see the pie as it was lightly browned. I turned the heat of the oven down to 375 and baked the pie for 25-30 minutes until it was a deep brown.

Here is my baked pie. Doesn't it look so delicious?! Not bad for my first try. This pie was perfectly balanced with tart and sweet flavors and is perfect for the holiday season. Hope you enjoy – goodness knows I did!!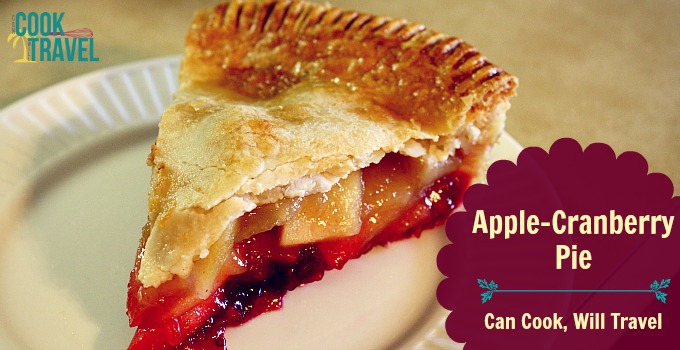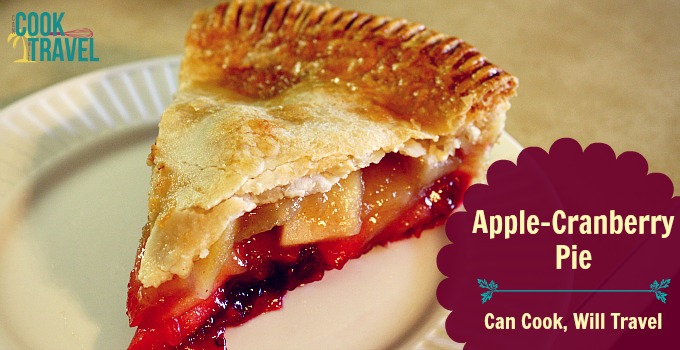 Apple-Cranberry Pie
Tip: Use sweet, crisp apples, such as Golden Delicious, Jonagold, Fuji, or Braeburn. The two fillings can be made ahead, cooled, and stored separately in the refrigerator for up to 2 days.
Ingredients
2 cups fresh or frozen cranberries
¼ cup orange juice
1 cup granulated sugar (7 ounces) plus 1 tablespoon for top of pie
½ teaspoon ground cinnamon
½ teaspoon table salt
¼ cup water
1 tablespoon cornstarch
3½ pounds sweet apples (6 to 7 medium), peeled, cored, and cut into ¼-inch-thick slices (see note above)
1 recipe pie dough
1 egg white, beaten lightly
Preparation Instructions
Bring cranberries, juice, ½ cup sugar, ¼ teaspoon cinnamon, and ¼ teaspoon salt to boil in medium saucepan over medium-high heat. Cook, stirring occasionally and pressing berries against side of pot, until berries have completely broken down and juices have thickened to jam-like consistency (wooden spoon scraped across bottom should leave clear trail that doesn't fill in), 10 to 12 minutes. Remove from heat, stir in water, and cool to room temperature, about 30 minutes.
Meanwhile, mix ½ cup sugar, remaining ¼ teaspoon cinnamon, remaining ¼ teaspoon salt, and cornstarch in large microwave-safe bowl; add apples and toss to combine. Microwave on high power, stirring with rubber spatula every 3 minutes, until apples are just starting to turn translucent around edges and liquid is thick and glossy, 10 to 14 minutes. Cool to room temperature, about 30 minutes.
While fillings cool, adjust oven rack to lowest position, place rimmed baking sheet on oven rack, and heat oven to 425 degrees. Remove 1 disk of dough from refrigerator and roll out on generously floured (up to ¼ cup) work surface to 12-inch circle about ⅛ inch thick. Roll dough loosely around rolling pin and unroll into pie plate, leaving at least 1-inch overhang. Ease dough into plate by gently lifting edge of dough with one hand while pressing into plate bottom with other hand. Leave dough that overhangs plate in place; refrigerate until dough is firm, about 30 minutes.
Transfer cooled cranberry mixture to dough-lined pie plate and spread into even layer. Place apple mixture on top of cranberries, mounding slightly in center; push down any sharp apple edges.
Roll second disk of dough on generously floured work surface (up to ¼ cup) to 12-inch circle about ⅛ inch thick. Roll dough loosely around rolling pin and unroll over pie, leaving at least 1-inch overhang on each side.
Using kitchen shears, cut evenly through both layers of overhanging dough, leaving ½-inch overhang. Fold dough under itself so that edge of fold is flush with outer rim of pie plate. Flute edges using thumb and forefinger or press with tines of fork to seal. Brush top and edges of pie with egg white and sprinkle with remaining tablespoon sugar. Using sharp paring knife, cut four 1½-inch slits in top of dough in cross pattern.
Place pie on preheated baking sheet and bake until top is light golden brown, 20 to 25 minutes. Reduce oven temperature to 375 degrees, rotate baking sheet, and continue to bake until crust is deep golden brown, 25 to 30 minutes longer.
Transfer pie to wire rack to cool at least 2 hours. Cut into wedges and serve.
0