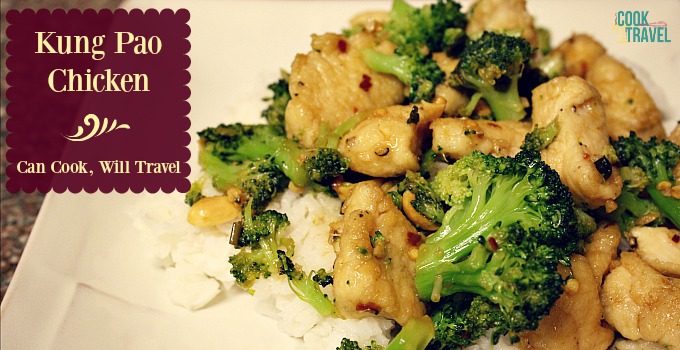 (This Kung Pao Chicken recipe can be found on the Iowa Girl Eats site here.)
Step by Step Instructions:


What I really loved about this recipe is that all I needed to grab at the store was chicken, broccoli, and corn starch. I love when I have nearly everything on hand. Here is what you'll need: Crushed Red Pepper Flakes, Minced Garlic, a Large Chicken Breast cut in 1 inch pieces, Ground Ginger, Sesame Oil, Peanuts (unsalted), Broccoli Florets (about 2 cups), 3 Tablespoons of Green Onions, Corn Starch, Soy Sauce, Rice Vinegar, Salt & Pepper, and Sugar.

I started off by cooking rice. I made plenty because I have no problem with left over rice. While the rice was cooking I sliced the green onions and cut up the chicken breast. Then I also microwaved my steam in the bag broccoli, but you can also steam it in a steamer if you cut up your own. Check out that multitasking!

I started off by seasoning the chicken with salt and pepper and then I sprinkled at least a tablespoon of cornstarch on the chicken and tossed the chicken a bit so it was lightly coated.

You can then use a strainer and shake off the excess cornstarch. Seriously this was my least favorite part of making this recipe, but the end result was so worth it. Carrying on…

Time for the flavor! In a bowl I combined the 3 tablespoons of green onions, 3 minced garlic cloves, 1/2 teaspoon of crushed red pepper flakes and 1/2 teaspoon of powdered ginger…

…and combine this mixture. Between the ginger and garlic, I could tell this dish was going to be awesome.

Then I put 2 tablespoons of rice vinegar and 2 tablespoons of soy sauce in a bowl along with 2 teaspoons of granulated sugar. I stirred the mixture and then microwaved it for about 30 seconds and stirred it again so that the sugar had dissolved.

Now it's time to cook! I don't have a wok, so I heated 2 teaspoons of sesame oil, and yes, I would go to the trouble of finding sesame oil, because it really does add to the flavors in this dish.

Once the oil is hot, I added the chicken and stirred it as it cooked for about 5 minutes until it was lightly browned. Then remove the chicken and place it on a plate.

Once the chicken is removed from the pan, add the green onion and garlic mixture and cook it in the pan for about 15 seconds.

Then add the soy sauce and rice vinegar mixture and cook it for another 15-30 seconds.

We're almost done. Just add the chicken back to the pan along with the steamed broccoli and 2 tablespoons of peanuts and stir the mixture so it's well combined, and voila you're practically done!

Just serve the kung pao chicken over the cooked rice and enjoy! This was seriously yummy and the leftovers heated up well, if you have anything left. Hope you enjoy this delightful Chinese food from scratch!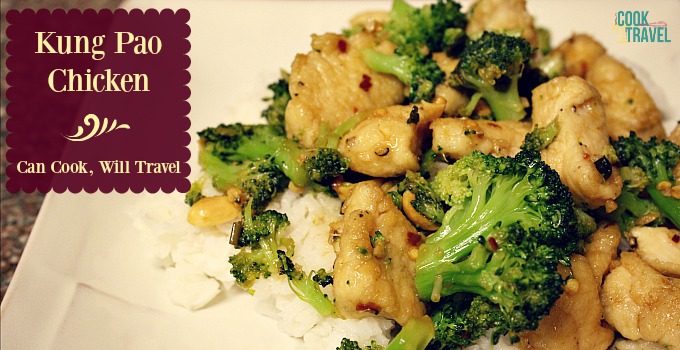 Kung Pao Chicken
If you're ready for a dish that's healthy and packed with flavor, then you're ready for this Kung Pao Chicken! Seriously so good!
Ingredients
1 large Chicken Breast, cut into 1-inch pieces
Salt & Pepper
1 Tablespoon Cornstarch
2 teaspoons Sesame Oil
3 Tablespoons Green Onions, chopped
3 garlic Cloves, minced
½ teaspoon crushed Red Pepper Flakes
½ teaspoon Groun Ginger
2 Tablespoons Rice Vinegar
2 Tablespoons Soy Sauce
2 teaspoons Sugar
2 cups Broccoli, steamed
2 Tablespoons Peanuts
Preparation Instructions
Lightly season chicken with salt & pepper. Dredge in the cornstarch and shake off excess in a colander.
Combine green onions, garlic cloves, red pepper flakes and powdered ginger in a small bowl, then set aside. Combine soy sauce, rice vinegar and sugar in a small bowl. Microwave for 30 seconds to dissolve sugar, then set aside.
Heat a wok or large skillet on med-high (~325 degrees on an electric wok.) Add sesame oil and, when hot, add chicken. Cook until chicken is no longer pink, ~5 minutes. Remove to a plate.
Add green onion mixture to the wok and cook, stirring constantly for 15 seconds. Add soy sauce mixture to the wok and let bubble for 10-15 seconds, or until it begins to thicken slightly. Add chicken back into the wok, along with broccoli and peanuts. Stir to combine. Turn off heat and serve over rice.
0