I love when a plan comes together! Okay well technically this was my plan for last week, but I'll get to that in a sec. Since recently I shared my ultimate list of Pumpkin Recipes, it only made sense I give Pumpkin Sage Gnocchi a shot. After all, I've done a ton of other pumpkin recipes but never a gnocchi. So I've had it on my mind to make gnocchi again, so why not a pumpkin kind?!
So back to last week, and hopefully you didn't notice, but no recipe post graced the blog. No post at all actually, which is a first for me in the nearly 8 years I've been at this blogging thing. But if I've learned anything over the years, it's to listen to body and give myself grace.
You see, I was worn the F out last week. I had been up at my parents' home (about an hour and a half from KC), and for 2 straight days my sis, my mom, and I tackled cleaning one of the rooms. In all honesty it exhausted me but was incredibly rewarding to see us make massive progress. I'm not sure I've felt that accomplished since getting my Masters degree, so I'm actually on board with hitting another room soon! (Mom, commence your happy dance!)
And I got home and just felt thrown off with my schedule and work was wearing me out. So my gut just said to give myself rest. After all, I was about to leave town Friday for 2+ days to go to Mizzou's Homecoming festivities. So I was running out of time and energy.
What you may not know when reading these posts is the huge amount of time, energy, and love that goes into each one. When it's a recipe post, there's the recipe development, cooking, photographing, writing of post and recipe post, editing pics, and creating the pretty blog images (many, many hours). And the last thing I wanted to do was to not give you my best work, so I decided to wait a week. And guess what…the world continued on and most people probably didn't even notice!
I wanted to share that story to give you a bit of encouragement to listen to your body and your gut, because it usually steers you right.
Now I knew I wanted to whip up this Pumpkin Sage Gnocchi, because I love gnocchi and really wanted to hone my skills. This will be my third post and fourth recipe featuring gnocchi, so that's fun! My first attempt at gnocchi was a traditional kind with white potatoes. Then after a trip to Napa and a visit to Michael Chiarello's restaurant there, I whipped up a ricotta gnocchi that was DIVINE!
But this week I wanted to do things a bit differently with this Pumpkin Sage Gnocchi recipe. So I'm still trying to lose weight, and last weekend's Homecoming escapades set me back a bit. So I wanted to make this gnocchi a bit healthier and keep it dairy free.
Here's how I made my Pumpkin Sage Gnocchi a little more nutritious:
Used sweet potatoes instead of white potatoes so that it had less carbs, calories, and still had tons of vitamins A & C. Plus you'll find potassium and B12. White potatoes have a little more carbs & calories, so I was making an effort, but I love them so! I also love the sweet potatoes keep the gnocchi more orange so it's a nod to the pumpkin.
Using DF butter, but ghee or regular butter will work if you don't care about dairy. It's not exactly healthy but it's what I hand on hand and it works well.
Vegan Parmesan is another great option if you're wanting to skip dairy, so I'm a fan of this one. I used it on my Garlic Parmesan Wings recently and it added great texture and flavor to this dish.
I opted not to use AP flour but went with a sprouted whole wheat flour to see how it would work. AP flour is amazing to work with and very reliable, but it's also had the good stuff in wheat stripped out of it and is considered "refined". This way I could use something healthier with the same benefit from flour. I may experiment with gluten free options in the future, so stay tuned there!
What's great is you don't need a lot of butter, so I could see myself using ghee or butter next time. But I really was curious how the Earth Balance brand would do, and it worked well. And the sage – oh the sage – is a MUST. Go to the store and pick some up, let it crisp up in the butter, and then thank me later. It's earthy and adds a great balance to the savory gnocchi!
Now let's talk kitchen equipment, shall we? I find 3 tools really useful when making Pumpkin Sage Gnocchi. The first is the potato ricer, which I have had for years, because an ex-boyfriend loved riced potatoes. So that was a lucky purchase! It helps break up the baked potatoes but keeps them really light and fluffy.
The second one is the spider, which honestly looks really badass in your utensil holder. But it's a fantastic way to transfer your gnocchi to the boiling water and also get it out of the water with ease. Since you usually cook gnocchi in batches, using the spider is great for removing the gnocchi without wasting the boiling water.
Finally I love my bench scraper anytime I'm working with doughs. It allows me to scrape the dough from my counters and cutting boards so I'm not wasting any. Plus the edge is sharp enough to help me cut my dough into even pieces without dealing with a knife.
Check these 3 items out here:

As soon as I took a bite of the Pumpkin Sage Gnocchi, I was so happy. The gnocchi was still light without falling apart, and it wasn't super pumpkin-y. Just the right amount of Fall spices and flavors! And the browned butter sage sauce was fantastic for keeping it light and not weighing down the gnocchi. Now I do love some marinara on ricotta & potato gnocchi, but I think since it's sweet potatoes & pumpkin, the browned butter lets the veggies' flavors shine. And that sage, do I need to mention it again, cuz I will – it's fab! My only regret is not using enough sage, so I'll definitely add more next time.
This savory dish is fantastic, and it's surprisingly easy! I also cooked half of the gnocchi and then formed the rest so I could cook it when I was ready. But if you have the time, just cook it all at once. The uncooked gnocchi was pretty sticky, but still I could work with it in a pinch. Don't let it stay uncooked too long…maybe 48 hours tops.
So drop what you're doing and embrace the Fall pumpkin craze we all pretend to roll our eyes at but secretly love. And go make this Pumpkin Sage Gnocchi straight away, so you can impress all your friends and family! I know I plan to keep this dish in the Fall meals rotation, so check out the step by step photos in that link. Happy gnocchi making!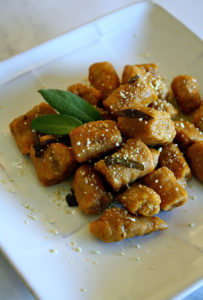 Print
Pumpkin Gnocchi with Sage Browned Butter
Yield 4 servings
This simple dish is a perfect way to enjoy the flavors of Fall!
Ingredients
Gnocchi Ingredients:
8 oz. baked Sweet Potatoes (approximately - I used 2 small potatoes)
1 Egg
1 cup Pumpkin Purée
1 cup Sprouted Whole Wheat Flour (or flour of choice like AP flour)
1/2 t. Pumpkin Pie Spice
3/4 t. Salt
1/2 t. Pepper
Browned Butter Sauce:
4 T. Butter of Choice (I went with Earth Balance to keep it dairy free)
8-16 Sage Leaves, washed, dried, and torn or sliced
Toppings:
Vegan Parm (or regular Parmesan cheese)
Fresh Sage (optional)
Instructions
Prep Work: Begin by baking your potatoes in the microwave, then let them cool enough that you can handle them. While the potatoes bake, measure out your pumpkin, wash and dry your fresh sage, and bring a pot of water to a boil.

Gnocchi: Scoop out the potatoes from the skin and put them in a ricer and rice the sweet potatoes into a bowl. Then add the egg and pumpkin and stir well. Finally add about a cup of flour plus the pumpkin pie spice and salt and pepper to the mixture and combine. If you need to add more flour if it's too wet, or add some water if it's too dry, you can do that.

Forming the Gnocchi: Flour a cutting board lightly and knead the gnocchi on the board until it's well combined. Then cut the dough into 8 equal pieces. Flour the surface and roll each piece into a 1/2-3/4" log and cut the log into about 1-inch pieces. Then you can roll the gnocchi on the back of a fork for a traditional gnocchi look with the ridges. Repeat with all 8 pieces.

Cooking the Gnocchi: In batches (I did one log at a time), transfer the gnocchi with a spider to the boiling water and cook for 3 1/2 to 4 minutes. Then use the spider to transfer the gnocchi to a drainer. Repeat with however much of the gnocchi you'd like to make at that time. You can always roll out the gnocchi and then refrigerate for up to 3 days.

Browned Butter Sauce: Heat a pan over medium-high heat and melt the butter. Then add the fresh sage to the butter as it starts to brown. Once the butter is brown, remove it from the heat and add the cooked gnocchi to it, toss and serve right away. Top with Vegan or regular Parm and fresh sage if you desire. Enjoy!
Courses Side Dish
Cuisine Italian
Nutrition Facts
Serving Size 1/4 recipe
Amount Per Serving

Calories 294

% Daily Value

Total Fat 13 g

20%

Saturated Fat 4 g

20%

Unsaturated Fat 7 g

Cholesterol 47 mg

16%

Sodium 610 mg

25%

Total Carbohydrates 38 g

13%

Dietary Fiber 6 g

24%

Sugars 6 g

Protein 7 g

14%
* Percent Daily Values are based on a 2,000 calorie diet. Your daily values may be higher or lower depending on your calorie needs.
A look back:
One year ago: Learning ❤️to Salads – Part 23: Kale Autumn Salad
Two years ago: Cheesy Corn Bacon Jalapeño Dip = Touchdown!
Three yeas ago: Banana Nut Bread Waffles Means I Heart Breakfast Even More!
Four years ago: Homemade Pretzels with Sriracha Beer Cheese Sauce … Oh My Goodness, These Are Good!
Five years ago: Ale and Cheddar Soup Saves the Day
Six years ago: Ravioli + Green Beans = Surprisingly Yummy
Seven years ago: Calling All Cauliflower
0