I haven't made a hot chocolate (even in the packet) in years, but this chilly Midwest weather had me craving it. But I didn't want to hit the packet, naturally, so I decided to whip up my own version. With superfoods, cayenne, and a lot of marshmallows, this Spicy Hot Chocolate became my new favorite!
Here's the thing, it took me 3 tries to come up with this recipe, but it was worth every taste test! I mean, twist my arm to test out hot chocolate, right?!
Round 1 was way too chocolate-y in a bitter way. Round 2 was almost there but still just a tad too chocolate-y but less bitter. And just like Goldilocks & the 3 Bears, round 3 was just right! (Sorry couldn't help myself there!)
Typical hot chocolate has lots of sugar and cocoa powder, and I wanted to make mine a little better for you and have more flavor. First thing I did was play with the sweetness by removing refined white sugar altogether.
The 2 things I did to replace sugar was to use pure maple syrup and liquid stevia. I always have maple syrup on hand for baking and breakfast-eating, and it gives a a richer sweetness. I add a couple of drops of liquid stevia to my morning coffee, so I dropped some in this Spicy Hot Chocolate to round it out. So good!!
And here's the thing with cocoa powder we're used to… it's not all that great for you. So in an effort to experiment with the Cacao Powder I got from Thrive Market, I gave it a try so it was a bit healthier. Thrive Market says that this powder is loaded with antioxidants (for cell protection), magnesium (for enhanced focus), and theobromine (for a mood boost), so yeah let's make this drink full of all that!
As you may expect, I also wanted to make this dairy free, so I used a mix of coconut milk (lite) and almond milk. And wow did this work so freaking well! I liked the coconut milk for a richer, thicker dairy but the almond milk is a little less fat.
When I say "Spicy Hot Chocolate" it does have a little heat from cayenne and some spice from cinnamon. I also added a little salt to bring out the flavors and vanilla for a rounded out flavor. I love the cayenne to add a little warmth in my throat, which is perfect to keep me warm this winter!
And of course you've got to top your Spicy Hot Chocolate with lots of marshmallows, because they remind me of being a kid. I adore how the marshmallows start to melt a little on the Spicy Hot Chocolate, and they're just f*cking delicious! And with each sip, I really felt like I was getting a hug which is the best! Especially when you're sipping by the Christmas tree and relaxing in the evening.
Not only is this Spicy Hot Chocolate super easy to make, but it's something you can feel good about enjoying. The drink has a superfood to boost your health with each sip, so you should probably make this ASAP, right?!
I can't wait to whip this up for my boyfriend soon now that I've got it pretty well perfected. I definitely can't wait for you to whip up your own Spicy Hot Chocolate, so you go do that now! Click that link for the step by step photos, and then happy hot chocolate drinking!!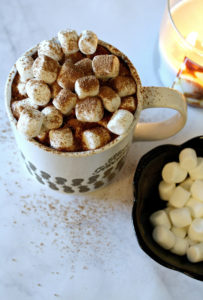 Print
Spicy Hot Cocoa
Yield 1 cup
This is one decadent but superfood filled Winter drink!
Ingredients
Hot Cocoa Ingredients:
1/2 T. Ghee
1 heaping T. Cacao Powder
8 oz. canned Coconut Milk (lite)
6 oz. Almond Milk, unsweetened
1 T. Maple Syrup
1/2 t. Cinnamon
1/8 t. Cayenne (or 1/4 t. if you want some heat)
Splash of Vanilla Extract
Pinch of Salt
Liquid Stevia (about 4 drops) for added sweetness
Marshmallows to top
Instructions
Melt the ghee in a small saucepan over medium heat, and then whisk in the cacao powder. Add the coconut and almond milk and whisk well so the cacao is mixed in. Then add the maple syrup, cinnamon, cayenne, vanilla, salt, and liquid stevia and whisk really well. Bring the mixture to a low boil and then simmer for 3 minutes on low.

 

Serve the spicy hot cocoa in a mug right away topped with marshmallows and a dusting of cacao powder. Then enjoy!!
Notes
Quick Tip: Play around with the ingredients and have fun!
Courses Drink
Cuisine American
Nutrition Facts
Serving Size 1 serving
Amount Per Serving

Calories 363

% Daily Value

Total Fat 23 g

35%

Saturated Fat 17 g

85%

Unsaturated Fat 1 g

Cholesterol 8 mg

3%

Sodium 135 mg

6%

Total Carbohydrates 32 g

11%

Dietary Fiber 4 g

16%

Sugars 17 g

Protein 6 g

12%
* Percent Daily Values are based on a 2,000 calorie diet. Your daily values may be higher or lower depending on your calorie needs.
A look back:
One year ago: Rustic Pear Cranberry Galette is Wintry Perfection
Two years ago: Cranberry Sauce with Apples = A Holiday Tradition
Three years ago: Roasted Butternut Squash and Bacon Soup . . . Delicious!
Four years ago: Cranberry Love – Part 2: Cranberry Orange Bread
Five years ago: Beef and Broccoli – Don't Mind if I Do!
Six years ago: Scones Galore – Round Two: Cranberry Scones
Seven years ago: Chicken and Wild Rice Soup that Hits the Spot!
2