Holy moly you guys, somehow it's Fall already. Can you even believe it?! I'm such a fan of this time of year and the slight chill in the air … I said slight though, okay. And it also has me wanting all of the comfort foods and spicy foods especially to keep me warm. And so I bring you this Spicy Sesame Chicken Noodles recipe to do just that!
First off, this recipe is one that I've been making nonstop for a solid 2-3 months. It's pretty rare during that time that I haven't had what I needed to make it or had leftover in the fridge. And that's because it's easy and freaking delicious! I loved Chrissy Teigen's version from her cookbook Cravings, but I wanted to make it gluten free. So that's what I've done in this recipe.
Second, I almost didn't do this recipe this week, because I'm starting the Tone It Up Fall Challenge. So for the month of October I'm eating clean and moving my body. But this recipe is too damn good not to share. So in an effort to make it fit into the challenge a little better, I made a few alterations.
I think the biggest thing about eating healthy with this recipe is to focus on portion control. Because these noodles are crazy good and I just want seconds and thirds!
Spicy Sesame Chicken Noodles Gets a Makeover!
Rice Noodles are gluten free so I opted for those and they work perfectly in this recipe. And pro tip – if you have a World Market nearby you can get a 16 oz bag for $2, which is awesome!!
For this month since I'm doing the TIU challenge, I decided to try out brown rice noodles. After all brown rice has more nutrients than white rice, so it seemed like a smart switch up.
Tamari is one of my favorite condiments these days, because I love soy sauce but this sauce is gluten free. Gotta love that!
More heat was on the way with a bit more cayenne, because it just adds a lovely heat.
Sriracha is another favorite condiment in my house, and it definitely makes an appearance in this recipe. When my boyfriend added it to these Spicy Sesame Chicken Noodles, I was a little skeptical. But if you like heat, then definitely add it to yours.
Also to make this slightly healthier, I cut the tahini and oil in half and it works pretty well that way. When it comes to oil, I went for grapeseed oil, but avocado oil would be a healthier option too. I like them both, because they don't have overpowering flavors.
Let's talk about the noodles for a moment. The recipe that inspired this had normal pasta, but like I said, I wanted to watch the gluten. So one day I tried rice noodles and never looked back. I really love soaking my rice noodles for 30 minutes and then cooking in boiling water for 2 minutes. However my brown rice noodles stuck together with this method, so next time they'll just go straight in the boiling water like the package says.
And I really blame this recipe for why I've been obsessed with Asian food the past several months. Last year it was making chicken ramen nonstop, and this year these GF Spicy Sesame Chicken Noodles are the star. And then it has me craving eating Asian when we go out, which is great because you get healthier options. I'm looking at you, Drunken Noodles! That will likely be another recipe I try to tackle in the very near future, so you've been warned!
And I want to also chat with you about the heat factor. If you love heat, then definitely follow this recipe with the addition of Sriracha for topping. But if you don't, you can do 1/4 to 1/2 teaspoon of cayenne and skip the Sriracha. I wouldn't skimp on the cayenne or chili oil though, because they really add a subtle heat. It really helps give the sauce a nicer flavor, without it being too much.
The chicken I used is through the poaching method Chrissy shows for the original recipe, and I'm crazy about the technique. If I'm poaching, I always do it this way. So it's simple, where you add 1-3 chicken breasts to a large pot of boiling water. Then remove it from the heat and start checking doneness about 18-20 minutes in. Personally I'm hyper weird about chicken, so I will typically cook mine for 20-25 minutes, because it's going to stay tender and juicy regardless. But if the chicken isn't cooked through, just add it back to the hot water and cover, then check a few minutes later.
Topping with green onions for a fresh, crunch is pretty important. So if I don't have green onions and Sriracha on hand, then I usually wait until I do. That's how much I love topping these Spicy Sesame Chicken Noodles with each ingredient!
I'm not sure I've been so excited to share a recipe with you like I am with these Spicy Sesame Chicken Noodles! I've devoured this dish countless times now, and I can't wait for you to do the same too. So click that link for the step by step photos and instructions, and happy noodle eating!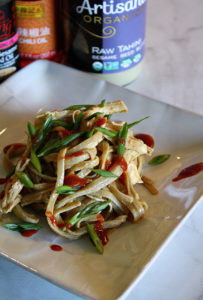 Print
Sesame Chicken Spicy Noodles
Yield 4 servings
The obsession is REAL for this gluten & dairy free recipe that is super easy to make any time you like!
Ingredients
Ingredients:
1 Chicken Breast, poached
8 oz. Rice Noodles, brown or regular
1 t. Sesame Oil
Sauce Ingredients:
1/8 c. Grapeseed Oil
1/8 c. Tahini
3 T. Tamari
2 T. Red Wine Vinegar
2 t. Chili Oil
1 t. Sesame Oil
1 Garlic Clove, minced
3/4 t. Cayenne
Toppings:
Green Onions, sliced
Sriracha
Instructions
Chicken: Poach the chicken by bringing a large pot of water to a boil. Then place the chicken breast in the water, cover, and remove the pot from the heat. Let the chicken poach for 18-23 minutes depending on the chicken size, then remove from the water and let it cool on a plate. Finally shred with your hands.

 

Noodles: Once the chicken has poached, then you can cook your noodles. If you're using regular rice noodles, soak in cool water for 30 minutes as the chicken poaches, and then cook in the boiling water the chicken cooked in for 2 minutes. Drain and rinse with cold water. If you're using brown rice noodles, skip the soaking, and cook according to the package instructions in the boiling water the chicken poached in. Drain and then rinse with cold water.

 

Sauce: Combine all of the sauce ingredients in a bowl and then whisk really well.

 

Finish Dish: Pat the noodles dry with a paper towel and then toss them with 1 teaspoon of sesame oil. Then add the chicken to the noodles and pour the sauce over the top. Toss the noodles and chicken so they are fully coated in sauce, and serve right away with green onions and Sriracha for added heat. This dish works well served warm or cold!
Notes
Quick Tip: If you use brown rice noodles, cook according to the package. But with regular rice noodles, I really like to soak them first.
Courses Main Meal
Cuisine Pasta
Nutrition Facts
Serving Size 1/4 recipe
Amount Per Serving

Calories 359

% Daily Value

Total Fat 15 g

23%

Saturated Fat 2 g

10%

Unsaturated Fat 6 g

Cholesterol 9 mg

3%

Sodium 390 mg

16%

Total Carbohydrates 46 g

15%

Dietary Fiber 3 g

12%

Protein 9 g

18%
* Percent Daily Values are based on a 2,000 calorie diet. Your daily values may be higher or lower depending on your calorie needs.
A look back:
One year ago: Creamy Pumpkin Pasta Means It's Officially Fall!
Two years ago: Salsa Verde Chicken Enchiladas – Say Olé!
Three years ago: How To Make Homemade Almond Butter – Could It Be Any Easier?!
Four years ago: Jalapeño Popper Taquitos … Yep, That Happened!
Five years ago: Lemony Pasta with Goat Cheese and Spinach = Healthy Pasta Coming Your Way
Six years ago: Skinny Pasta with a Side of Pain, Please
Seven years ago: Ah, Nutella …
0