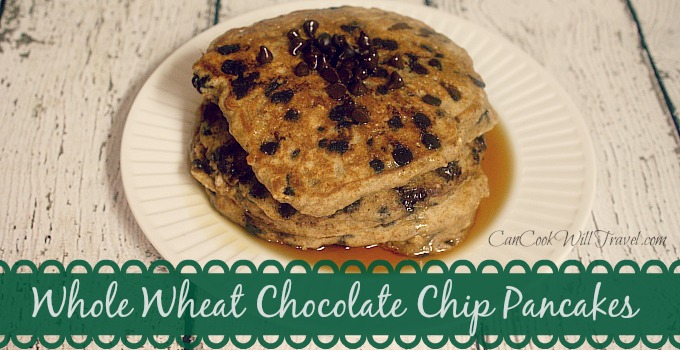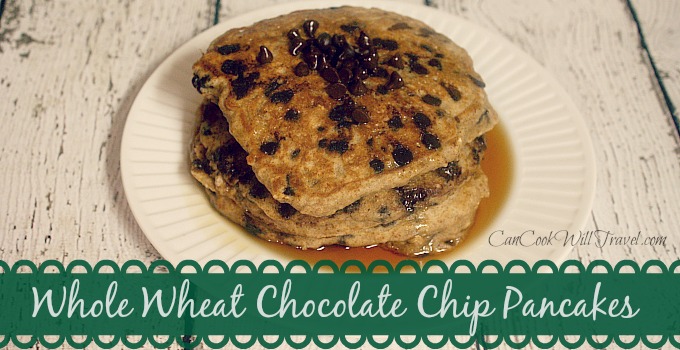 (Recipe can be found on the Sally's Baking Addiction site here.)
Step by Step Instructions:

These Whole Wheat Chocolate Chip Pancakes are a healthier pancake that is rich and delicious, and will be on the table in no time. Here's what you'll need: Brown Sugar (either light or dark is fine), Baking Powder, Greek Yogurt (I really love Fage's fat-free yogurt for snacking and cooking), Whole Wheat Flour, Vanilla Bean Paste (or extract), Quick Oats, Almond Milk, Ground Cinnamon, Kosher Salt, 1 Egg, Chocolate Chips (I went with the mini variety).

In a large bowl add a cup of whole wheat flour, 1/2 cup of quick oats, 1/4 teaspoon of kosher salt, 2 teaspoons of baking powder, and 1 teaspoon of ground cinnamon.

Whisk the mixture until it's well-combined.

In a medium-sized bowl, add an egg and a cup of milk. Again I went with almond milk, but a soy milk or skim milk or whatever you choose should be just fine. (I personally prefer using almond milk to cut fat, sugar, and calories.)

Whisk the mixture until the egg is completely combined with the milk.

Then add 2 tablespoons of light or dark brown sugar (I used light this time), and 1/4 cup of Greek Yogurt to the milk/egg mixture.

Whisk away until the mixture is lump free.

Then add a teaspoon of vanilla bean paste (or extract). You can see in this picture the flecks of vanilla bean that you get with the paste. It always smells so good!

Whisk the vanilla into the mixture.

Make a well in the center of the dry ingredients.

Pour the wet mixture in the well. As you see, my well runneth over…

Use a spatula and carefully combine the wet and dry ingredients and be sure not to over work the batter.

Add 1/2 cup of chocolate chips to the batter.

Then carefully incorporate the chips into the batter.

Heat a non-stick skillet over medium heat and spray with cooking spray.

Use 1/4 cup measuring cup and form the pancakes in the skillet. I recommend doing 1 or 2 pancakes as a time. They're pretty delicate, so you need lots of room and a large spatula to aid in flipping.

Once the edges look dry and you see bubbles forming in the center and around the edges of the pancake, you know you're ready to flip them.

Carefully flip each pancake and cook on the other side until it's also golden brown. Serve the pancakes while still warm and top with maple syrup and a tablespoon of chocolate chips and enjoy!! Happy breakfasting!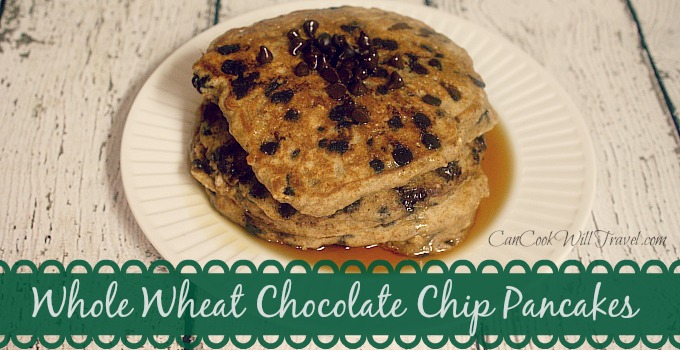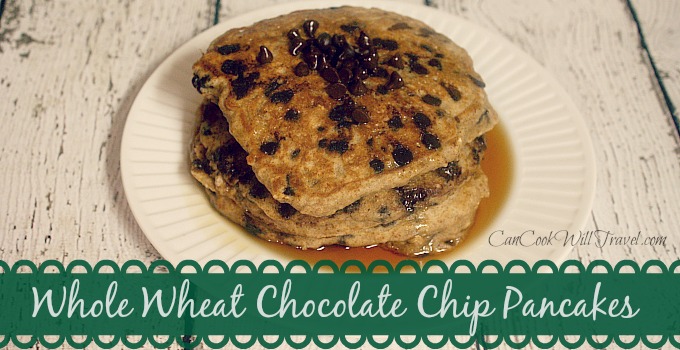 Makes approximate 7-8 pancakes
Serving size: 2-3 pancakes
Ingredients:
1 cup (123g) Whole Wheat Flour (or white whole-wheat)
1/2 cup (40g) Quick Oats
1/4 teaspoon Kosher Salt
2 teaspoons Baking Powder
1 teaspoon ground Cinnamon
1 large Egg (or 2 egg whites)
1 cup (240ml) Milk (I used almond milk, but you should be good with your preferred milk)
2 Tablespoons packed Dark or Light Brown Sugar
1/4 cup (63g) Greek Yogurt (I used the plain fat-free Greek Yogurt, but a fuller fat plain Greek yogurt should be fine.)
1 teaspoon Vanilla Bean Paste (or extract)
1/2 cup chocolate chips (or any other add-ins you would like – I went with mini semi-sweet chocolate chips and reserve some more for serving)
Preparation Instructions:
1. Begin by whisking together the dry ingredients including the whole wheat flour, quick oats, salt, baking powder, and cinnamon in a large bowl.
2. In a medium-sized bowl, whisk together 1 egg with the milk. Then add the brown sugar and Greek Yogurt and whisk until it is lump-free. Finally add the vanilla bean paste and whisk well.
3. Create a well in the dry ingredients and pour the wet ingredients in the well. Use a spatula and carefully combine the batter careful not to overmix. Then add in the chocolate chips and stir until the chips are throughout the batter again careful to not overmix.
4. Heat a non-stick skillet over medium heat. Spray it with cooking spray. Once the skillet is hot, make pancakes with 1/4 cup of batter. The pancakes are delicate, so don't cook too many at a time. I recommend cooking 1-2 pancakes at a time depending on the size of your skillet. Wait for the edges to dry out a bit and bubbles to form in the center and edges of the pancake, and then flip. This took about 3 minutes on my stove, and cook another 2-3 minutes or until the pancake is golden brown.
5. Serve while warm and you can preheat the oven to 200 degrees and keep the cooked pancakes warm in the oven. Top with maple syrup and a tablespoon of chocolate chips and enjoy!
0