Fun fact alert! I didn't have my earrings pierced until after I became a jewelry chick 4 years ago. That's right, I went to the mall fairly sure the lady who was piercing my ears would make fun of me for being 30 and not having my ears pierced yet. Turns out she was more fascinated than anything! She kept asking me what it felt like, because she got her ears pierced so young. I love little surprises to reaffirm why we should enjoy the little things in life and ignore the little fears whirling around in our heads. It turned out to be a great and fun experience contrary to what I feared it would be…which was embarrassing and nerve wracking!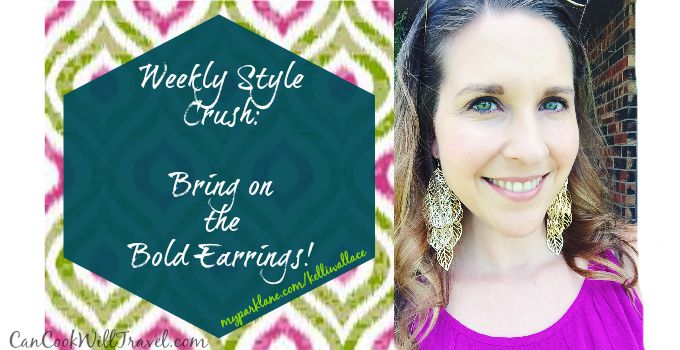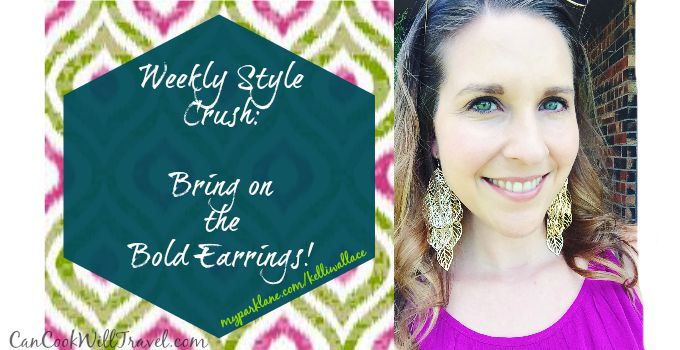 The reason I got my ears pierced was because I had this shiny, new starter kit with such cute dangle earrings and I just had to wear them. It really was for the greater good… So I went from wearing no earrings to never leaving the house without them.
I've talked about stud earrings and why they are so great to have in your jewelry collection. But let's not forget that you can and should also be bold with your earrings. It's actually really fun to do, brightens up your face, and you'll get lots of compliments on earrings, so it perks up your confidence.
Bold earrings can be anything from huge dangles, more chunky looking studs, a long and simple earring, etc. Really anything that makes people stop and take note and COMPLIMENT you!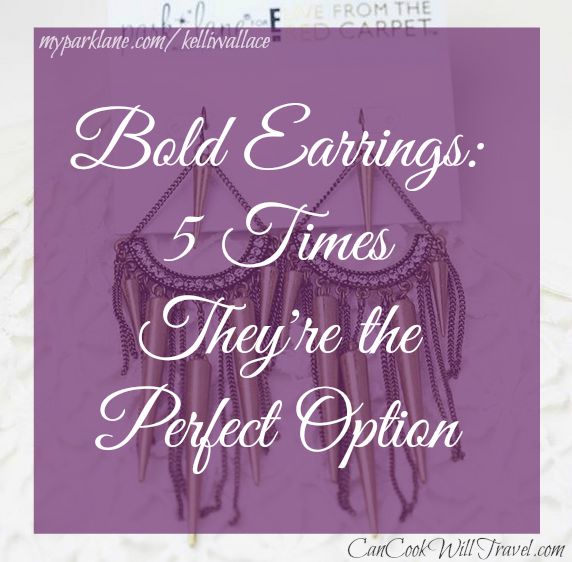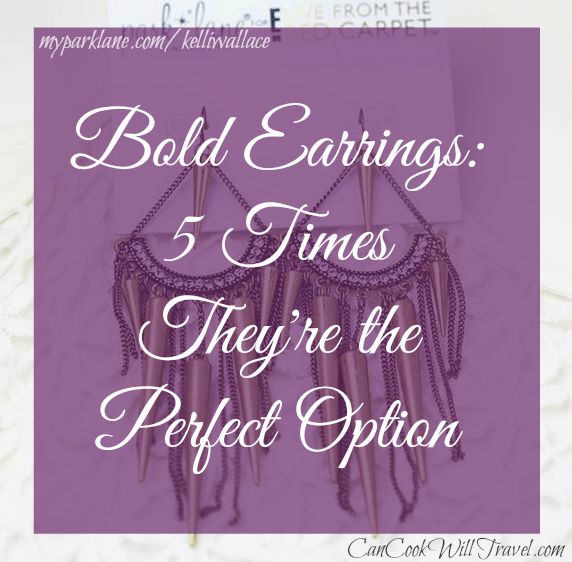 My Top 5 favorite times to go with Bold with Your Earrings:
1. When you're wearing a top that has a lot of accents like beads, sparkles, etc.
2. When you're wearing a neckline like a halter top, something with a collar, or a ruffle.
3. If you're wearing a simple necklace but want to dress up your outfit a little more. It's best not to wear a big statement necklace AND statement earrings unless you're headed to a big fancy gala or event. Then people get a bit lost as to where the focus needs to be in your look.
4. When you want to brighten up your face. Say you didn't get much sleep last night, but you want to look a bit more awake than you feel. Throw on some bold earrings and it will draw people's attention to your earrings and if you add an earring with a little sparkle, it actually brightens up your face and makes you look younger. Try it…I dare you!
5. Rock those bold earrings when you are wearing your favorite scarves! I love scarves in the cool months, but I also grab a lighter scarf in the Spring and Summer so that I can throw it on if it's cold wherever I'm going. Conferences, restaurants, etc. tend to love cranking up the AC.
I love a bold earring. I find myself noticing women's earrings when I'm watching TV first and foremost. Do you find yourself doing that? Sometimes it's some sparkly crystal, other times it's a cool, modern style, or else earrings with some movement with a little boho chic feel.
What do you think of bold earrings? Do you wear these often or tend to go smaller? Comment below and let me know! I'd love to learn what you're wearing.
Be bold and stay inspired!
~Kelli
0