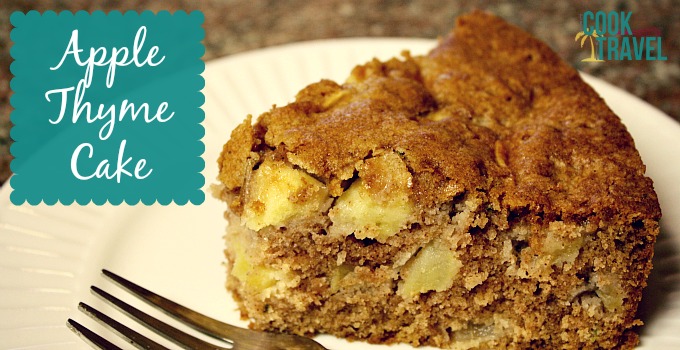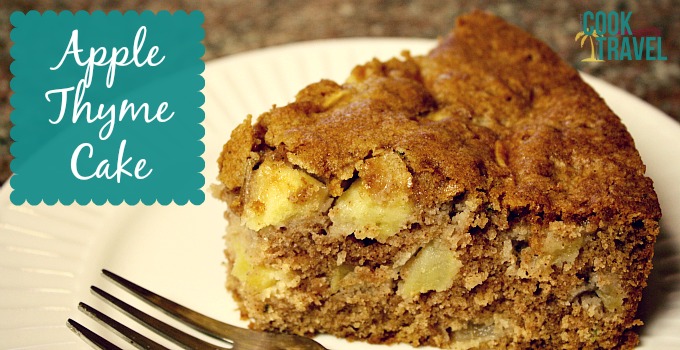 (Recipe can be found on the Spoon Fork Bacon site here.)
Step by Step Instructions:


This cake came together with ingredients that I already had on hand with the exception of 2 things…apple & thyme! Here is what you'll need: Baking Soda, Salt, 2 Golden Delicious Apples, Milk, 1 cup of Granulated Sugar, Ground Nutmeg, Ground Allspice, 2 eggs, Fresh Thyme, 1 1/2 cups of all-purpose flour, Vanilla, Canola Oil (or Vegetable Oil), and Ground Cinnamon.

First off, the oven is preheated to 350 degrees. Then I rinsed a couple of sprigs of thyme, which I then dried. Then the thyme leaves are removed from the stem and they are minced. You'll need a total of 2 tablespoons. You won't believe how much this will enhance the cake!

I got my peeler and apple corer ready.

Then I carefully peeled the apples and used my corer to remove the core (obviously) and also segment the apples.

Then the apples segments get diced. At this point, I didn't want my apples to all turn brown, so I sprinkled some lemon juice over them and tossed the apples on the cutting board so they could get coated.

One thing I did in advance was to cut out a circle of parchment paper (waxed paper works too) to fit in the bottom of the cake pan. Then I brushed some softened butter along the edges so it's nicely coated. Then just set the pan aside until you need it.

Next the dry ingredients get sifted together into a medium-sized bowl. This includes: 1 1/2 cups of all-purpose flour, 3/4 teaspoon of ground cinnamon, 1/2 teaspoon of baking soda, 1/4 teaspoon of ground nutmeg, 1/4 teaspoon of ground allspice, and 1/4 teaspoon of salt.

In my Kitchen Aid mixer, I added 1 cup of granulated sugar, 2/3 cup of vegetable oil (I used canola oil), 2 eggs, 2 1/2 tablespoons of milk (I went with Skim milk), and 1 teaspoon of vanilla extract (I like the good Mexican kind since I'm out of vanilla bean paste at the moment).

When the wet ingredients are well combined, then it's time to slowly incorporate the dry ingredients.

When the batter is mixed, the apples and thyme get added.

Then fold the apples and thyme into the batter. Oh I wish this was scratch-and-sniff, because the batter smelled heavenly!

Carefully pour the batter into the pan. spread it so it's even on top. Pop the pan in the pre-heated oven and bake it until a toothpick is inserted into the center and comes out clean. Since I used a 9-inch cake pan, it took a bit longer than the recipe suggest–maybe 35-40 minutes. Just keep an eye on it, and you'll be just fine.

This is the finished cake. The cake had started to pull away from the edges of the pan and it was a lovely golden brown on top. You'll want to let the cake cool for at least 30 minutes. Check out the caramel sauce recipe for a quick and delicious topping. Like I mentioned in the post, the cake was super moist and delicious without the sauce, so if you want to skip the calories and sugar-high you'll be in good shape. It would also be really good with a scoop of vanilla ice cream, but then again most desserts are! Happy baking! Hope you enjoy!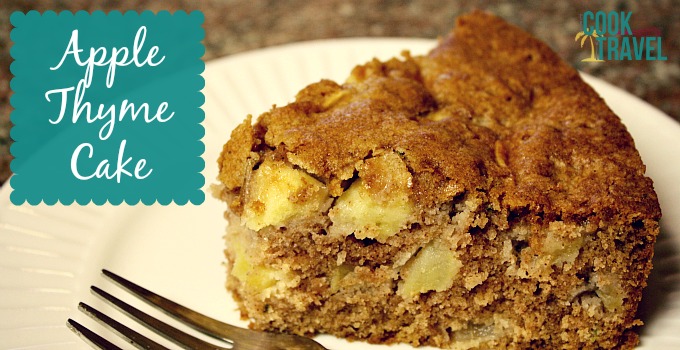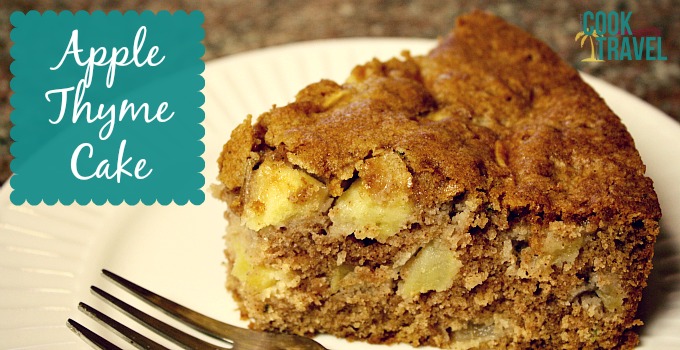 Apple Thyme Cake
For a recipe that is perfect for Fall and will make your sweet tooth happy, look no further than this Apple Thyme cake!
Ingredients
Apple-Thyme Cake:
1½ cups all purpose flour
¾ teaspoon ground cinnamon
½ teaspoon baking soda
¼ teaspoon ground nutmeg
¼ teaspoon ground allspice
¼ teaspoon salt
1 cup granulated sugar
⅔ cup vegetable oil
2 eggs
2½ tablespoons milk
1 teaspoon vanilla extract
2 medium golden delicious apples, peeled, cored and diced
2 tablespoons minced thyme
Quick Caramel Sauce:
½ cup (1 stick) unsalted butter
⅔ cup light brown sugar
⅓ cup granulated sugar
1 tablespoon water
¼ teaspoon salt
½ cup heavy cream
1 teaspoon vanilla extract
Preparation Instructions
Preheat oven to 350°F. While the oven heats, line a 10" round cake pan with parchment paper and lightly grease. Set the pan aside until ready for it.
Grab a mixing bowl and sift together the flour, cinnamon, baking soda, nutmeg, all spice, and salt.
In a separate mixing bowl, whisk together the sugar, oil, eggs, milk, and vanilla.
Add the dry ingredients to the wet ingredients and stir until the batter is completely mixed.
Fold in the apples and thyme until they are both evenly distributed throughout the batter.
Pour the mixture into the prepared cake pan and bake for 20 to 25 minute or until a toothpick comes out clean when inserted into the center of the cake.
Let the cake cool, which will take about 30 minutes to an hour.
While the cake cools, make the caramel sauce. Start by adding the butter, sugars, water, and salt into a medium saucepan. Whisk the ingredients together over medium heat. Allow the sauce to boil for about 5 to 6 minutes, stirring frequently. (The longer you boil this, the thicker the caramel sauce will be)
Remove the pan from the heat and stir in the heavy cream and vanilla. Be careful as the mixture may bubble up.
Drizzle over apple-thyme cake and serve.
0