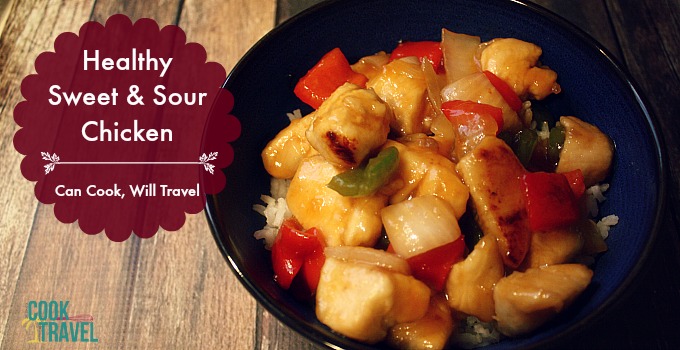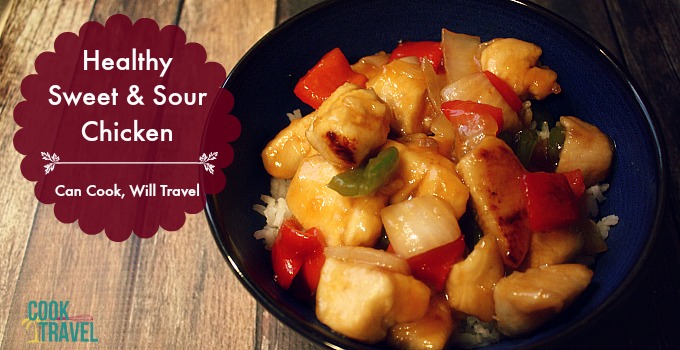 (This Healthy Sweet and Sour Chicken recipe can be found at the site Creme de la Crumb here.)
Step by Step Instructions:

Healthy Sweet and Sour Chicken will transport you back in time but without frying, so your waistline will thank you! Here's what you'll need: Soy Sauce, Ketchup, Olive Oil (or cooking oil of choice), Apple Cider Vinegar, Sugar, Onion Salt, Garlic Powder, Cornstarch, cooked Rice for serving, 1 Red Bell Pepper diced in large pieces, 1 White Onion diced in large pieces, 1 Green Bell Pepper Diced into large pieces, and 3 (or 4) Chicken Breasts.

Start by prepping the chicken. You'll want to trim it and then grab a meat tenderizer and use the flat end to pound the chicken to 1/2-inch thickness. I like to use plastic wrap over the chicken and over the mallet to keep things nice and neat. I'd also like to take a moment to apologize to my neighbors for the racket when pounding the chicken – haha!

Once the chicken has been pounded out, slice it into 1-inch pieces.

In a small saucepan, add 3/4 cup of sugar, 1/2 cup of apple cider vinegar, 2 tablespoons of soy sauce, 1 teaspoon of garlic powder, 1/2 teaspoon of onion salt, and 1/4 cup of ketchup. Give it a stir and turn the heat to medium to medium-high to bring it to a boil.

In a small dish add 1 tablespoon of cornstarch and 2 tablespoons of cold water.

Whisk the mixture together until there are no clumps of cornstarch.

Here is the sauce boiling. Look at it go!

Pour in the cornstarch/water mixture and stir right away until the mixture thickens up.

Once the mixture has thickened, reduce the heat to low and stir occasionally as you're cooking the rest of the dish.

Pour 1/3 cup of cornstarch in a large ziplock bag.

Then add the chopped chicken to the cornstarch . . .

Zip up the bag and toss the chicken around until each piece is coated in cornstarch.

Heat a large nonstick pan over medium heat and add olive oil to it. Carefully add the chicken to the hot oil and cook for 5 minutes stirring regularly so that all sides of the chicken can start cooking.

Then add your chopped peppers and onions to the chicken.

Toss the veggies and continue stirring regularly until the chicken starts to brown.

It's hard to tell but the chicken had started browning here (after 7-10 minutes). Remove a large piece of chicken and cut in half to ensure it's cooked all the way through.

Once your chicken is cooked add the finished sauce to the pan and your Healthy Sweet and Sour Chicken is nearly done!

Toss everything together so that the sauce evenly coats the chicken and veggies and then you're good to go! Your Healthy Sweet and Sour Chicken is ready to enjoy. I served mine over cooked rice and devoured it. To say it was delicious might be an understatement. Happy eating!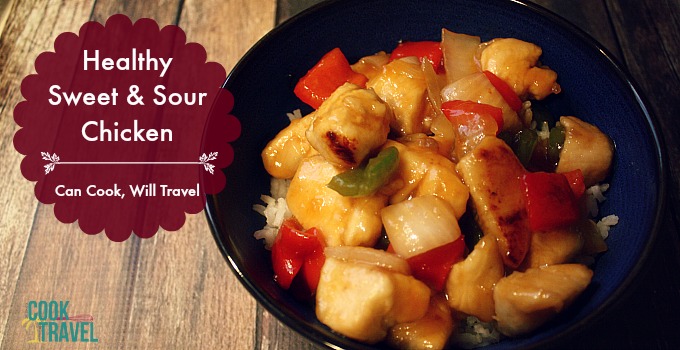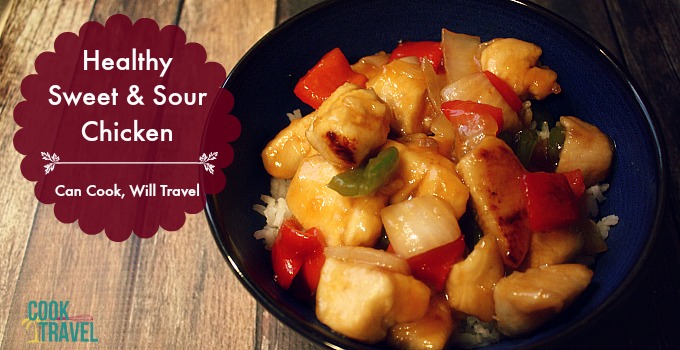 Healthy Sweet and Sour Chicken
This recipe makes a traditional dish we all know and love just a little less guilty and a whole lotta delicious!
Ingredients
CHICKEN:
3-4 boneless skinless Chicken Breasts, pounded to ½-inch thickness and chopped into 1-inch pieces
⅓ cup Cornstarch
2 tablespoons Olive Oil
1 Red Bell Pepper, diced
1 Green Bell Pepper, diced
½ White or Yellow Onion, diced
SWEET AND SOUR SAUCE:
¾ cup Sugar
½ cup Apple Cider Vinegar (you can substitute white vinegar)
2 tablespoons Soy Sauce (reduced sodium)
1 teaspoon Garlic Powder
½ teaspoon Onion Salt
¼ cup Ketchup
1 tablespoon Cornstarch + 2 tablespoons Cold Water
Preparation Instructions
Begin by prepping the chicken. You'll trim it, pound it to ½ inch thickness and then cut it into 1-inch pieces.
Add the ½ cup of cornstarch to a large ziplock baggie and then add the diced chicken to the bag. Close the bag and use your hands to toss the chicken with the cornstarch to ensure the chicken is completely coated. Set the baggie aside for a few minutes.
In a small saucepan combine the sauce ingredients including the sugar, apple cider vinegar, soy sauce, garlic powder, onion salt, and ketchup over medium to medium-high heat (everything but the cornstarch). As the sauce heats, whisk together a tablespoon of cornstarch with 2 tablespoons of water. Once the sauce is boiling, add in the cornstarch/water mixture and whisk until the sauce thickens. Then reduce the heat to low and stir occasionally.
In a large nonstick skillet, heat your oil over medium heat. Then carefully transfer the chicken to the hot pan and cook stirring regularly for 5 minutes so that the chicken can start to cook on all sides.
Add the diced onions along with the red and green bell peppers to the chicken and continue to cook, stirring regularly, until the chicken has browned and is cooked all the way through.
Pour the sauce over the chicken and vegetables and toss so all of the ingredients are coated in the sauce.
Serve immediately over cooked rice and enjoy!
Notes
Creme de la Crumb Note:
If you don't have onion salt, use garlic salt instead of garlic powder, and use onion powder instead of garlic salt.
0