Yesterday was St. Patrick's Day, and I hope yours was filled with fun and fabulous food and a little green beer or Irish whiskey! I stuffed myself with corned beef and cabbage and a little beer and was a happy, happy girl. Which leads to me to this week's culinary adventure of Stuffed Cabbage Casserole. Because after this week, we have spare cabbage lying about that was calling my name.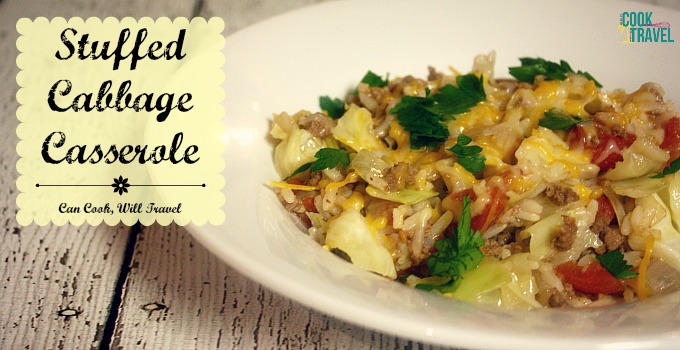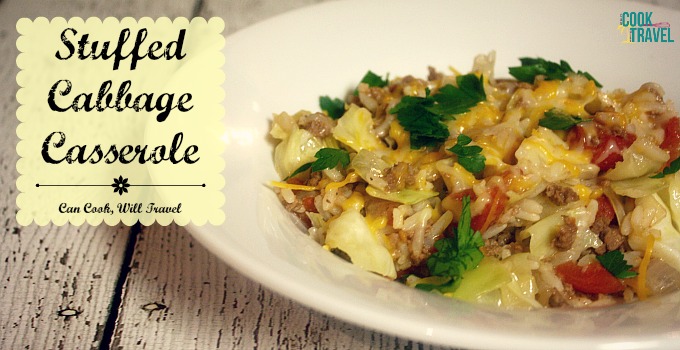 I first spotted this recipe over on Pinterest and I couldn't get it out of my head. And I just knew we'd have a bit of extra cabbage around this week so it was a no brainer to whip this up for dinner.
This Stuffed Cabbage Casserole is a one pot casserole that cooks fully on the stove top and is so easy to whip up. Just start off by browning some ground beef along with some onions in a large pot. Then you'll add some spices including garlic powder, onion powder, ground thyme, plus salt and pepper to taste.
Next you'll add in your rice of choice. I went for a long grain rice, but quick cooking rice or even quinoa would be perfect too. Add some water and diced tomatoes to the pot and once it boils, you'll add in 1/2 a head of chopped cabbage and let it cook until your rice is done and cabbage is cooked. Top with cheddar jack cheese and cover for a couple of minutes so the cheese can melt and sprinkle some fresh parsley over the top. Seriously it's that easy!
You can think of this dish as a deconstructed cabbage roll, that cooks quickly and is super filling. Which makes the Stuffed Cabbage Casserole perfect for a weeknight meal. I could see making a substitution for ground turkey instead of the beef and subbing out the rice for quinoa, brown rice, or your favorite grains to cook with. And I added a bit of jalapeño tabasco sauce to the finished dish before topping it with cheese to give it a bit more oomph. Seriously great idea!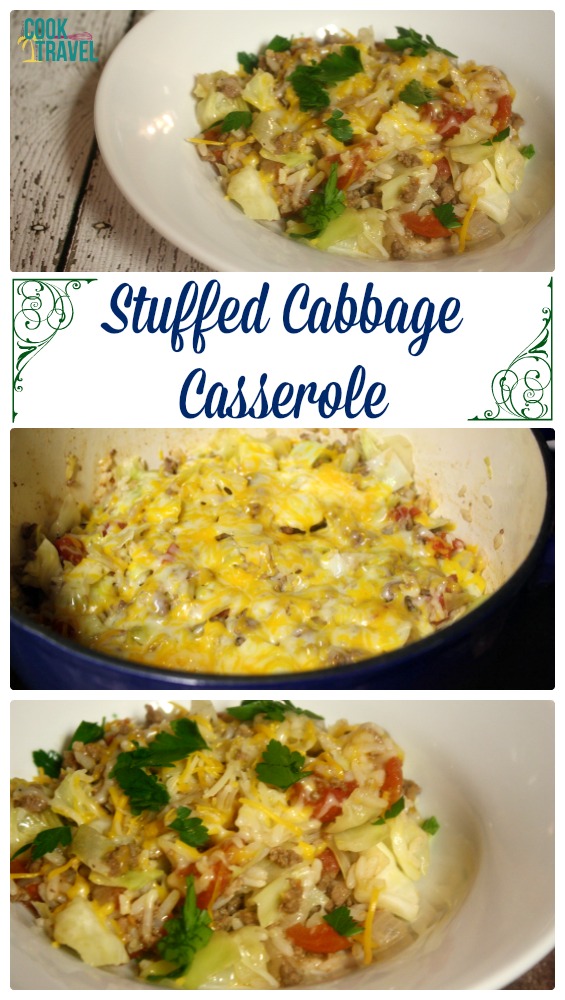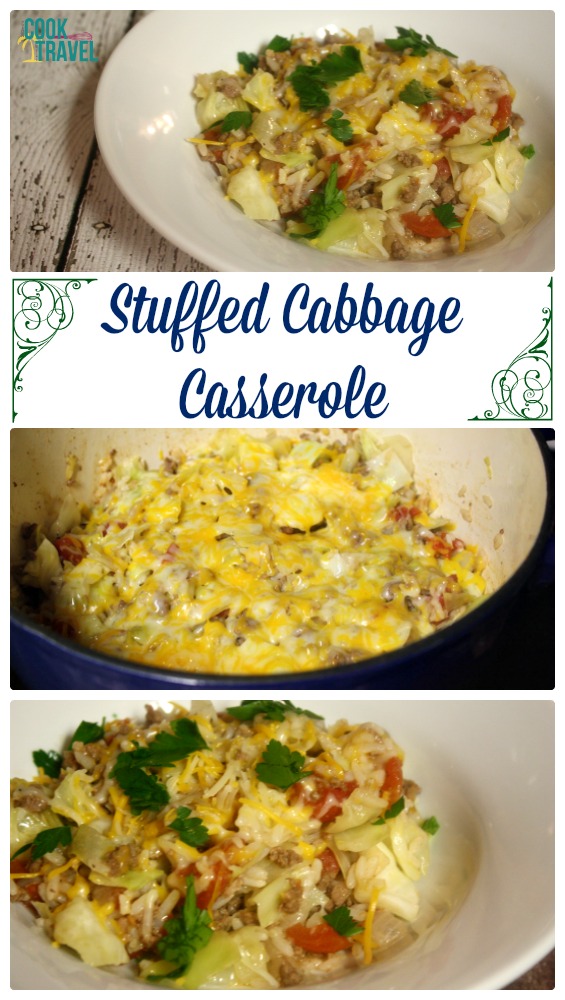 To me this dish just felt like a hearty, comfort food meal that you didn't need to eat a ton of to fill up on. And the leftovers (if you have any) heat up like a dream. I love the different textures and spicing up the casserole was a great idea. So grab your favorite hot sauce and dig in!
I cannot wait for you to try out this Stuffed Cabbage Casserole dish ASAP! Click that link for the recipe and step by step instructions and get to cooking!! Happy eating!
A look back:
One year ago: Honey Beer Bread is Seriously Tasty!
Two years ago: Well Hello Quinoa Stuffed Red Peppers!
Three years ago: Seriously Winter?! Roasted Cauliflower and Aged White Cheddar Soup to the Rescue
Four years ago: Learning to Love Salads…Part 5: Wintry Salad with Grapefruit and Goat Cheese
Five years ago: Look at Me…I Made Pasta…From Scratch!
0