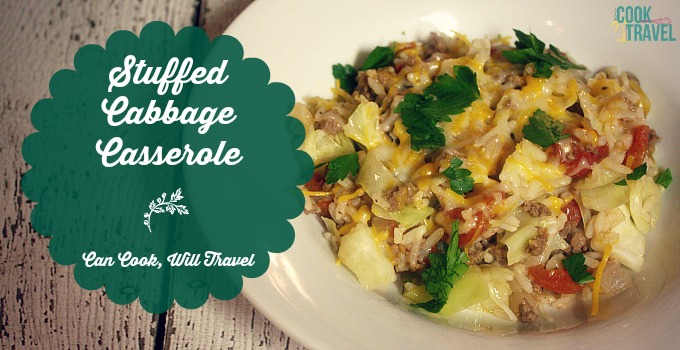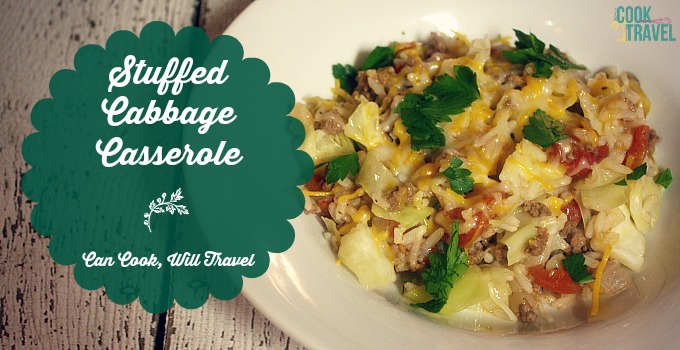 (This One Pot Stuffed Cabbage Casserole recipe can be found on the site Wonky Wonderful here.)
Step by Step Instructions:

Here's everything you'll need to whip up this One Pot Stuffed Cabbage Casserole for dinner: Colby Jack Cheese, 1/2 a head of Green Cabbage chopped up, Olive Oil, Ground Pepper, Dried Thyme, Garlic Powder, Onion Powder, Salt, 14 ounce can of Diced Tomatoes, Freshly ground Pepper (if you prefer), 1 cup of uncooked Rice, 1/2 an Onion diced, a package of lean Ground Beef, and Fresh Parsley.

Grab a Dutch oven or large pot, and add 2 tablespoons of olive oil to it and heat over medium high heat.

Once the oil is hot, add the beef and onions, and break up the meat and stir regularly until the meat is browned.

When the meat is brown, drain any excess drippings.

To the cooked beef, add a cup of uncooked rice (or whatever grain or rice you choose), along with 1 teaspoon of garlic powder, 1/2 teaspoon of onion powder, 1/4 teaspoon of dried thyme, 1/4 teaspoon of ground pepper, and 1/2 teaspoon of sea salt.

Then stir the rice and spices until they are well mixed. This will help the rice get a bit more flavor as well.

Then add the can of diced tomatoes and a cup and a half of water and stir.

Bring the liquid to a boil.

Then add the cabbage to the pot. You can leave it on top like this to let it steam a bit.

Reduce the heat and cover the pot. Cook until the rice and cabbage are cooked. In my case, my rice required about 20 minutes to cook, but quick cook rice will be about half the time.

While the rice cooks, chop up a handful of parsley.

When the rice is done, give the casserole a good stir, and season with more salt and pepper. I also made the executive decision to add some of my favorite hot sauce (jalapeño Tobasco in this case) also to taste and stir to combine. Be sure to taste it to make sure you're happy with the seasonings and the cabbage and rice are cooked.

Sprinkle a cup of shredded cheese over the top of the mixture and cover the pot. Let it steam and melt the cheese for about 2 minutes.

Once the cheese is melted, you're good to go! Top this One Pot Stuffed Cabbage Casserole with the chopped parsley and serve right away. Enjoy and happy eating!!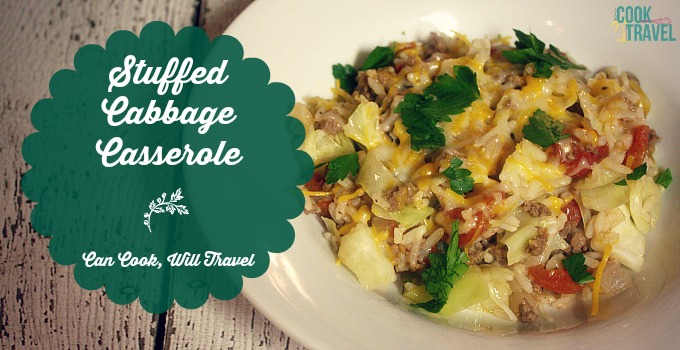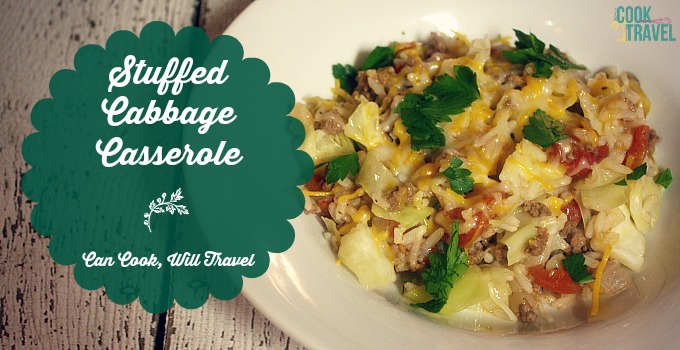 One Pot Stuffed Cabbage Casserole
Weeknight meals never tasted so good with this easy and delicious one pot meal.
Ingredients
2 tablespoons Olive Oil
1 lb package Lean Ground Beef
½ White Onion, chopped
1 teaspoon Garlic Powder
½ teaspoon Onion Powder
¼ teaspoon Dried Thyme
¼ teaspoon Ground Pepper
½ teaspoon Sea Salt
1 cup uncooked rice (I used long-grain rice, but quick cook rice or your favorite rice blend or quinoa will work)
1½ cups Water
14 ounce can Diced Tomatoes
½ head small Green Cabbage, chopped
1 cup Shredded Cheddar Jack Cheese
Chopped Parsley
Salt & Pepper, to taste
Hot Sauce (optional)
Preparation Instructions
Heat a large pot over medium high heat. Add the olive oil and once the oil is hot, add the ground beef and chopped onion. Cook until the meat is browned, and drain the drippings if necessary.
Add the spices including garlic powder, onion powder, dried thyme, ground pepper, and salt to the meat and stir.
Next stir in the uncooked rice and stir for 30-60 seconds to start to infuse the rice with a bit more flavor.
Add the water and can of diced tomatoes to the pot. Stir and bring the mixture to a boil.
Once boiling, stir then add the cabbage and cover the pan. Reduce the heat to medium low and cook for the length of time your rice (or quinoa) requires.
Once the rice and cabbage are cooked, season with additional salt, pepper, and hot sauce and stir. Finally top with the cheese and put the lid back on and let the cheese steam and melt for 1-2 minutes.
Top the casserole with some chopped parsley and serve immediately. Enjoy!
2