I really love pasta, as I'm sure you've figured out by now. And one type of pasta dish that I think back on a lot and have made a few times is this lovely stuffed shell dish. And when I found this Mexican Style Stuffed Shells recipe over on Pinterest, I was so excited to give it a try!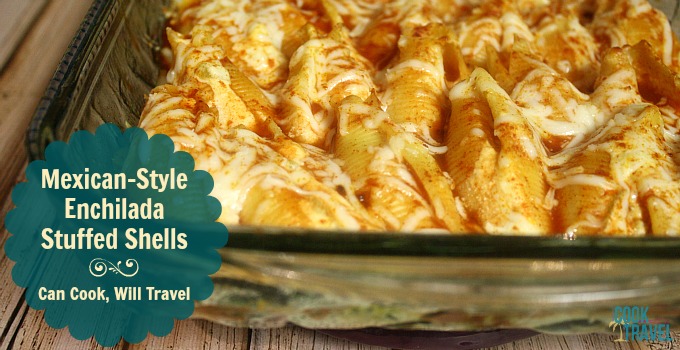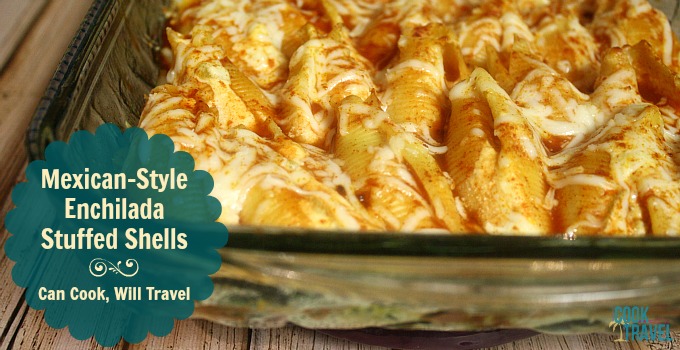 These Mexican Style Stuffed Shells basically take the flavors of enchiladas and turn them into a pasta dish. Sounded fabulous to me! After all I have a tiny love affair with enchiladas. They tend to be one of my go-to Mexican dishes to order when I eat out. They also happen to be one of our favorite meals to make when our family gets together.
And these stuffed shells are perfect for your next Meatless Monday meal as they are cheese-filled. Score!
So what's it take to make these? Like any self-respecting stuffed shell recipe, you have to cook the shells first. Then it's a matter of filling the (slightly cool) shells with a filling of ricotta cheese, cream cheese, an egg, some green chiles, salt and garlic powder. And no, these aren't crazy spicy, but they still have a nice, subtle heat.
Then you pack them into a baking dish that has a bit of enchilada sauce on the bottom and then spoon plenty more sauce over the stuffed shells. Finally top with some shredded mozzarella and smoked paprika. Bake and enjoy! Seriously that's it! Sooooo much easier than making homemade enchiladas from scratch.


I really think that I was sold on this recipe as soon as I saw smoked paprika was involved. This spice smells so damn good, and that little sprinkle over the top adds another layer of flavor that you just don't want to miss. If you don't have any on hand, it's completely worth picking up next time you're at the store.
This Mexican Style Stuffed Shells recipe is really good! I was slightly nervous, because stuffed shells are so traditionally Italian-style, that giving them a Mexican twist seemed so odd. But I went with it and I'm thrilled I did. With each bite of these stuffed shells, you get this gooey, cheesy goodness and the enchilada sauce and green chiles give the perfect Mexican nod without feeling out of place.
These shells heat up like a champ. I am happy to report the leftovers were just as stellar (dare I say even better) than they were fresh out of the oven.
So be sure to add these Mexican Style Stuffed Shells to your rotation for a fast and easy week night meal. I know you'll be glad you did. Click that link for the recipe and step by step instructions. Happy shell stuffing!
A look back:
One year ago: Cranberry Oatmeal Muffins – Making Breakfast Healthier One Muffin At a Time!
Two years ago: Crock-Pot Salsa Chicken Couldn't Be Easier!
Three years ago: Get Comfy with Baked Artichoke Chicken Pasta
Four years ago: Cinnamon-Raisin Bread … Nothing Can Compare to Homemade Bread!
Five years ago: Ah, Wagamama: How I've Missed You (And Your Noodle-Ness!)
0