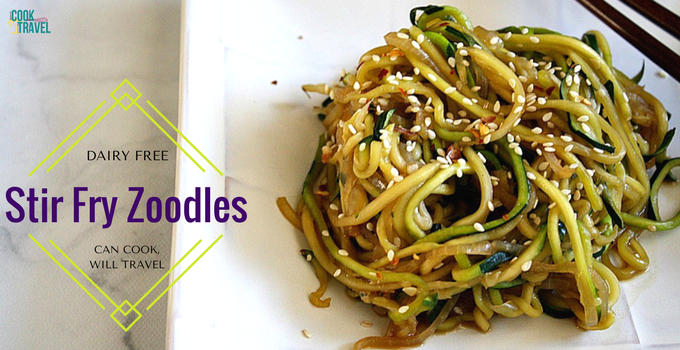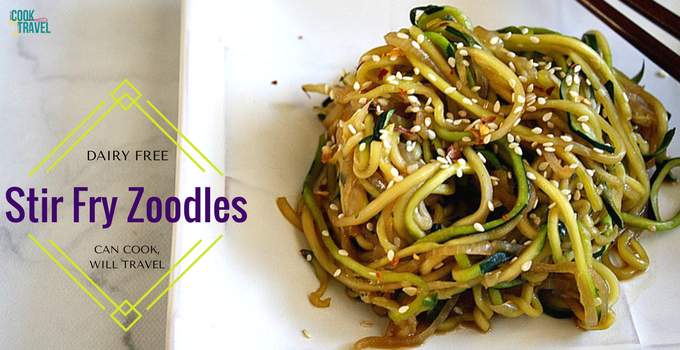 (This Stir Fry Zoodles recipe is inspired by this recipe on the site Diethood here.)
Step by Step Instructions:

Here's all you need to create this delicious Stir Fry Zoodles dish, and you'll be eating in no time: Peanut Oil (or your favorite vegetable oil), Low-Sodium Soy Sauce, Low-Sodium Teriyaki Sauce, 2 yellow Onions, Crushed Red Pepper Flakes, 1 clove of Garlic, 1 tablespoon of toasted Sesame Seeds, and 4 small Zucchini.

Now the most important tool you'll need for this dish is a spiralizer, and I used this countertop variety with the smallest blade.

Chop off the 2 ends of the onion and then remove the peel.

One side of the spiralizer will hold the veggie in place and will spin it (on your right), and the other side will do the cutting (on your left). Place the root end of the onion on the right end, so that it doesn't get cut.

Here are the onions as they are spiralizing, but I must warn you that you will want a box of tissues on hand. At least you will if your onions' fumes are as potent as mine are, so good luck!

Then it's time to spiralize the zucchini, so be sure to wash them rally well and then cut off the stem-free end (on your right).

Then pop the zucchini on the spiralizer just like you see and start cranking. One thing to note is that zucchini is a really soft veggie, so the stem end may bet torn up a bit. If it does, just trim it off, and keep cranking. Also the zucchini is soft because it retains a lot of water, so press your zucchini noodles with a paper towel to remove the excess water.

Here are the finished veggies all lovely and spiraled, and looking back I might do less onions. So if you have large onions, maybe just spiralize one instead. Also with the zucchini, the noodles can be quite long, so feel free to use kitchen shears to trim them to more reasonable lengths.

Here's my pretty wok pan, that of course won't stay pretty for long. Add a couple of tablespoons of peanut oil and heat it over medium heat.

Mince your garlic as the wok heats up.

Now it's time to start cooking your Stir Fry Zoodles dish. Add the onions and garlic along with about a teaspoon of red pepper flakes to the wok and stir constantly for about 5 minutes or until the onions are tender and look translucent.

After 5 minutes, my pile 'o onions was looking great!

Add the zucchini to the pan, and cook for 2 minutes stirring regularly.

After the zucchini has started cooking, then add 2 tablespoons of teriyaki and one tablespoon of soy sauce. Finally cook for about 5 more minutes or until the zucchini is tender, and the Stir Fry Zoodles is nearly done!

Once the zoodles are tender, give it a taste and add salt an pepper if needed and sprinkle in about half of the toasted sesame seeds. Reserve enough seeds to top your finished Stir Fry Zoodles with and stir it up and serve right away while the dish is still warm. You can also top with some extra red pepper flakes if you'd like. Happy zoodle eating!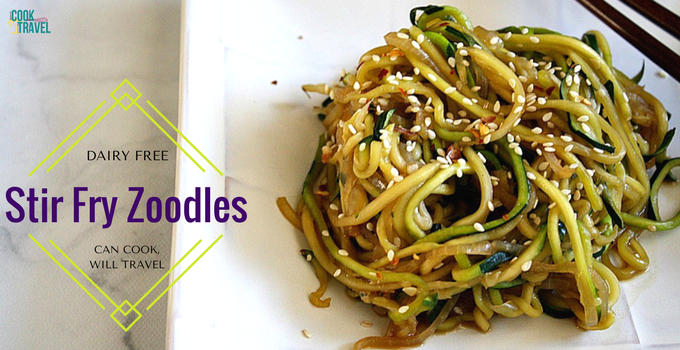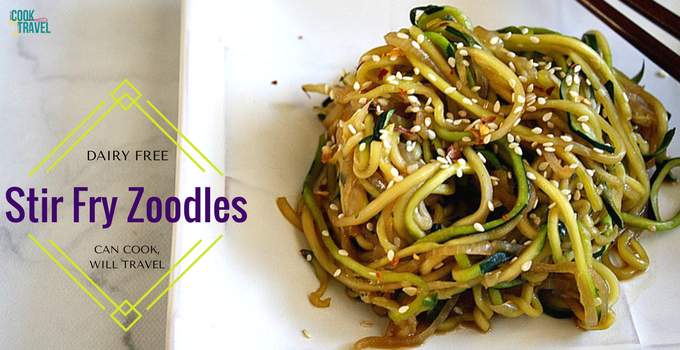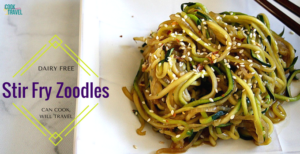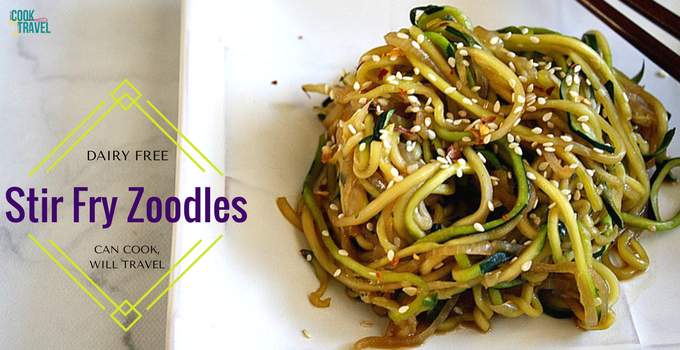 Print
Stir Fry Zucchini Noodles
Yield 6 servings
Healthy eating gets a hint of spice with this stir fry dish, that makes spiralizing fun and delicious!
Ingredients
Ingredients:
2 tablespoons Peanut Oil
2 Yellow Onions, spiralized
1 Garlic clove, minced
1 teaspoon Crushed Red Pepper Flakes
4 small Zucchini, spiralized, patted dry with paper towel
1 tablespoon low sodium Soy Sauce
2 tablespoons low sodium Teriyaki Sauce
1 tablespoon toasted Sesame Seeds
Instructions
Begin by spiralizing your onions and zucchini, and then it's time to cook!

 

Add your oil to a wok and heat over medium heat. Once the oil is hot, add the onions and then cook or about 5 minutes. You're looking for them to be translucent.

 

Then add the zucchini to the wok and continue stirring for another 2 minutes.

 

Finally add the soy sauce and teriyaki sauce to the wok and stir for 5 more minutes, or until you find the zucchini to be nice and tender.

 

Add some of the sesame seeds to the wok and combine, and then top with remaining sesame seeds. Enjoy!
Courses Side Dish
Cuisine Asian
Nutrition Facts
Serving Size 1 cup
Amount Per Serving

Calories 95

% Daily Value

Total Fat 6 g

9%

Saturated Fat 1 g

5%

Unsaturated Fat 5 g

Sodium 146 mg

6%

Total Carbohydrates 10 g

3%

Dietary Fiber 2 g

8%

Sugars 6 g

Protein 3 g

6%
* Percent Daily Values are based on a 2,000 calorie diet. Your daily values may be higher or lower depending on your calorie needs.


4