When it comes to Fall cooking, I love that it's the season for squash. I'm an equal opportunity lover, so when it comes to zucchini, butternut squash, spaghetti squash, and acorn squash … I love them all! You'll find plenty of recipes featuring them here. And I have yet to make a butternut squash soup, so when this Roasted Butternut Squash and Bacon Soup from the blog Damn Delicious (love that name!) popped up in my Pinterest feed, I was sold!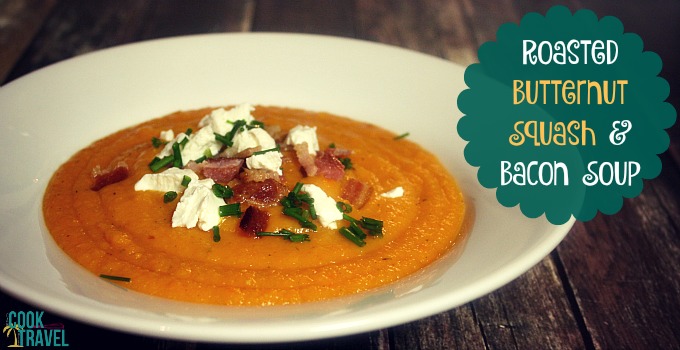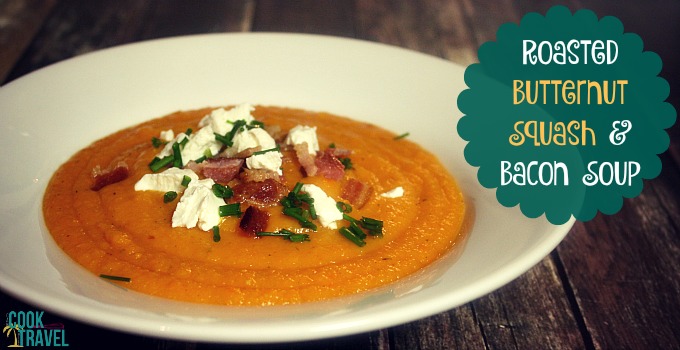 What was even better was what I found when I read the recipe. First off, you roast the veggies, which I love as it brings out such great natural flavor. PLUS you actually roast 4 slices of bacon with the veggies. Then you blend the bacon with the soup ingredients (genius!!). Finally the soup is topped with more bacon and goat cheese. Yep, the goat cheese part sent me over the edge. The only unhealthy thing is the bacon, and you have 4 slices in the entire soup, which means that you have less than one slice per serving. You can always omit the bacon topping if you're opposed, but a little won't hurt … I promise!
The longest part of the prep was breaking down the butternut squash, as I'm sure you can imagine. If you aren't quite sure how to do that, check out this post where I show you the process I always use. It definitely makes my life a bit easier going through those steps. Then my hands took on a really lovely butternut squash yellow tint … I always forget that is going to happen!
The kitchen smelled AMAZING when the veggies were done roasting. You'll toss the squash, an onion, a red pepper, and the bacon with olive oil, garlic, and salt and pepper and roast on a rimmed baking sheet for about 20-30 minutes. Be sure you stir the veggies halfway through and you will be all set.
I made an executive decision to split my vegetables between two rimmed baking sheets, which was a great decision. You'll know they're done when the squash can be easily pierced with a knife and is tender.
Transfer the veggies to a Dutch oven along with some dried thyme. Stir it around for a bit, add more seasoning if needed, followed by chicken stock. The fun part comes in when you blend the soup. I LOVE using an immersion blender (or what my family fondly calls a "boat motor," as that's what it sounds like), as it's a great stress reliever. If you don't have a hand-held blender, a regular blender will do the trick. Just blend it in batches.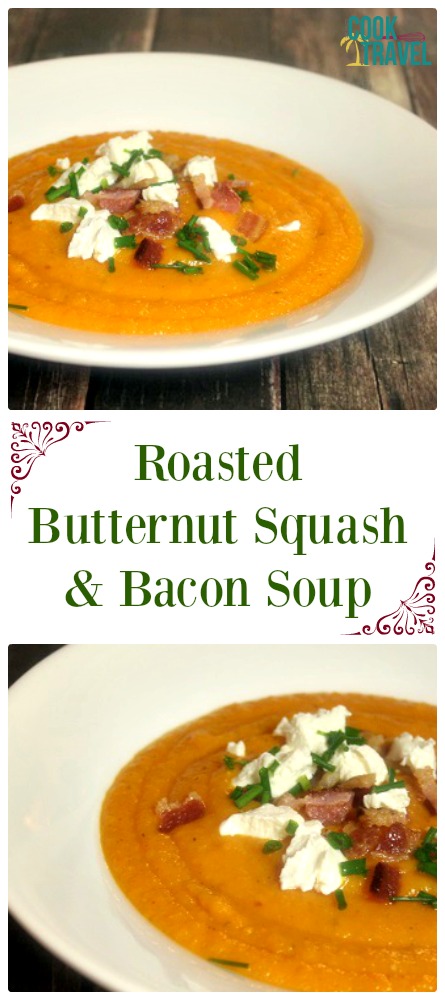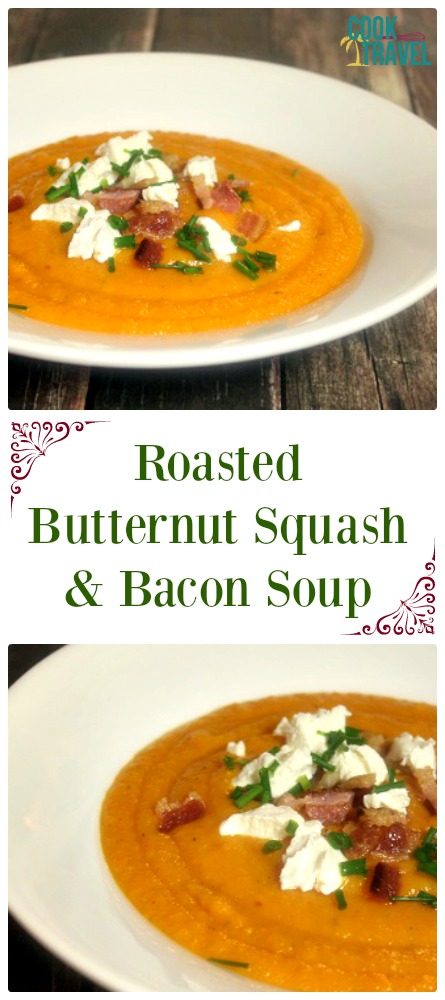 Cook the Roasted Butternut Squash and Bacon Soup a bit longer, and then serve it up. We ate ours with a little crumbled bacon, goat cheese, and chopped chives. I think the bacon is great for some extra crunch, and the goat cheese gives a bit of tang that helps balance out the rich soup nicely.
This was a total hit for dinner, and I can't wait for you to try out this Roasted Butternut Squash and Bacon Soup! Be sure to click that link for the recipe and step by step instructions. Happy souping!
A look back:
One year ago: Cranberry Love – Part 2: Cranberry Orange Bread
Two years ago: Beef and Broccoli – Don't Mind if I Do!
Three years ago: Scones Galore – Round Two: Cranberry Scones
Four years ago: Chicken and Wild Rice Soup that Hits the Spot!
0