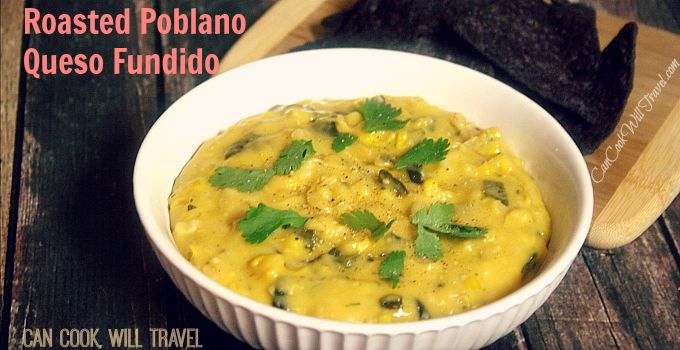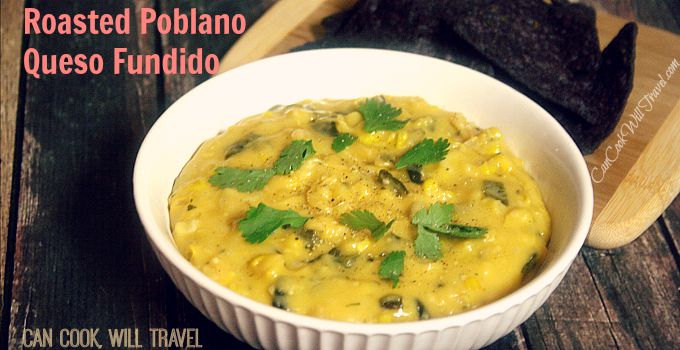 (Recipe can be found on the site Spoon Fork Bacon here.)

This Roasted Poblano Queso Fundido will be enjoyed in no time. Here's what you'll need: 8 ounces of Mexican shredded cheddar cheese (or pepper jack), your favorite Beer (I like a good wheat beer here for flavor), Salt & Pepper, 1 cooked ear of Corn, Cilantro for topping (this is optional), 1 1/2 tablespoons of unsalted Butter, 1 Garlic clove, 1 Lime, 1 teaspoon of fresh, chopped Oregano, and a roasted Poblano Pepper.

Start off by removing the skin from the poblano. You can roast it however you'd like. I did mine in our Nu-Wave oven, but here's a link to how I roasted a red pepper if you want some guidance.

Then dice the poblano discarding the stem and seeds.

Cut the corn kernels off of the cob.

And mince one clove of garlic.

In a small sauce pan, melt the butter over medium-high heat.

Once the butter is melted, add the corn, poblano pepper, garlic, and oregano to the saucepan and combine. Saute for 3-4 minutes or until some of the corn starts to brown.

Here are the veggies after sauteeing. The smell was amazing!

Then add 4 ounces of your favorite beer to the saucepan.

Stir and reduce the heat to low and simmer until most of the liquid evaporates.

While the veggie/beer mixture simmers, add the juice of half a lime to the shredded cheese.

Then toss to combine.

After several minutes of simmering, the liquid will reduce quite a bit.

Add the cheese a couple of ounces at a time. Stir until the cheese melts and then continue adding more.

Once all of the cheese is melted, season with salt and pepper.

Then the queso fundido is done. Serve it up right away and enjoy! Happy queso-ing!!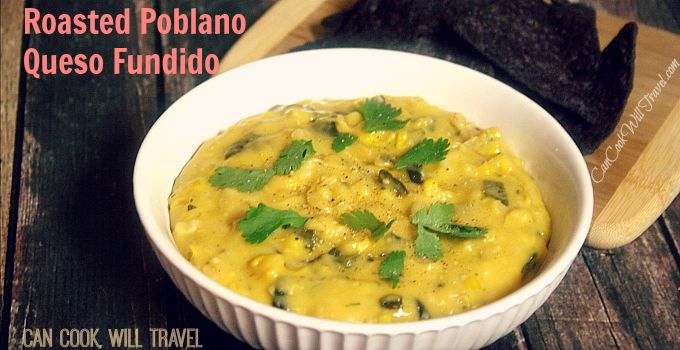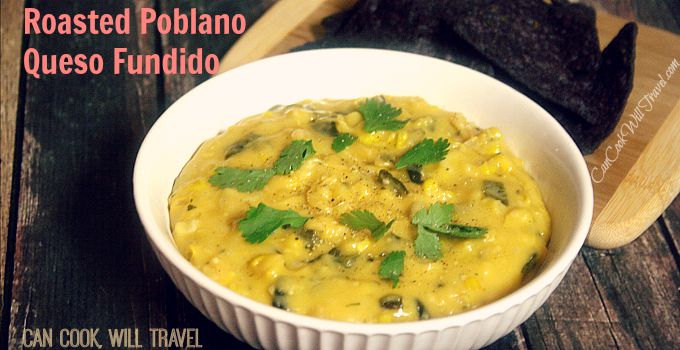 Roasted Poblano Queso Fundido
This queso fundido is delicious and really easy to make. Plus it's sure to be a crowd pleaser for your football season!
Ingredients
1½ tablespoons unsalted Butter
1 garlic Clove, minced
1 teaspoon minced Oregano (or 2 teaspoon dried Mexican oregano)
1 roasted Poblano, diced
Corn kernels from 1 ear of corn (about ⅔ cup)
4 ounces Beer (of choice -- I went with a good wheat beer)
8 ounces shredded Mexican Cheese
juice of ½ Lime
Salt and Pepper to taste
Cilantro, optional
Preparation Instructions
Begin by prepping your veggies. Cook one ear of corn (I steamed mine in the microwave) and roast one poblano pepper (I roasted mine in the Nu-Wave but choose your favorite method).
In a small saucepan, melt the butter over medium-high heat.
Once the butter has melted, add the garlic, corn, poblano, and oregano to the pan and sautee for about 3-4 minutes or until the corn begins to brown a little.
Add the beer to the saucepan and stir. Then reduce the heat and simmer until most of the liquid has evaporated.
While the veggie/beer mixture simmers, juice half a lime over your cheese and mix so the juice is throughout.
Once the beer mixture has reduced, add the cheese a couple of ounces at a time and stir until it melts. Then add more cheese until it's all combined.
Season the queso with more salt and pepper. Top with cilantro if you'd like and serve right away with your favorite corn or tortilla chips! Enjoy!
0