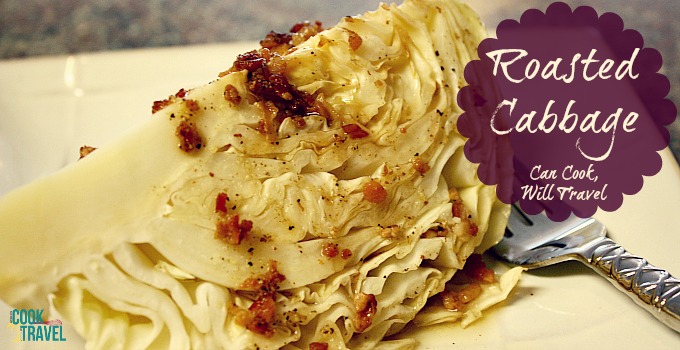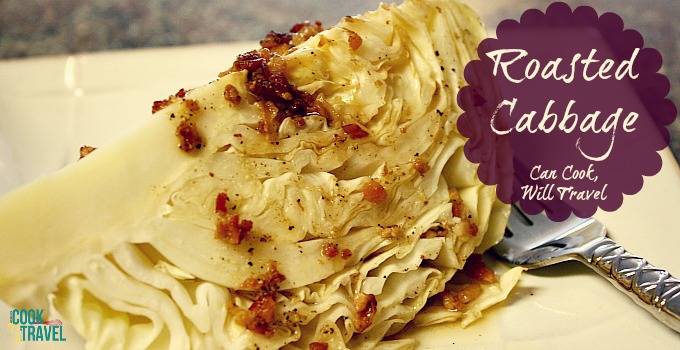 (Recipe can be found on the site Green Lite Bites here.)
Step by Step Instructions:


This recipe comes together very quickly with the following ingredients: Salt and Pepper, Worcestershire Sauce, 1 head of Cabbage, Bacon Bits, Fresh Lemon Juice, and Olive Oil.

I began by preheating the oven to 425. Then in a small bowl I combined 1 teaspoon of olive oil, 2 tablespoons of real bacon bits, 2 tablespoons of lemon juice, 1 tablespoon of Worcestershire sauce, and 1/4 teaspoon of salt and 1/4 teaspoon of pepper.

Then whisk the ingredients for the marinade together and set it aside.

Next up, I cut the cabbage in half…

…and then cut those halves in half again to quarter the cabbage.

The last step is to get 4 large aluminum foil sheets and place one quarter on each sheet and spoon 1/4 of the marinade over each wedge of cabbage. It will be about 2 tablespoons of marinade per wedge.

Then I wrapped up the cabbage into individual packets and baked them in the oven for about 35 minutes. You can bake them up to an hour if you want them extremely tender.

Then just let the cabbage sit in the foil packets out of the oven for a bit so that it cools down enough to eat. Now it's time to eat. I just put one wedge on a plate, poured the leftover marinade from the packet over the cabbage, and then used a serrated knife to cut up the wedge into bite-size pieces. This was so good an chock-full of flavor thanks to the Worcestershire sauce and bacon! I can't wait to make this again! Yum!
Ingredients:
1 tsp olive oil (5g)
2 tbsp real bacon bits (14g)
2 tbsp lemon juice
1 tbsp Worcestershire sauce
1/4 tsp kosher salt
1/4 tsp ground black pepper (more or less to taste)
1 Medium Head of Cabbage
Preparation Instructions:
1. Preheat the oven (or the grill, you lucky son of a b 😉 to 425 degrees.
2. Mix the olive oil, bacon bits, lemon juice, Worcestershire sauce, salt and pepper to make the marinade.
3. Prepare the cabbage. Rinse it under water and remove any yucky loose leaves. Cut the head in half on the core. Then cut the halves in half again to make quarters.
4. Lay each wedge on a sheet of aluminum foil large enough to wrap it up in. Spoon about 2 tablespoons of the marinade on top making sure to get it in all the nooks and crannies.
5. Wrap each wedge and bake for 20-30 minutes.  Let them sit for a little while pull them out around the 20 minute mark. However, some in the comments have cooked them up to an hour for softer cabbage. You can cook the cabbage longer if you want it more tender.
Approximate Nutritional Information per serving:
1 wedge = a serving
Calories – 80
Fat – 2g
Fiber- 6g
Weight watchers Points – 1
Sugar – 8g
Sat. Fat – 0g
Carbs – 15g
Protein – 4g
0