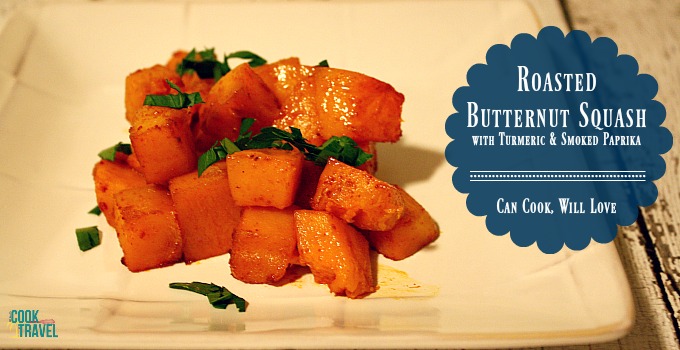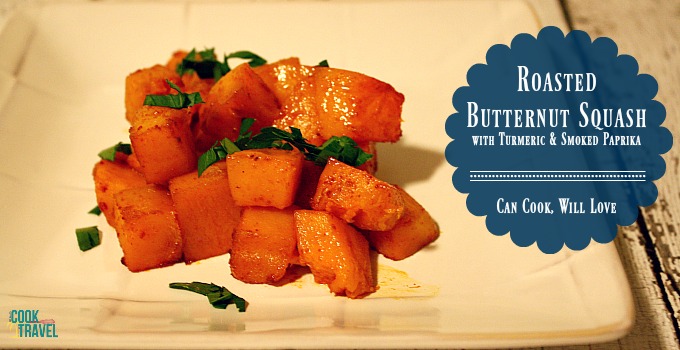 (This Roasted Butternut Squash Recipe can be found on the site Healthy Seasonal Recipes here.)
Step by Step Instructions:

Get ready to feel great about what you're eating, because this Roasted Butternut Squash is clean eating at it's finest! Here's what you'll need: Fresh Parsley, Butternut Squash, Extra-Virgin Olive Oil, Salt, Smoked Paprika, Ground Turmeric, and Garlic Powder.

First things first, preheat your oven to 375 degrees. Then Slice off the top and bottom of the butternut squash. I find it really helpful to heat the squash in the microwave for 30 seconds at a time until you can easily get a sharp knife through it, because it helps soften the outer skin a bit.

Then peel the squash with a vegetable peeler. It'll take some time and muscle, but it's a great way to take out your frustration!

Then slice the squash into more manageable sections. Again if you need to microwave the squash so it's easier to cut into, you can definitely do that.

Finally use a soup spoon and scoop out the seeds from the squash.

Now it's time to start cutting the squash, so slice each section into about 1-inch pieces.

And then cut it into 1-inch sized cubes, and transfer the squash to a large bowl.

Then add all of the remaining ingredients to the bowl, including 2 tablespoons of extra-virgin olive oil, 2 teaspoons of smoked paprika, 3/4 teaspoon of salt, 1/2 teaspoon of turmeric and 1/2 teaspoon of garlic powder.

Next use a spoon or spatula to combine all of the ingredients so that the butternut squash is well coated. One thing to note is that it's good to use a dark utensil to combine the ingredients, because the turmeric can definitely leave a bit of a yellow residue.

Now the Roasted Butternut Squash is nearly done! Line a large roasting pan (with edges) with a Silpat or parchment paper. Then place all of the squash in a single layer. You can use 2 pans if you don't have enough room if you prefer. Then roast for 32-37 minutes, and stir the squash halfway through.

Here's your Roasted Butternut Squash out of the oven, and you'll see that it's tender and starting to brown in some spots. Oh and it'll smell delicious!! This recipe couldn't be easier. Enjoy and happy clean eating!!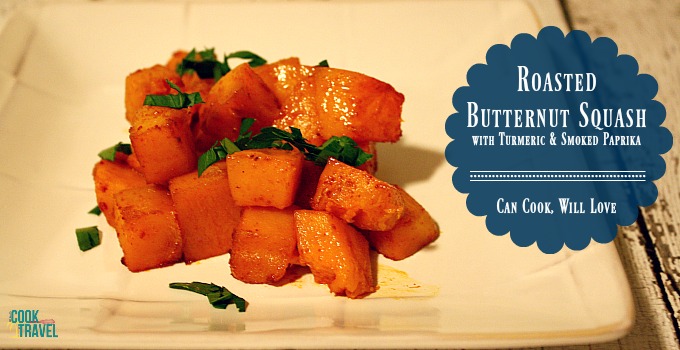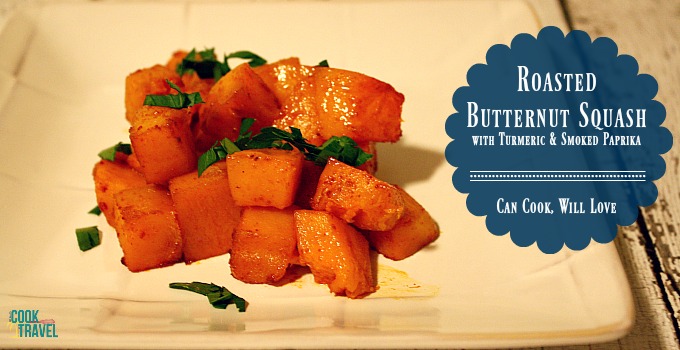 Roasted Butternut Squash
Butternut Squash is so versatile, and I love roasting it with the smoked paprika and turmeric. Amazing flavors and it makes clean eating a breeze!
Ingredients
3 pounds Butternut Squash, peeled, seeded and cut into 1-inch cubes (about 8 cups)
2 tablespoons Extra-Virgin Olive Oil
2 teaspoons Smoked Paprika
¾ teaspoon Kosher Salt
½ teaspoon Ground Turmeric
½ teaspoon Garlic Powder
Preparation Instructions
Begin by preheating your oven to 375 degrees.
Once your butternut squash is cut, add the squash, extra-virgin olive oil, smoked paprika, salt, turmeric, and garlic powder in a large bowl. Then combine all of the ingredients.
Then line a large roasting pan with a Silpat or parchment paper. Pour the squash onto the pan, and you can use 2 pans to roast the squash if you would prefer.
Finally Roast the squash in the oven for 32-37 minutes until it's tender and has started to brown. Then serve right away and enjoy!
0