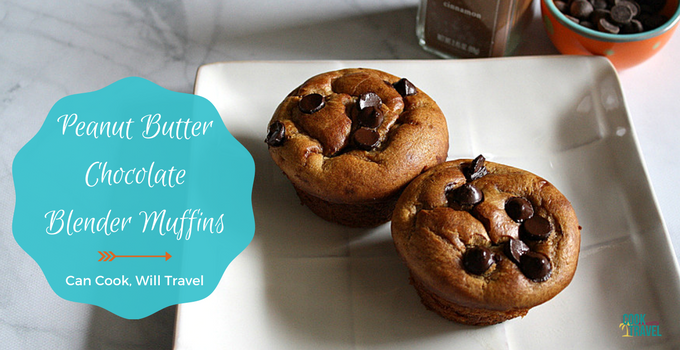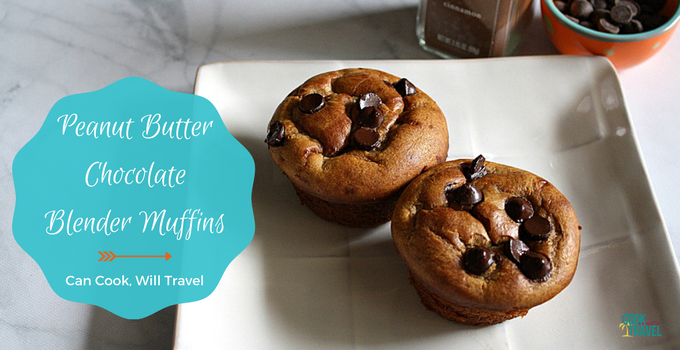 (This Peanut Butter Blender Muffins recipe is found on the site Stock Piling Moms, so click here for that post.)
Step by Step Instructions:

You won't believe how easy these Peanut Butter Blender Muffins are to make, so here's what you'll need: Apple Cider Vinegar, Baking Soda, 2 Bananas, 2 Eggs, Peanut Butter, Honey (optional), Cinnamon (optional), Vanilla Bean Paste (optional – not pictured), and then Chocolate Chips (optional). You'll notice that you have 5 key ingredients, and then you can play around and add in what you'd like.

Peanut Butter Blender Muffins come together so fast, so start off by preheating your oven to 400 degrees. Then spray your muffin tins with cooking spray. A note on the tins is that I had enough batter to make more than 6 muffins, so you might have an extra tin handy in case you need it.

Now let's throw together these muffins, so measure out a cup of peanut butter. A tip here is to spray the measuring cup with cooking spray, because the peanut butter comes out more easily.

So then add the peanut butter to the blender.

Then add 2 bananas to the blender.

Now crack your eggs and then add them both to the blender.

Ahhh, one of my favorite ingredients when baking is vanilla bean paste, because the vanilla flavor is incredible, so feel free to add it in.

The remaining ingredients get added, so that includes 1/2 teaspoon of baking soda, a teaspoon of apple cider vinegar, then a nice dash of cinnamon, and vanilla bean paste. Next time I'm totally adding a good pinch of salt too, because salt always amps up the flavors.

Let's take a moment and say hi to my new Vitamix, because I'm so excited to finally have a really good blender!

Then blend away until your batter is smooth.

At this point, your batter is done, so if you're opting to not add chocolate then you're good to fill up your muffin tins.

However if you are going to use chocolate chips, then transfer your batter to a bowl.

So I'm happy to report that on my cooking and baking dairy free journey, I was on the hunt for dairy free dark chocolate. I FINALLY found some I could count on from this brand Enjoy Life, so if you're going through the same struggle of seeing "may contain milk products", here's a great option for you.

Then add in your chocolate chips, and there's no rhyme or reason so add as much as you want. I may have added a lot of chocolate, so feel free to add a little less!

Then stir in your chocolate until it's throughout the bater.

Finally fill up your tins, and if you want those really big muffins fill it pretty full. Then sprinkle the top with some chocolate chips if you'd like, and you probably should! Then bake for 13-20 minutes until a toothpick is inserted and comes out clean. My muffins were big, so it took about 20 minutes for them to be cooked through.

Here are the muffins all golden on top and baked through, so let them sit in the tin for about 10 minutes so they can release from the tin.

Carefully remove the muffins from the tin and then let them cool on a wire rack. I gently eased mine out with a table knife, so just take your time and you'll be great. Then devour these Peanut Butter Blender Muffins when they're still slightly warm, so happy baking!!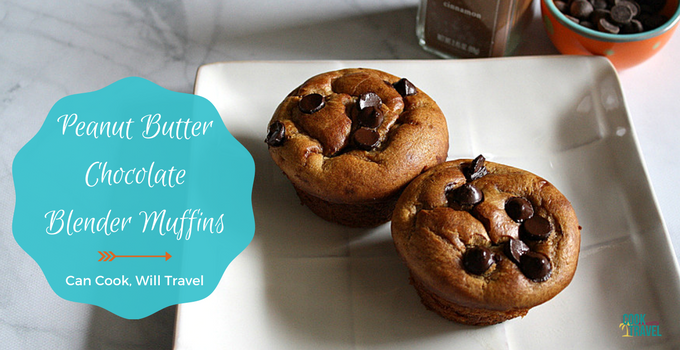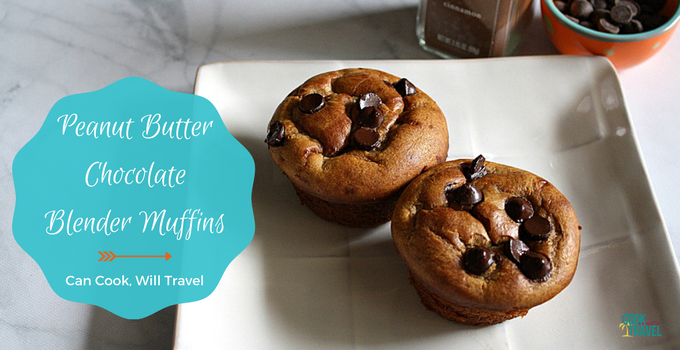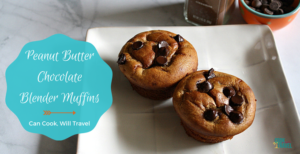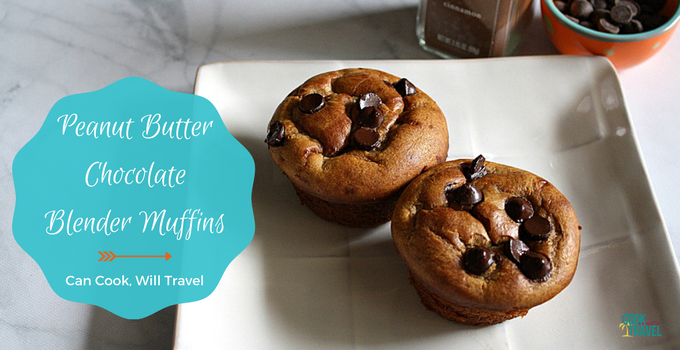 Print
Peanut Butter Blender Muffins
Yield 8 muffins
Breakfast just got a lot more delicious and easier with these blender muffins that are gluten & dairy free!
Ingredients
Ingredients
1 cup Peanut Butter
2 medium-sized Bananas
2 Eggs
1/2 teaspoon Baking Soda
1 teaspoon Apple Cider Vinegar
2 Tablespoons of Honey (optional)
1/4 teaspoon of Cinnamon (optional)
1/2 teaspoon of Vanilla Bean Paste (optional)
Chocolate Chips (optional)
Instructions
Begin by preheating your oven to 400 degrees, and then spray your muffin tins.

 

Then add the peanut butter, bananas, eggs, baking soda, and apple cider vinegar to your blender. To make these muffins a little more special, feel free to add in honey, cinnamon, and vanilla bean paste at this point.

 

Blend until the batter is smooth.

 

If you want to add chocolate chips to your muffins, then transfer the batter to a bowl and fold in 1/4 cup of so of chocolate chips.

 

Then pour the batter to your muffin tins, and I filled my tins pretty darned full and still had more batter.

 

Bake for anywhere from 13-20 minutes, and that time will really depend on how full your muffin tins are. Mine were full, so it took more like 20 minutes, and I tested it with a toothpick until the toothpick came out clean.

 

Cool the muffins in the pan for 10 minutes and then transfer to a cooling rack and enjoy!
Notes
Quick Tip: You can make these muffins fit your tastes by switching out the optional ingredients. All you really need are the first 5 ingredients for these easy blender muffins.
Courses Breakfast
Cuisine American
Nutrition Facts
Serving Size 1 muffin
Amount Per Serving

Calories 314

% Daily Value

Total Fat 21 g

32%

Saturated Fat 5 g

25%

Cholesterol 47 mg

16%

Sodium 237 mg

10%

Total Carbohydrates 23 g

8%

Dietary Fiber 4 g

16%

Sugars 15 g

Protein 10 g

20%
* Percent Daily Values are based on a 2,000 calorie diet. Your daily values may be higher or lower depending on your calorie needs.

0