When the weekends come around, every once in a while I'll want a little something special for breakfast. Usually it's in the form of waffles or pancakes, but not this week. I recently got a new blender, which you probably know if you follow me on Instagram or receive my weekly newsletter. And as soon as I got it, I was itching to use it out, and these easy Blender Muffins found their way to the top of my list.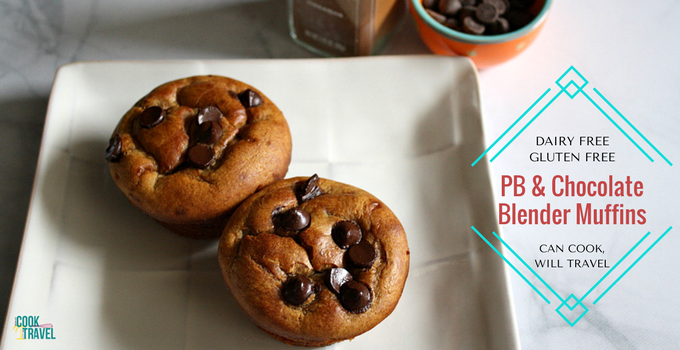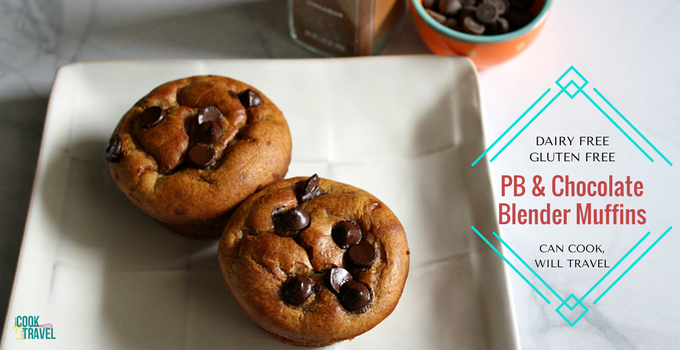 Now this isn't just any blender, so let me fill you in. I'd about had it with my blender. It was fine in theory, but simple things like blending dressings and pureeing beans were total failures. And I kept thinking back to my mom's Vitamix, because I'd used it quite a bit. I was so having blender envy that it was slightly pathetic.
So I did my research, and decided I needed a better, high-powered blender. I was willing to invest some money in a blender that would do what I needed. After all, there were a lot of recipes I'd actually skipped making because I knew my blender wouldn't be up to the task. So I went back and forth between the Ninja and the Vitamix. The Ninja is slightly cheaper and my sister has one and loves hers. In fact, it's what I used for this Tomato Strawberry Gazpacho, and I liked it a lot. But the Vitamix is a BEAST, in the best way of course.
Luckily I came across a way to get a reconditioned one, which is what my mom uses, and you'd never know that it wasn't brand new. They basically restore them to brand new, so that's awesome. And then I also got it with a great warranty, payment plan if I needed, and a few extra items added on. No regrets with this purchase at all!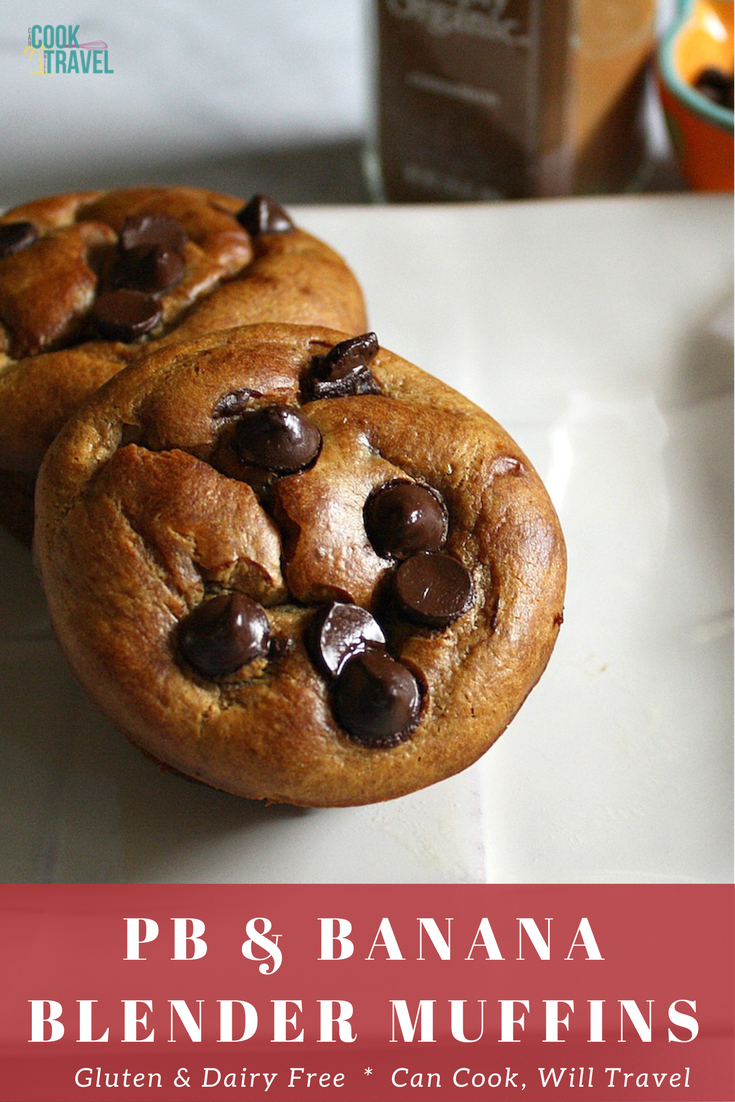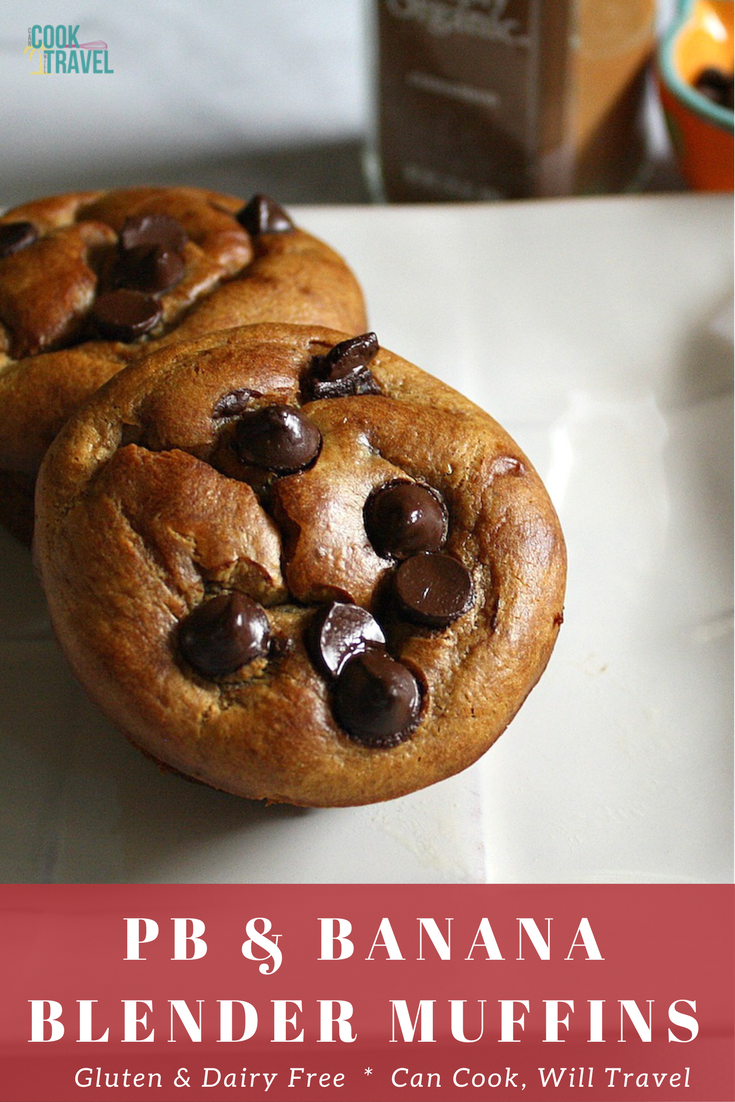 So I christened my Vitamix with these easy blender muffins, and it was a fun decision. First of all, these muffins were made on a Sunday morning, and Sundays are kinda my lazy morning days. I like to get up, stretch, drink some lemon water, watch TV and enjoy breakfast. But this seemed like a simple recipe, so I figured it wouldn't crash my lazy Sunday vibe too much, and it didn't.
Just grab your blender and add peanut butter, some bananas, a couple of eggs, baking powder, apple cider vinegar, honey, vanilla, and cinnamon to it and blend until it's smooth. Then I wanted chocolate, because it's a weekend and I'm a chocaholic. So I poured the muffin batter into a bowl and added in some chocolate chips. Then pour the batter into 6 muffin tins. I filled mine to the brim and still had batter leftover, so you could possibly get more than 6 muffins out of this. I'd say I could have done 7 or 8 actually. Top with a few chocolate chips and bake. Now since I filled my muffin tins pretty full, I baked these for a good 20+ minutes or until they were brown on top and a toothpick was inserted into the center and came out clean.
Cool and then dig in!
Now one thing I'd like to chat about is the chocolate. So you know I'm striving to cook dairy free when I'm at home, but hot damn it's difficult to find chocolate chips that don't contain milk. So before I ran to the grocery store, I decided to go online and see if I could find any brands that were good options. Great plan I had, because I discovered a brand called "Enjoy Life" that has lots of dairy free (and allergy free) chocolate options. And even better, my local Target I had to run to anyway looked like they might have some in the store!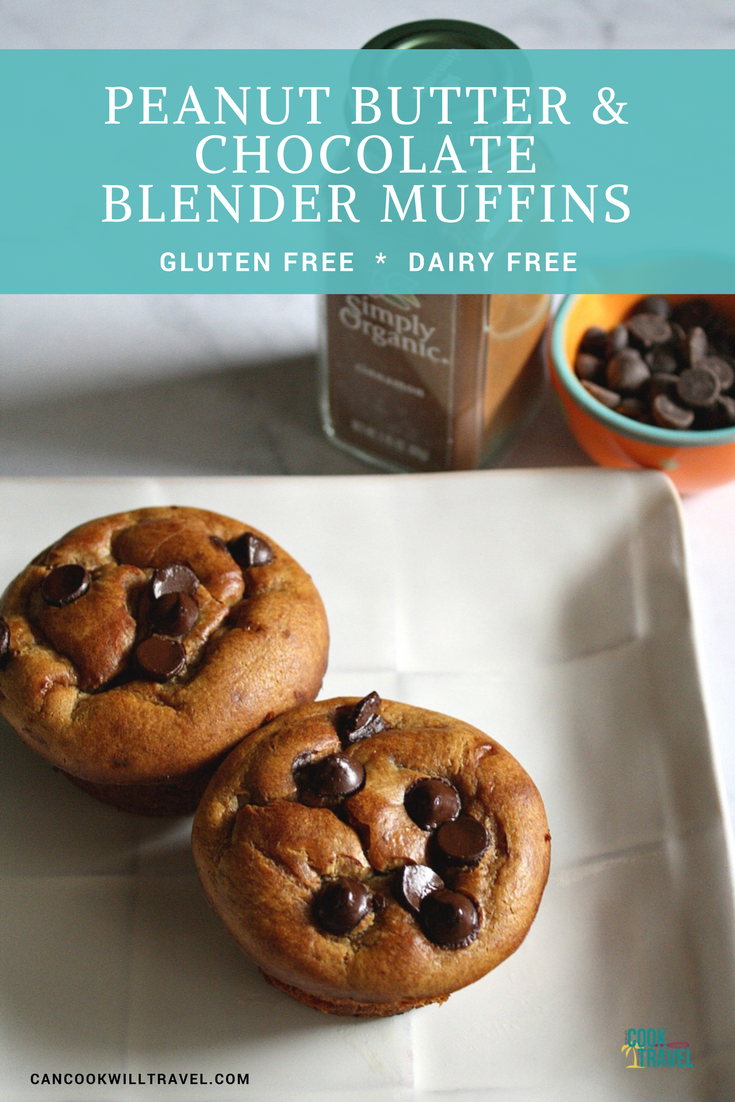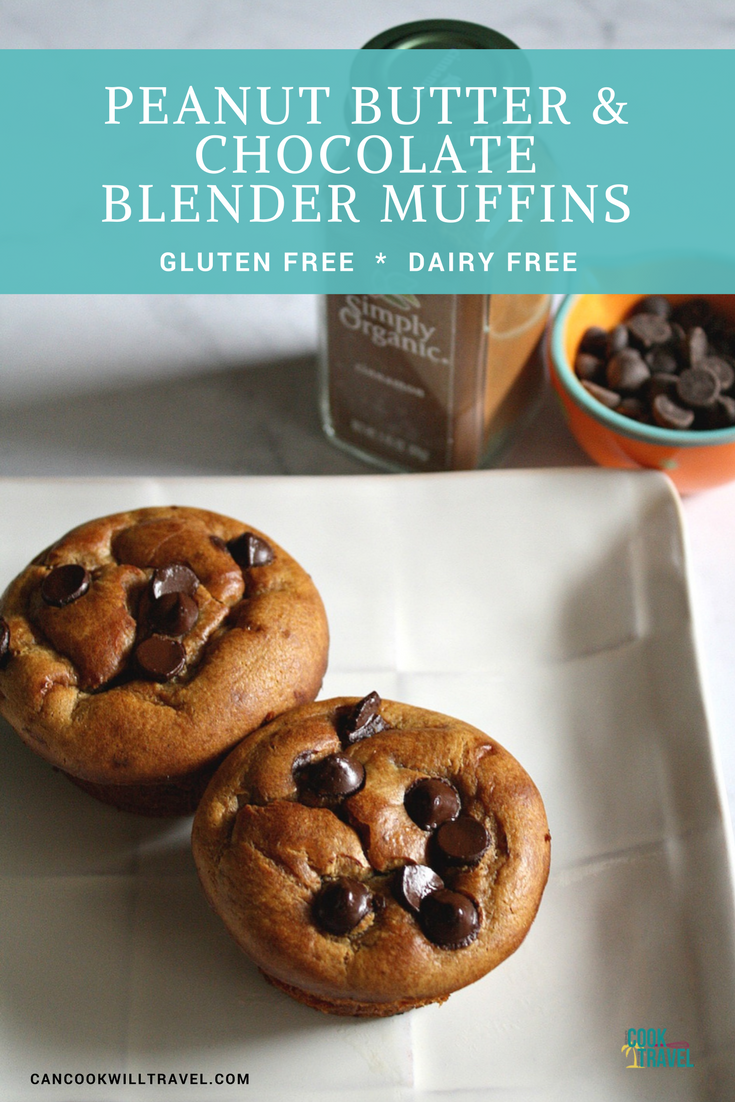 They did indeed, although they're a fair amount more expensive, but if you have allergies it's well worth the price. They're a fantastic product and made these easy Blender Muffins even better for me! So not only are they dairy free but they're also gluten free as there isn't any flour!
Taste-wise, I'm pretty thrilled with the muffins. The bananas make them really moist and the peanut butter and eggs helped give them structure. Plus you have this lovely banana bread smell to them and anything with peanut butter and chocolate is a must-make situation for me. They weren't overly sweet, one muffin was nice and filling, and cleanup with the blender is a breeze.
So these Easy Blender Muffins are a total no-brainer for me. If you're wanting to have some gluten and dairy free options for breakfast or brunch, then you gotta add these muffins to the menu. Click that link for the recipe and step by step instructions. Happy blending!
A look back:
One year ago: Stuffed Cabbage Casserole is a Dinner Triumph
Two years ago: Honey Beer Bread is Seriously Tasty!
Three years ago: Well Hello Quinoa Stuffed Red Peppers!
Four years ago: Seriously Winter?! Roasted Cauliflower and Aged White Cheddar Soup to the Rescue
Five years ago: Learning to Love Salads…Part 5: Wintry Salad with Grapefruit and Goat Cheese
Six years ago: Look at Me…I Made Pasta…From Scratch!


0