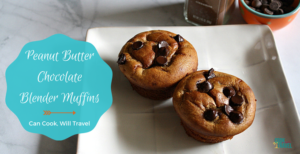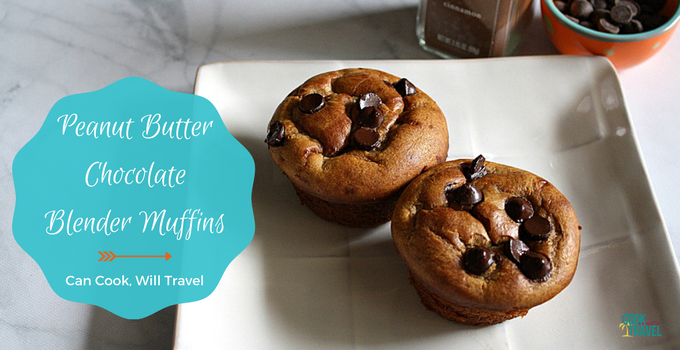 Peanut Butter Blender Muffins
Yield 8 muffins
Breakfast just got a lot more delicious and easier with these blender muffins that are gluten & dairy free!
Ingredients
Ingredients
1 cup Peanut Butter
2 medium-sized Bananas
2 Eggs
1/2 teaspoon Baking Soda
1 teaspoon Apple Cider Vinegar
2 Tablespoons of Honey (optional)
1/4 teaspoon of Cinnamon (optional)
1/2 teaspoon of Vanilla Bean Paste (optional)
Chocolate Chips (optional)
Instructions
Begin by preheating your oven to 400 degrees, and then spray your muffin tins.

 

Then add the peanut butter, bananas, eggs, baking soda, and apple cider vinegar to your blender. To make these muffins a little more special, feel free to add in honey, cinnamon, and vanilla bean paste at this point.

 

Blend until the batter is smooth.

 

If you want to add chocolate chips to your muffins, then transfer the batter to a bowl and fold in 1/4 cup of so of chocolate chips.

 

Then pour the batter to your muffin tins, and I filled my tins pretty darned full and still had more batter.

 

Bake for anywhere from 13-20 minutes, and that time will really depend on how full your muffin tins are. Mine were full, so it took more like 20 minutes, and I tested it with a toothpick until the toothpick came out clean.

 

Cool the muffins in the pan for 10 minutes and then transfer to a cooling rack and enjoy!
Notes
Quick Tip: You can make these muffins fit your tastes by switching out the optional ingredients. All you really need are the first 5 ingredients for these easy blender muffins.
Courses Breakfast
Cuisine American
Amount Per Serving

Calories 314

% Daily Value

Total Fat 21 g

32%

Saturated Fat 5 g

25%

Cholesterol 47 mg

16%

Sodium 237 mg

10%

Total Carbohydrates 23 g

8%

Dietary Fiber 4 g

16%

Sugars 15 g

Protein 10 g

20%
Recipe by Can Cook, Will Travel at https://cancookwilltravel.com/peanut-butter-blender-muffins/