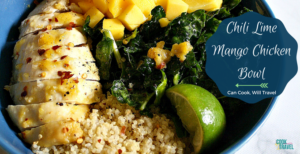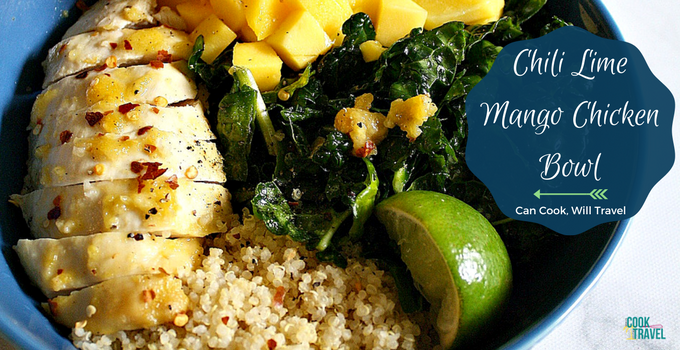 Mango Chicken Quinoa Bowl
Yield 2 servings
I absolutely love this dish for a super flavorful chicken recipe that is so healthy!
Ingredients
Chicken & Marinade Ingredients:
2 skinless Chicken Breasts (4-6 ounces each)
1/8 cup White Wine (Pinot Grigio)
1 Mango, peeled and diced(half for the sauce)
1/8 cup Olive Oil
1/8 cup All-Natural Pineapple Juice (or juice from a fresh orange)
1 T. Sweet Chili Sauce
1/8 tsp Sea Salt
1/8 tsp Black Pepper
1/2 T. Lime Juice (about 1/4 of a lime)
1/8 cup Agave Nectar (or honey)
1/2 tsp Garlic
1/8 cup chopped Shallot (or Red Onion will work)
Bowl Ingredients:
4 cups Kale
2 tsp. Extra-Virgin Olive Oil
Salt & Pepper to Taste
1 cup Quinoa, cooked
Rest of chopped Mango
Red Pepper Flakes
Instructions
Begin by prepping all of the ingredients for the marinade including dicing the mango, mincing the garlic, and chopping the shallot (or red onion).

 

Add half of the chopped mango, along with sweet chili sauce, lime juice, agave, shallot, white wine, olive oil, pineapple juice, garlic, and salt and pepper to a blender.

 

Blend until the mixture is smooth and reserve 1/4 of the mixture. Then place the chicken in a plastic bag and add the remaining marinade to the bag, seal, and flip the chicken a bit to ensure it's coated with the marinade. Refrigerate the chicken for 3-24 hours, and once the chicken has marinated, proceed to the next step.

 

Preheat the oven to 425 degrees, and put the chicken and marinade from the bag in the pan. I used a cast iron skillet, so I preheated mine on the stove over low heat and added the chicken and marinade once the oven was preheated.

 

Bake for 20-30 minutes or until the chicken is cooked through and is about 165 degrees with internal temperature. Then turn the oven to broil on high for 3-5 minutes to form a crust on the chicken, if you'd like. Just make sure your dish is safe to be heated to 500 degrees and crack the oven door anytime you're broiling.

 

Once the chicken is done, remove it from the oven and place the chicken on a cutting board to sit for 3-5 minutes. Then slice and put your bowl together. For the kale, massage it with olive oil for 1-2 minutes and then add it along with 1/2 cup of quinoa per bowl and split the remaining mango between bowls. Add the chicken and drizzle the reserved marinade over the kale and quinoa and add red pepper flakes to the chicken for a little spice. Enjoy!
Notes
Quick Tip #1: Marinade the chicken for up to 24 hours in advance
Quick Tip #2: Reserve about 1/4 cup of the marinade as soon as you make it for drizzling over the finished bowl. Yum!
Courses Lunch
Amount Per Serving

Calories 353

% Daily Value

Total Fat 9 g

14%

Saturated Fat 1 g

5%

Unsaturated Fat 6 g

Cholesterol 66 mg

22%

Sodium 282 mg

12%

Total Carbohydrates 41 g

14%

Dietary Fiber 2 g

8%

Sugars 36 g

Protein 27 g

54%
Recipe by Can Cook, Will Travel at https://cancookwilltravel.com/mango-chicken-quinoa-bowl/