When I'm trying to pick out my jewelry for an outfit, it is all about the neckline in my world. Whatever the neckline is for my outfit will most certainly determine the type of necklace I put on.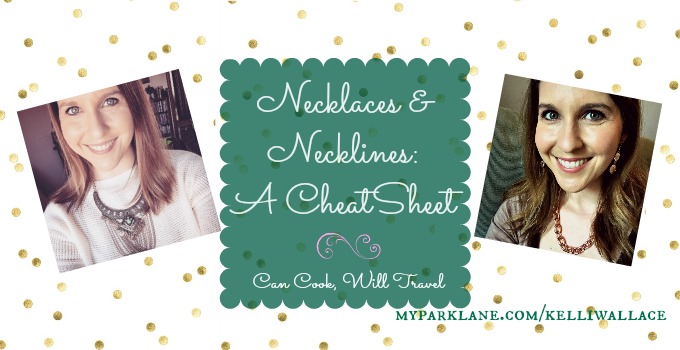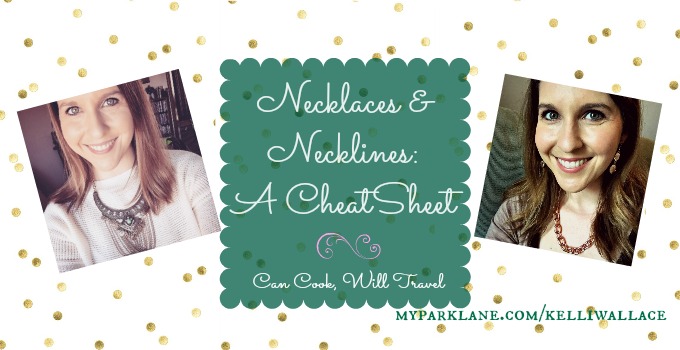 As we all know, there are so many different necklines out there. The ones I wear most commonly are boatneck, crew neck, scoop neck, and v-neck. For scoop neck and v-neck tops, I tend to grab a short necklace. And for boat necks or crew necks you get even more flexibility. The guideline I often use with open necklines is finding a necklace that mimics the shape. Here's what I mean…
When it comes to short necklaces, I'm really talking anything that is 15-16 inches to 18-20 inches long. You can go for something simple and sweet like the Inner Circle necklace that I featured a few weeks ago. This one works well for a v-neck as it forms that v shape when you put it on. Another favorite that is sure to be highlighted soon in a Weekly Style Crush post is the Infinite necklace from Park Lane's E! Collection. If you want to go slightly bolder in a timeless look, the Connections necklace is another go-to of mine and works so well with a scoop neck top. I wear these pieces in a pretty constant rotation as my wardrobe tends to be featuring a tee or tank top and jeans or capris most days.
You can also wear short statement necklaces too that will dress up a scoop or v-neck top even more. I don't wear a statement necklace all of the time because I live a pretty casual life. But it's amazing when you put one on for an event, church, happy hour (you get the drift) how much it can dress up an outfit immediately! A few of my favorite short statement necklaces right now are the Everafter necklace, Raise the Bar necklace, and Lotus Blossom necklace. Everafter is a really pretty, feminine collar style necklace. Raise the Bar is a long, horizontal bar covered in crystals that comes in your choice of silver or rose gold. This one is a bit more modern and since it's long but still thin, it allows for a smaller, more subtle statement look. And Lotus Blossom is just cool with its aqua and lemon-colored gems accented with navy. I'm a big fan of this one as well!
The boat neck style neckline as well as the crew neck style really give you the most flexibility, because they don't limit you to a certain look. You can wear short, long, big and bold styles, keep it simple, and can layer it up too. In other words, the world is your oyster with these two necklines, my friends! I love wearing a bold, long statement necklace like the Silhouette necklace. A layered looks is always easy to do with a boat or crew neck with a piece like Amped Up with its gold multi-strand look. And it is a fabulous way to feature your favorite statement necklace. Three of my current favorites are the Pharaoh necklace (below), Kristen necklace, and Avant Garde necklace.
Don't feel like you're stuck wearing the same type of necklace day in and day out, if you're not sure where to start…start with your neckline. And how lucky are we that Park Lane created this awesome neckline cheat sheet to give us some guidelines if we need some help: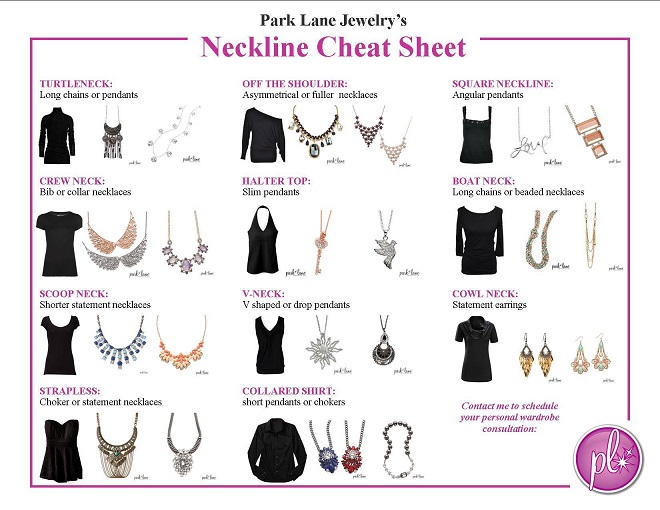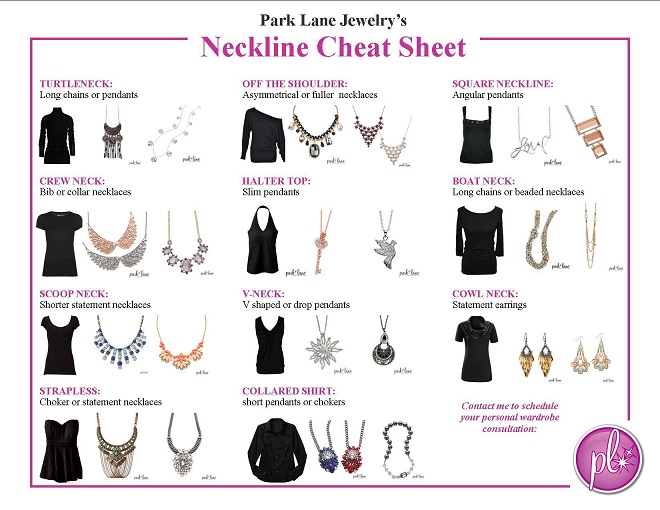 I hope this helped inspire you to try more jewelry styles with your wardrobe.  I'd love to know which of these necklines you wear the most to get a better sense of your style and needs! Just comment below!
27