Kung Pao Chicken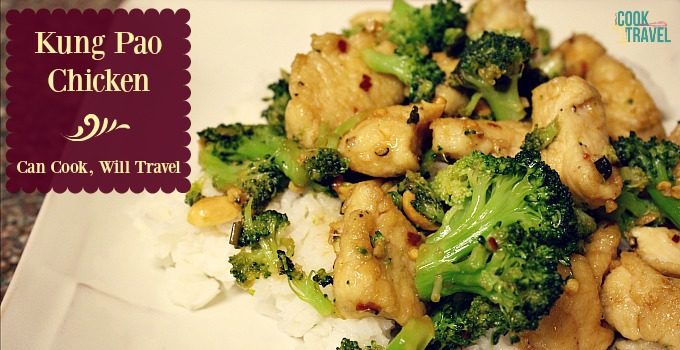 1 large Chicken Breast, cut into 1-inch pieces
Salt & Pepper
1 Tablespoon Cornstarch
2 teaspoons Sesame Oil
3 Tablespoons Green Onions, chopped
3 garlic Cloves, minced
½ teaspoon crushed Red Pepper Flakes
½ teaspoon Groun Ginger
2 Tablespoons Rice Vinegar
2 Tablespoons Soy Sauce
2 teaspoons Sugar
2 cups Broccoli, steamed
2 Tablespoons Peanuts
Lightly season chicken with salt & pepper. Dredge in the cornstarch and shake off excess in a colander.
Combine green onions, garlic cloves, red pepper flakes and powdered ginger in a small bowl, then set aside. Combine soy sauce, rice vinegar and sugar in a small bowl. Microwave for 30 seconds to dissolve sugar, then set aside.
Heat a wok or large skillet on med-high (~325 degrees on an electric wok.) Add sesame oil and, when hot, add chicken. Cook until chicken is no longer pink, ~5 minutes. Remove to a plate.
Add green onion mixture to the wok and cook, stirring constantly for 15 seconds. Add soy sauce mixture to the wok and let bubble for 10-15 seconds, or until it begins to thicken slightly. Add chicken back into the wok, along with broccoli and peanuts. Stir to combine. Turn off heat and serve over rice.