With next week being St. Patrick's Day, and me embracing all things Irish on the blog this week, I had to channel my Irish roots and find something fun to cook this week to amp up your St. Patrick's Day menu. When it comes to St. Patty's Day, I love the traditional corned beef and cabbage I grew up with. I try to enjoy it as often as I can for this holiday. But this week I wanted to make something totally different: Irish Nachos. Thanks once again to Pinterest for this inspiration!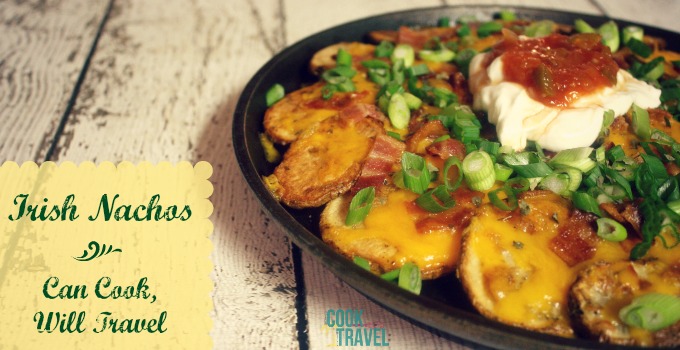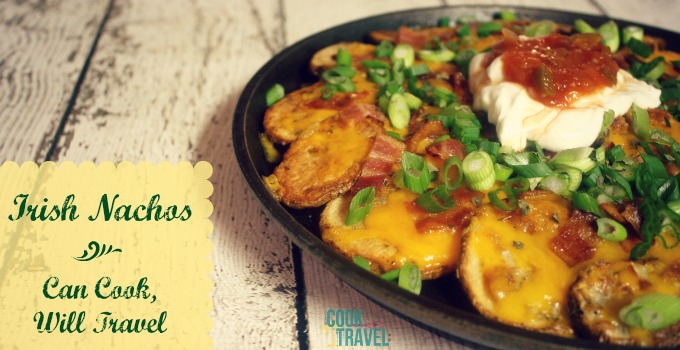 So the last nachos I've had when I was out at a local restaurant were a bit disappointing, so I was pretty excited to whip up these Irish Nachos to redeem that experience. I've only ever made nachos on my blog once, and I think subconsciously it was because I felt like there was no way I could top them. But Irish Nachos are so different, that I couldn't resist.
In case you're not familiar with the Irish version of nachos, they have a base of potatoes rather than the traditional tortilla chips. And I'm a BIG fan of potatoes every way, so it's a given that I'd love these!
When it comes to making this dish, the most labor intensive part is slicing the potatoes. I went for the mandolin to slice up the potatoes about 1/4" thick. Next time I may just hand slice the potatoes with a knife and not bake them quite as long. But even though they were a bit crispier than I thought they'd be, they were still delicious in the nachos.
Once you slice up the potatoes, you'll roast them for 20 minutes or so per side in the oven. When they are starting to brown, you're good to go, and you can remove them from the oven.
You'll want an oven safe pan to bake the nachos. A cast iron skillet or griddle is perfect. Simply layer the potato slices and top it with shredded sharp cheddar cheese and crumbled bacon. Bake until the cheese is melted and then top with green onions and cilantro. In addition you can top with Greek yogurt (or sour cream) and salsa or diced tomatoes, and then dig in immediately!


Not only are these a fabulous appetizer but you can also make a meal of it (not the whole thing). When I made these, I ate them for dinner since I wasn't super hungry that day. And they were pretty darned delightful, I must say. I honestly enjoyed that the potatoes had a bit of a crunch to add some texture, and anything with some cheese and bacon is always a good thing.
I went the Greek yogurt and salsa route on my Irish nachos, and they were delicious. I thought maybe I wouldn't enjoy the yogurt as much as sour cream, but it was just as good and a great way to cut down calories and fat. The flavors in this recipe are fabulous with the addition of rosemary and thyme when roasting the potatoes.
These Irish Nachos are a fabulous way to start celebrating St. Patty's Day and I can't wait for you to try this dish! Easy and totally delicious! Click that link for the recipe and step by step instructions. Happy nacho eating!
A look back:
One year ago: Carrot Cake Oatmeal Cookies = Healthy Cookies in No Time
Two years ago: Baked Avocados Are So Cool!!
Three years ago: Irish Coffee Brownies – A Very Happy St. Patrick's Day!
Four years ago: Spaghetti Squash is so Cool!
Five years ago: Happy St. Patrick's Day! Bring on the Guinness!
0