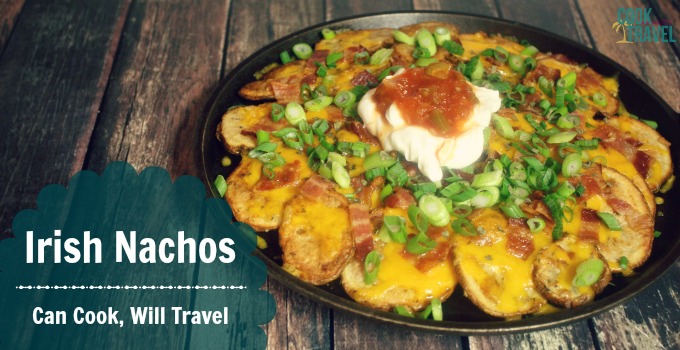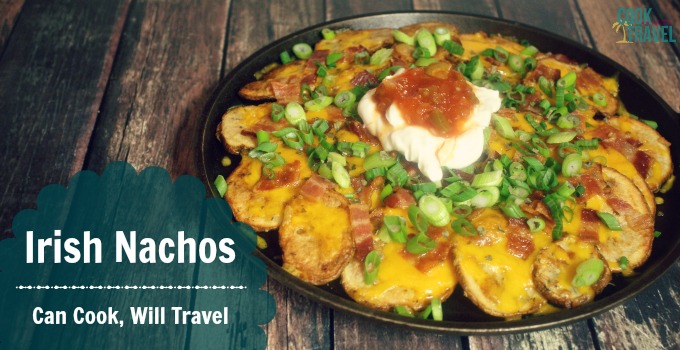 (Homemade Irish Nachos recipe from the site Cooking with Curls here.)
Step by Step Instructions:

Homemade Irish Nachos will be yours to enjoy in no time. Here's what you'll need: Sea Salt, Black Pepper, Cilantro (I used freeze-dried since I didn't have fresh cilantro), Greek Yogurt (or sour cream if you'd like), Salsa (or pico de gallo or diced tomatoes), 4-5 strips of Bacon (I went with 4 to keep it healthier LOL), 2 Green Onions, 2 large Potatoes (you want 1.5 lbs of potatoes), and shredded Sharp Cheddar Cheese.

Begin by preheating your oven to 450 degrees. Then slice your potatoes to about 1/4-inch thick. A mandolin is really handy for even slices, but you can eyeball it and slice the potatoes yourself if you'd like.

Here they are in all of their sliced potato glory.

Place the potatoes in a large bowl and add 2 tablespoons of olive oil and 1/2 teaspoon each of dried rosemary and dried thyme. A fun trick to get the most flavor with these spices is to measure it out into your hand and rub your palms together to release the fragrance of the spices.

Then add a nice pinch of sea salt and good grind of black pepper to taste.

Then toss the potatoes until they're well coated in oil and spices.

Line a baking sheet (or 2 of you need more space) with a Silpat or parchment paper. Then lay the potato slices into a single layer. Bake for about 20 minutes.

You'll take them out and see that they are browned a bit. Flip them over and bake for another 15-20 minutes keeping an eye on them.

While the potatoes are finishing to bake, cook up your bacon. Thanks to the amazing Nu-Wave I always have perfect bacon.

Then slice up 2 green onions.

Once the bacon has cooled a little, chop it up into bite-sized pieces.

When the potatoes are finished baking, layer them into a cast iron pan (or oven safe pan).

Then sprinkle a cup of shredded cheddar cheese and the chopped bacon over the top of the potatoes.

Bake in the oven for 3-4 minutes or until the cheese is melted. Top with the green onions and chopped cilantro. Then add a dollop of Greek yogurt and salsa on top and enjoy right away. Happy nacho making!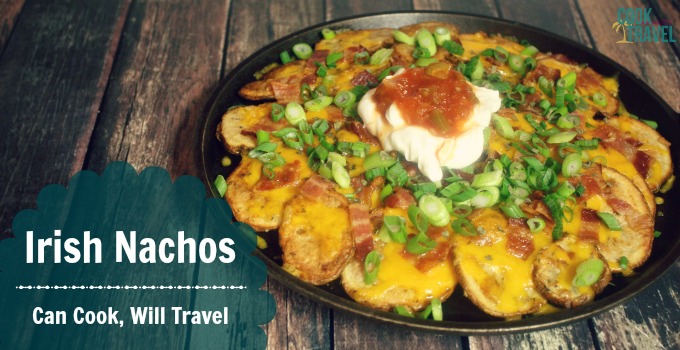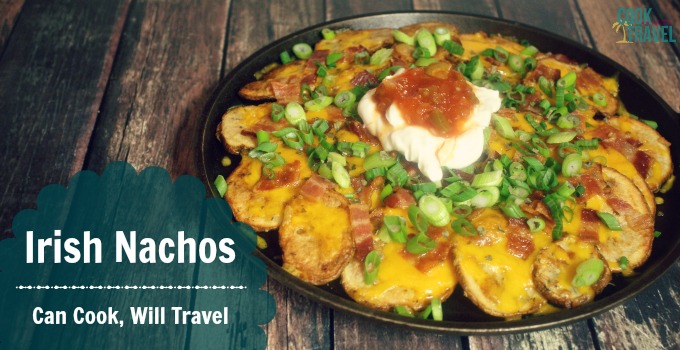 Homemade Irish Nachos
Not only are these nachos easy they're delicious with their smokey flavor and melted cheese. This definitely hits the spot around St. Patrick's Day (or any day!)
Ingredients
1½ pounds Russet Potatoes (cleaned, and sliced ¼ inch thick)
2 tablespoons Olive Oil
½ teaspoon dried Rosemary leaves (crushed)
½ teaspoon dried Thyme leaves (crushed)
Sea Salt & fresh ground Black Pepper (to taste)
1 cup shredded Sharp Cheddar Cheese
4 - 5 slices of thick-sliced Bacon (cooked and chopped)
Greek yogurt or sour cream
Salsa, Pico de gallo, or Diced Tomatoes (optional)
2 minced Green Onions
1 tablespoon chopped Cilantro leaves
Preparation Instructions
Start off by preheating your oven to 450 degrees.
Slice the potatoes in about ¼-inch slices and toss with the olive oil, rosemary and thyme leaves, and sea salt and pepper to taste. Line a baking sheet with a Silpat or parchment paper and put the potatoes in a single layer. (Use 2 baking sheets if you need to for room.)
Bake in the oven for 20 minutes then flip the potatoes and bake another 15-20 minutes or until the potatoes start to brown without getting crispy.
Layer the sliced potatoes in a cast iron skillet (or oven-safe pan) and top with the sharp cheddar cheese and chopped bacon. Put the skillet in the oven and bake another 3-4 minutes or until the cheese is melted.
Top the Irish Nachos with the green onions and cilantro. Top with Greek yogurt and salsa (or tomatoes in whatever form you'd like). And enjoy right away!
1