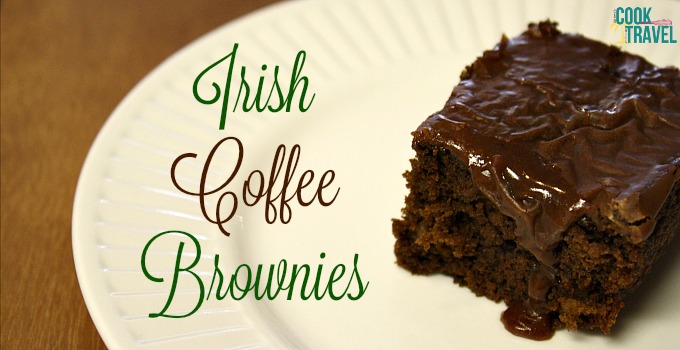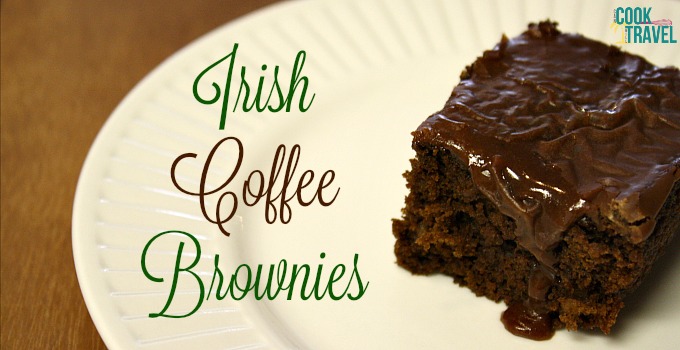 (Recipe can be found on Confident Kitchen site here.)
Step by Step Instructions:

Ring in St. Patty's Day or any old day for that matter with these brownies. Here's what you'll need: Instant Coffee, Irish whiskey, Sugar, All-Purpose Flour, Milk, Baking Soda, Cocoa Powder, Vanilla (love my vanilla bean paste), Baking Powder, 3/4 cup Butter, 2 Eggs, Chopped Walnuts, and Powdered Sugar.

Begin by preheating the oven to 350 degrees. Then in a large sauce pan, heat 1 1/2 sticks of butter (3/4 cup), 1 1/4 cup of sugar, and 1/2 cup of cocoa powder. Melt the butter while stirring constantly until you have a delightful chocolate mixture.

Once you have a chocolate mixture where all of the butter is melted, remove the pan from the heat and add 2 eggs and 1 teaspoon of vanilla.

Next up are the dry ingredients. Combine 1 1/2 cups of all-purpose flour, 1 teaspoon of baking powder and 1/4 teaspoon of baking soda in a small bowl.

Time to get the wet ingredients together. I added 3/4 cup of milk, 1/4 cup of Irish Whiskey, and 2 tablespoons of instant coffee crystals together…

…and mix away!

You need to alternate the dry and wet ingredients. I did about 1/3 of each mixture at a time. Beginning with the dry ingredients.

Once the first round of dry ingredients are incorporated, add some of the wet ingredients and mix. Repeat until both the wet and dry ingredients are thoroughly combined.

The batter will look like this…yum!

Then add 1 cup of chopped walnuts to the brownie batter and combine.

Once the batter is all mixed up, pour it into a greased baking pan. I used a 9 x 13-inch pan. And then bake it for about 15-20 minutes until a toothpick inserted in the center comes out clean.

Here are the finished brownies. Let them cool on a wire rack.

Once the brownies are cool, I worked on the glaze. Begin by brewing some coffee. I used my Keurig and just brewed one cup. Then in a medium-sized mixing bowl, sift 2 1/2 cups of powdered sugar, and add 2 tablespoons of cocoa powder, 1 tablespoon of Irish Whiskey, and 1 1/4 teaspoon of vanilla.

Then I began adding a tablespoon of brewed coffee at a time to the glaze.

Just keep adding more coffee until the glaze is able to be drizzled. This smelled seriously good, by the way!

Then pour all of the glorious glaze over the cooled brownies. Oh yum!! And serve these up. If you want them to be soft and ooey gooey like they are fresh out of the oven, then just put a piece on a plate and heat for 10-15 seconds in the microwave. With every bite, I was literally saying "this is so good!" Definitely one to try! Happy St. Patty's Day friends!!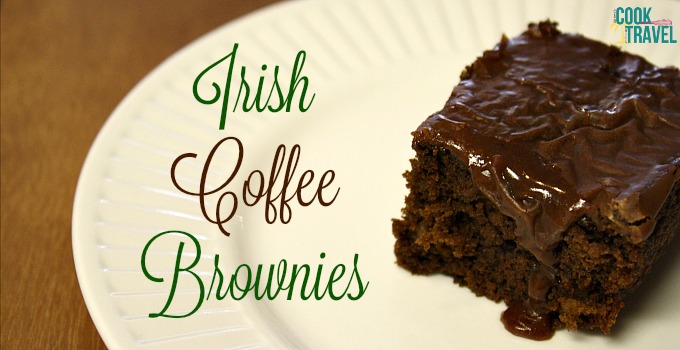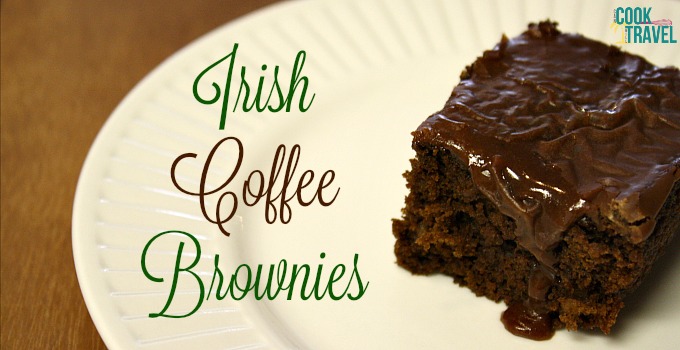 Irish Coffee Brownies
Makes 36 brownies
Prep: 25 minutes
Total: 40 minutes
Ingredients:
1-1/4 cups granulated sugar
3/4 cup butter or margarine, softened
1/2 cup unsweetened cocoa powder
2 eggs
1 teaspoon vanilla
1-1/2 cups all-purpose flour
1 teaspoon baking powder
1/4 teaspoon baking soda
3/4 cup milk
1/4 cup Irish Whiskey
2 tablespoons instant coffee crystals
1 cup chopped walnuts
2-1/2 cups sifted powdered sugar
2 tablespoons unsweetened cocoa powder
1 tablespoon Irish Whiskey
1-1/4 teaspoon vanilla
3 to 4 tablespoons brewed coffee
Chopped walnuts (optional)
Preparation Instructions:
1. Heat granulated sugar, butter or margarine, and 1/2 cup cocoa powder in a large saucepan over medium heat until butter or margarine melts, stirring constantly. Remove from heat. Add eggs and 1 teaspoon vanilla; beat lightly just until combined,
2. Stir together flour, baking powder, and baking soda in a bowl; set aside. Stir together milk and 1/4 cup whiskey; stir in coffee crystals. Add flour mixture and milk mixture alternately to the chocolate mixture, beating by hand after each addition. Stir in nuts. Pour into a greased 15x10x1-inch baking pan.
3. Bake in a 350 degree F oven for 15 to 20 minutes or until a toothpick inserted near the center comes out clean. Cool in pan on a wire rack.
4. Meanwhile, for the Irish Coffee Glaze, stir together sifted powdered sugar, 2 tablespoons unsweetened cocoa powder, 1 tablespoon Irish whiskey, and 1-1/4 teaspoons vanilla. Stir in 3 to 4 tablespoons brewed coffee until of drizzling consistency.
5. If desired, sprinkle with additional chopped nuts.
0