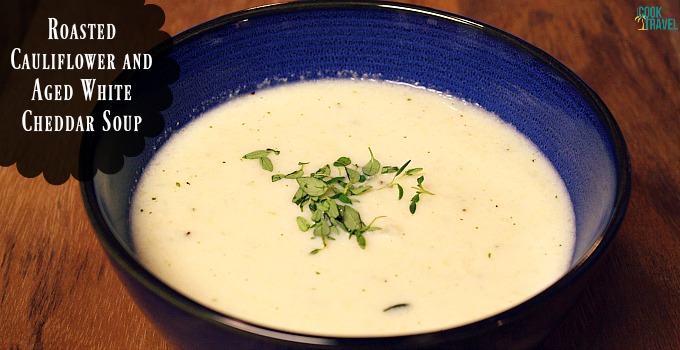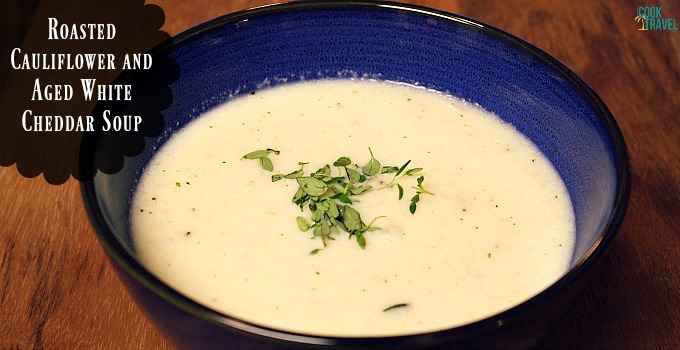 (This Roasted Cauliflower and Aged White Cheddar Soup recipe can be found on the Closet Cooking site here.)
Step by Step Instructions:


This Roasted Cauliflower and Aged White Cheddar Soup is perfect any time of year and only requires the following: Salt & Pepper, Olive Oil, Fresh Thyme, 1 Head of Cauliflower, 1 1/2 cups of shredded Aged White Cheddar Cheese, Milk, Chicken (or Vegetable) Broth, 1 Onion, and 2 cloves of Garlic.

I was pretty excited that I had a good variety of aged white cheddar cheese to choose from. Here's what I opted for.

Begin with preheating the oven to 400 degrees–no sense on waiting on the oven. Then cut up the cauliflower. If you're a pro at cutting up cauliflower, you can skip the next handful of pics, but if cauliflower intimidates you and you don't know where to begin, then I'm here to help break it down. First tear off the outer leaves and using a pairing knife cut off any brown or dirty parts of the cauliflower.

Flip the cauliflower over and using a large knife you're going to remove the tough core where the leaves were attached. I approach it by cutting into it at an angle until I can pry the core out.

Then pull apart the cauliflower into large florets.

Using a knife, cut the florets into smaller pieces as you can see above. And that's it – nice and easy!

Then I placed the cauliflower into a large bowl and added 2 tablespoons of olive oil and salt and pepper to taste. Then I used my hands and tossed everything together so that all of the florets were coated.

Pour the cauliflower onto a lined baking sheet. I opted for my Silpat to line the pan, because it's really handy and easy. Roast the veggies in your oven for 20-30 minutes.

While the cauliflower is in the oven, I diced a medium-sized onion.

Then I washed some thyme, removed the leaves from the stems and chopped 1 teaspoon of fresh thyme. Wow did my kitchen (and my hands) smell delightful!

Your cauliflower will be done when it's golden brown. Next time I make this, and there will be a next time, I might roast them just a hair longer to get some more color on the cauliflower but these guys were delightful. I think I could have made a meal just out of the cauliflower.

In a large saucepan, heat 1 tablespoon of olive oil over medium high heat.

Add the chopped onion, and cook these onions for 5-7 minutes, while stirring regularly…

…until they are nice and tender.

Next up add 2 cloves of chopped garlic and the chopped thyme to the pan. Stir it constantly for about a minute, so that the onion and garlic don't burn. The veggies are done when you start smelling them.

Then add 3 cups of chicken broth. Depending on how thick or thin you like your soup, you can always add more broth and if you have a really large head of cauliflower you'll want to increase the amount of broth too. Three cups worked great for me to have a thick soup but not too thick.

The cauliflower is then added to the sauce pan.

Then bring the soup to a boil.

Once the soup has come to a boil, put the lid on the pan and simmer the soup over low heat for 20 minutes.

While the soup simmers, grate the aged white cheddar cheese. I ended up using a 1 7 ounce package. I wasn't sure what it would take but it was pretty close to 1 1/2 cups. And yum, btw!

Here is the simmered mixture, and now it's time to turn it into soup!

This hand blender (or as my family fondly refers to it – the boat motor) is so handy in situations like this. I used it to blend the mixture, because you can make it as chunky or smooth as you'd like. Did I mention yum?!

Here's where the real "yum" comes in…add in the cheese that was just grated. Then stir it up until the cheese melts, but don't raise the heat to boil it. We're so close to Roasted Cauliflower and Aged White Cheddar Soup I can taste it!

Remove the soup from the heat and add 1 cup of milk and salt and pepper to taste. Then serve 'er up! I topped the Roasted Cauliflower and Aged White Cheddar Soup with some fresh thyme, but bacon (duh!) or a toasted slice of bread would be delicious and heck even throw some more cheese if you're feeling adventurous. Now go enjoy! I was a huge fan of this soup and am loving my leftovers. They heat up great and this reminds me of potato soup, which is never a bad thing! Happy roasting & pureeing friends!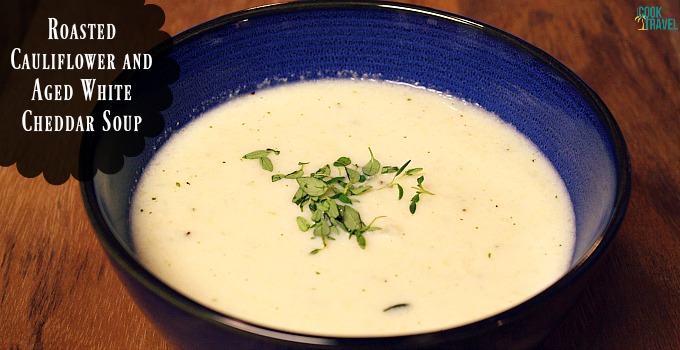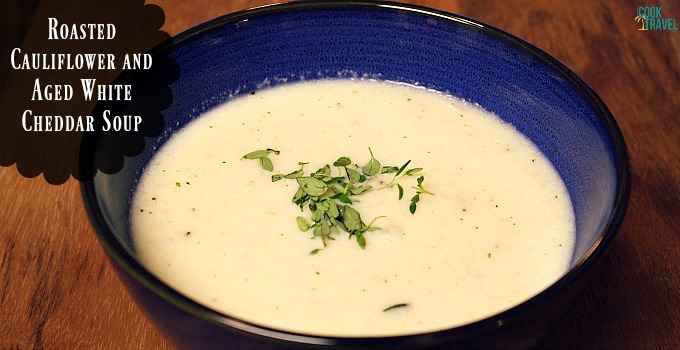 Roasted Cauliflower and Aged White Cheddar Soup
Beat the cold temperatures with this creamy soup that is packed with flavor and tons of veggies as well!
Ingredients
1 small head Cauliflower, cut into florets
2 tablespoons Olive Oil
Salt and Pepper to taste
1 tablespoon Olive Oil
1 medium Onion, diced
2 cloves Garlic, chopped
1 teaspoon fresh Thyme, chopped
3 cups Vegetable Broth, Chicken Broth or Chicken Stock (See note)
1½ cups Aged White Cheddar, shredded
1 cup Milk or Cream
Preparation Instructions
Toss the cauliflower florets in the oil along with the salt and pepper and arrange them in a single layer on a large baking sheet.
Roast the cauliflower in a preheated 400F oven until lightly golden brown, about 20-30 minutes.
Heat the oil in a large sauce pan over medium heat, add the onion and saute until tender, about 5-7 minutes.
Add the garlic and thyme and saute until fragrant, about a minute.
Add the broth, deglaze the pan, add the cauliflower, bring to a boil, reduce the heat and simmer, covered, for 20 minutes.
Puree the soup until it reaches your desired consistency with a stick blender.
Mix in the cheese, let it melt without bringing it to boil again.
Mix in the milk, season with salt and pepper and remove from heat.
Notes
Note: The amount of broth that you are going to need will depend on how large your head of cauliflower is and how thick or thin you prefer the soup to be.
0