So many times I've wondered why I'm still dealing with acne in my 30's. Listen, I know this isn't the prettiest of subjects, but at the same time, it's been a pain point for me. And I'm guessing maybe stressing over healthy skin might be for you too, so I wanted to write this post in hopes that it might help even 1 person.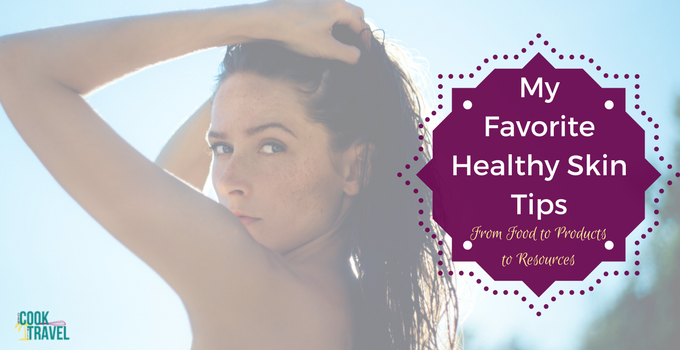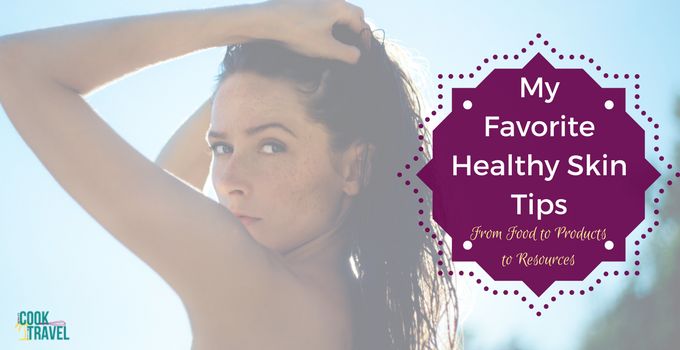 Disclaimer here: In today's posts I'm sharing the healthy skin tips that have worked for me, so I'm not guaranteeing it'll work for you. We all have our own unique skin issues, but hopefully this becomes a great starting place and resource for you.
I have to say that I'm pretty happy to be a girl, so I can use makeup on a regular basis. Concealer and really good foundations have been a life saver to me over the years. But sometimes they just aren't enough to cover those blemishes that I'm sure everyone is staring at. Okay in reality, people probably barely notice them, but when you deal with acne, some days it's all you can think about.
And that means you're STRESSED! And stress induces acne (at least for me), so it's a vicious cycle of getting stressed, getting a pimple, being stressed about that pimple, which then leads to another one. It's maddening!
Here's my healthy skin wanting history: My complexion was gorgeous up until about junior year of high school, and before I knew it acne was my new BFF. I figured it was hormonal and stress induced and it would go away eventually, but by the time my 30's hit, I was realizing that wasn't the case. I found myself still dealing with cystic, painful acne and I'd hit my breaking point.
This year I've become really focused on healthy eating, reading up on clean skin regimens, and trying to get a handle on my skin. It seems like all I've ever wanted (aside from the normal wishes for a great career, Mr. Right, lots of money, and to jet set around the world) is to have healthy skin.
So I know it's possible with diet to control it fairly well, because I did it 2 years ago. When I did the Tone It Up Bikini Series in 2015, I finally had healthy skin that looked better than I've ever remembered it looking. But of course I fell off those eating habits.
Remembering that experience, I then knew I could get back to where I wanted with a few tweaks. So I'm sharing my findings thus far with you today, and I've broken them into 4 areas of focus, so click on the links to go to that section:
Food
Products
Supplements
Resources
Healthy Skin Tips:

Food:
While stress was a large culprit for my blemishes, I've come to grips with the fact that what I eat is too. And as a total foodie who loves ALL the food, that's a tough pill to swallow.
But like any area you want to see change, you have to be open to creating new habits. And for me in 2017, that means I have to change what I PRIMARILY eat and drink. Of course I slip up from time to time, but when you do, be kind to yourself, and get back on track. Here are the food tweaks I've made:
Clean eating – Ultimately this means avoiding processed food. Now I'm a realistic girl, so I know that I can't do this all the time, but if I can do it when I cook at home, then that will at least be the majority of the time. A great rule of thumb is that if there are ingredients you can't pronounce in an ingredients list, put it back on the shelf and don't purchase it. Those ingredients are likely produced in a lab somewhere, aren't natural, and definitely aren't helping you have healthy skin.
Dairy free – When I can. So we know this year I've been making most things dairy free, and that has help with keeping my gut happy. I have to think the added hormones we find in some milk products cannot be good for my skin either.
Gluten free – When I can (again). This is a huge component for me, I've recently come to realize. If I can limit the amount of gluten I eat each week, my skin is so freaking happy.
Limit beer (sad face) – To maybe 1 or 2 a week and try to do wheat free beer if you're going to drink a few. Ciders and rice based beers are a perfect alternative. I love beer, especially good craft beer, so I know there will be times when I have more than 1 or 2, but I think if I'm aware of what I'm drinking then that helps me not do it too often.
Wine or White Claw (happy face) – A little wine or this awesome hard sparkling water is a great alcohol option to have on occasion. It's gluten free, although wine can be high in sugar. And that's why I love White Claw, since it's a low carb drink. Oh yes!
Lots of water – Like a lot. This is one of the more difficult points for me. Water can be sooooo boring, so I've had to make a serious effort to drink more. That means having an awesome bottle (I love my S'well bottle) that ensures my water stays cold and has a pretty design so I want to drink it. Sparkling water or adding fruit and citrus to my water are also ways to jazz H2O up a bit.
Products:
Okay I really thought with products that I was on the right track. For years now (like way over a decade), I've known that I have sensitive skin, so I've checked for hypoallergenic everything. I thought I had nailed my skin care regime to ensure I had healthy skin. Oh MAN was I wrong!
Earlier this year I shared the book Clean Skin from Within by Dr. Trevor Cates, and there is one section that talks about toxic ingredients to look for. Here's what's extremely sad with the U.S. – we do NOT ban even a fraction of the number of toxic ingredients that Europe and other areas do. So here I was all this time thinking I was doing well, when I was actually using things with horrible ingredients.
For example, my everyday moisturizer that I'd used for probably close to 20 years contains cancer causing ingredients. What the WHAT??!! Ugh, but it said hypoallergenic, dermatologist tested, and perfect for sensitive skin – yet it still had bad ingredients. So here's how I've recently cleaned up my skin care game even more:
Get rid of the toxic stuff – Search around the internet or use Dr. Cates' book which I love to help you identify ingredients to look out for. And then do a giant purge of your products. I did this for any product that touched my skin as well as anything that I cleaned with, because it would inevitably come in contact with my skin.
Find products you trust – So once you've purged all your sacred products, it's time to find brands that you trust. Do your research, replace the items you tossed, and never look back.
Products I've been using – The brands I'm loving these days that I feel good about are: Honest Company and Honest Beauty, and Tarte. I'm sure there are a ton of safe, nontoxic brands out there, so just do your homework and be ready to experiment until you find stuff you love.
Prepare to be surprised – Companies that I thought for sure would be safe weren't. And these were products I'd trusted for years and years. Also be aware that some products from a brand may be "clean" while others may not. So just be diligent and research.
Supplements:
I really stink at taking multi-vitamins regularly, but I've been trying to make more of an effort to do so. I actually learned a ton from the Clean Skin from Within book about what healthy skin craves. Here's an extremely shortened list:
Lots of Vitamin C
Vitamin B
Vitamin D
Zinc
So be on the hunt for a vitamin and mineral supplement that meets your skins specific needs. Here's the one that I found had what my skin needs.
Probiotics are another great thing to consider, and they kind of go along with food. But they also relate to giving your body what it needs for a healthy skin biome… lots of fermented food. I try to drink Kombucha daily, plus enjoy Kimchi or sauerkraut, for example, as my probiotic sources.
Resources:
I've come across some REALLY great resources lately, so I hope you find them helpful too.
As you can tell from this lengthy post, I'm pretty passionate about all of this information. I know how freeing having healthy skin can be, and I'm all for helping us to achieve it.
And right on cue, I can test a lot of this on myself last week. After a weekend of drinking beer and enjoying too much wheat and dairy, new blemishes are totally the side effects. But soon enough they'll be under control as I get back on my normal eating plan right after. And don't you love that my new "normal" eating plan is chock full of healthy options that taste ridiculously great?!
The fact is healthy skin is possible, and all we need to do is start realizing what our skin needs. Empower yourself with the facts and start making a few healthy tweaks to your life. Soon enough these tweaks become habits that serve you forever.
I gotta know – did you love this post?! Is there anything else skin related you have questions about? Comment and let me know what healthy skin means to you and what you've done to improve your complexion. Comment below and let's carry on the conversation!
Stay inspired & be empowered so healthy skin will be yours!
~Kelli
0