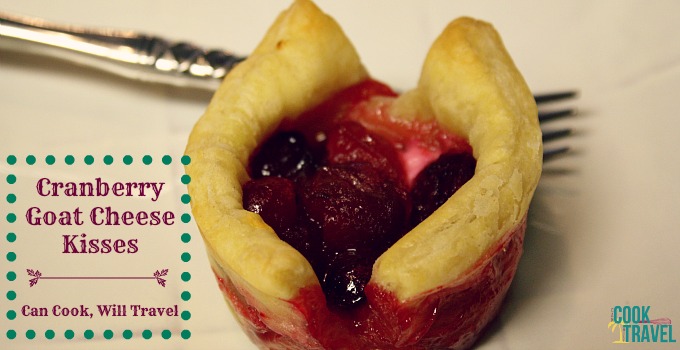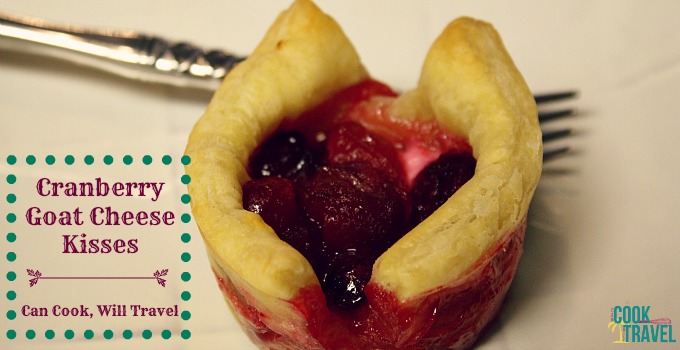 (Recipe can be found on the Liv Life blog here.)
Step by Step Instructions:


To make these Cranberry Goat Cheese Kisses, all you need is a package of puff pastry, leftover cranberry sauce, and 4-6 ounces of goat cheese.

Begin by preheating the oven to 375 degrees. Then spray the muffin tins with cooking spray.

Please note that the recipe calls for mini muffin tins, which I don't own. So I thought: "Hey, these would be fabulous on a slightly larger scale, I'm sure." (Yes, I sometimes talk to myself…don't judge me, please.) So I cut both puff pastry sheets into 6 rectangles.

Then I placed one rectangle into each tin and molded them as you can see in the photo above, so they made little cups.

Finally it was time to spoon up some goat cheese into each tin…sigh.

Then each tin gets a spoonful of cranberry sauce. Then it's time to bake these treats. Bake them for 10 minutes, then rotate them in the oven and check them 5 minutes later. Take them out when they are lightly browned and the filling is bubbly.

And luckily there is enough leftover cranberry sauce for me to devour later. Hooray!

I left my tarts in the muffin tins for a few minutes so the filling could set up a bit. Then I removed them from the tins, which took a little turn and they lifted out of the tins quite easily. At this point, I happily tested these cranberry goat cheese kisses, and was a happy girl! This recipe is such a cinch, and you'll impress everyone with how delicious they are.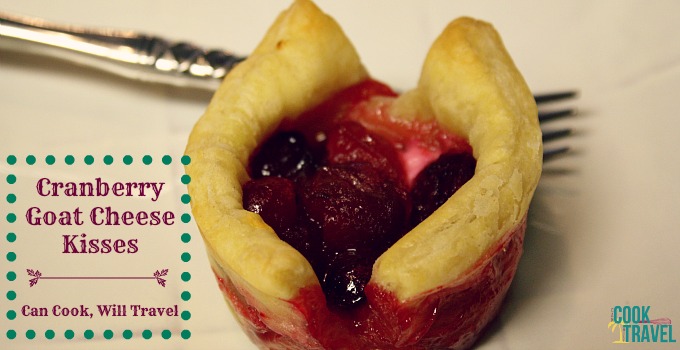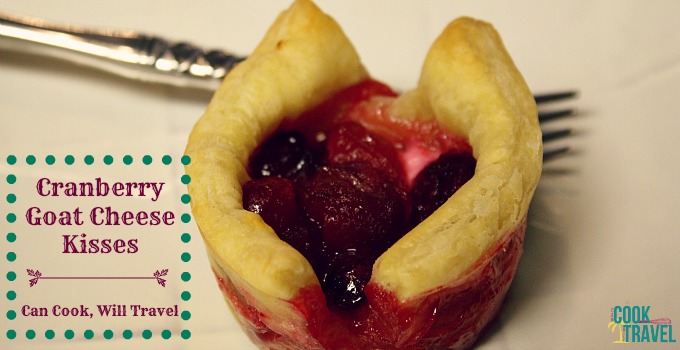 Cranberry Goat Cheese Kisses
These little cranberry goat cheese kisses couldn't be cuter or easier with 3 simple ingredients. Delicious!
Ingredients
Puff Pastry, thawed in fridge overnight
Goat Cheese, Chévre (or Brie)
Leftover Cranberry Sauce
Preparation Instructions
Preheat oven to 375º F.
Spray the cups of a mini muffin pan with cooking spray.
Roll puff pastry according to package directions. Cut pastry into square large enough to fill a mini muffin cup.
Scoop about 1 tsp of cheese into each pastry lined cup and top with a dollop of cranberry sauce.
Place muffin tin into the oven and bake about 18 minutes, rotating at about 10 minutes and checking again at about 15 minutes. Bake until puffs are lightly browned and sauce is "melty". Remove from oven and remove puffs from the muffin tin onto a serving plate. Serve immediately, and enjoy!
0