Do you ever have those days or weeks where you're just lacking motivation and inspiration? That's been me the past couple of weeks. Usually I have so many ideas flying around my brain for blog posts, recipes, and things I'm dying to share with you. But I found myself trying to find inspiration lately, and I figured if I was feeling this way, then I'm probably not alone.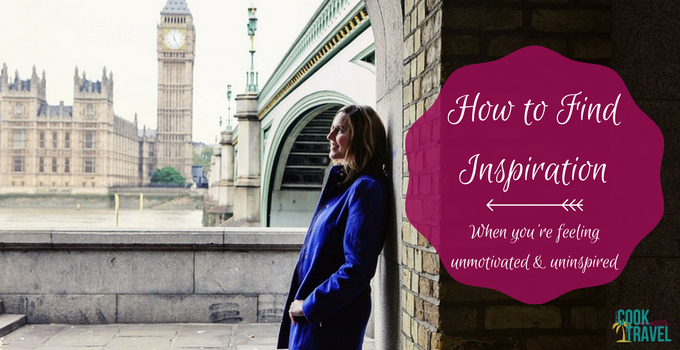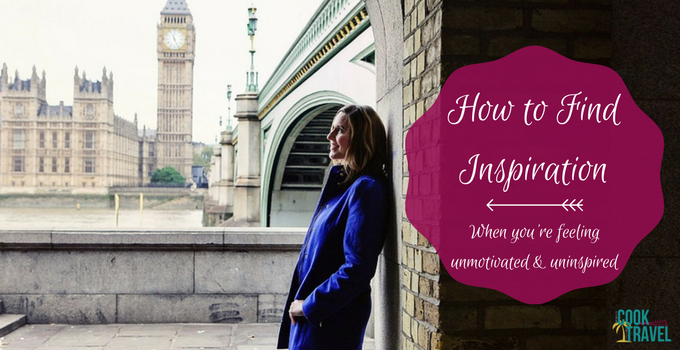 I was chatting with my friend and fellow blogger, Angi, this week. And as we talked about what we were up to, I couldn't shake my lack of motivation over the past few weeks. I was totally feeling blocked and couldn't figure out what was causing it.
It was today's post that I was feeling super uninspired about, ironically enough. But somehow I managed to push through it, and it's amazing how much better I'm feeling in general just by making a few adjustments. So I thought I'd share 10 easy ways that I use that help light me up and get my creative juices flowing.

10 Ways to Find inspiration again:
 It's really amazing what a chat with a great friend can do for you. Especially when it's someone who's really positive. Thank God for Angi and some of the amazing ideas she had to spark my creative thinking again
When I'm in a rut, I need nature. Having grown up on a farm, I would always go outside as a kid for fresh air and quiet. That's what I love about the farm is that it's so quiet. Honestly, I hated it as a kid, but having lived in big cities with constant sound, I really appreciate the peace I can find in the country. So off I went on an hour long walk over my lunch break around my neighborhood and it was the perfect jumpstart to clear my mind. Not quite as peaceful as the country, but that's what good music and earbuds are for!
When in doubt, then I say you need to journal. It's really amazing what can end up on paper when you just start writing. Unexpected thoughts will pop up, and it can be great for ridding your mind of what's bugging you. If you want to journal but just don't know where to begin, then check out one of my all time favorite posts I've ever written all about how to journal fearlessly.
Reading is something I avoided for years after I graduated from grad school. To say I was burnt out is a hell of an understatement. But thank goodness I got my Kindle back in 2009 to reignite my desire to read. And I'm always reading a fun book and at least 1 personal development book at a time. It's those personal development books that can often spark a fun idea or inspire me to try something new.
I can often put a lot of pressure on myself to come up with something brilliant, and when you're pushing yourself to create and nothing is coming it can be frustrating. In those times I've learned to just stop and take a break. Go for that walk, run some errands, go make a snack, read, something to switch gears. Allow yourself to take a break, because you need it.
Angi is a fitness lover, and she made a great suggestion to try a new workout, and I love that idea. My body just wants to walk, but there are days when the weather won't cooperate, so trying a new workout is a perfect way to force yourself to stop focusing on what isn't working. Instead you're learning something new and your focus has to shift to that and you may just find inspiration this way. In fact, I have a Barre workout that I purchased that I know I'll be trying soon just for this reason.
It's human nature to find yourself in a routine every morning, day, and evening. So switch it up if you're needing some more creativity or motivation. Sometimes that shift has a way of waking your mind up a bit. Maybe you get up a little earlier than normal and read or exercise or both? Or it could just be taking time for a cup of coffee and reading the paper that you never take the time to do. What could you do to change up your daily routine a bit?
Traveling is one of my favorite ways to find inspiration. When my sister and I headed to the UK in the Fall of 2015, it was exactly what I needed. That trip was the perfect reminder of how much I need to make travel a bigger part of my life. Whether it's a long weekend or trip abroad, the act of planning a trip can do wonders for your soul.
Pick up a new hobby or start up an old hobby you love again. My mom just started crocheting and I can see what a great stress reliever it is for her. I'm feeling this huge urge to paint right now, so that's a great start for me to find my creativity.
Finally think about what excites you, lights you up, and makes you happy? Doing some of those activities can really help clear blocks you're having and rejuvenate you a bit. For me it's usually a combo of going on regular walks in my neighborhood, getting in the kitchen and cooking or baking, or getting out of the house and going out with friends.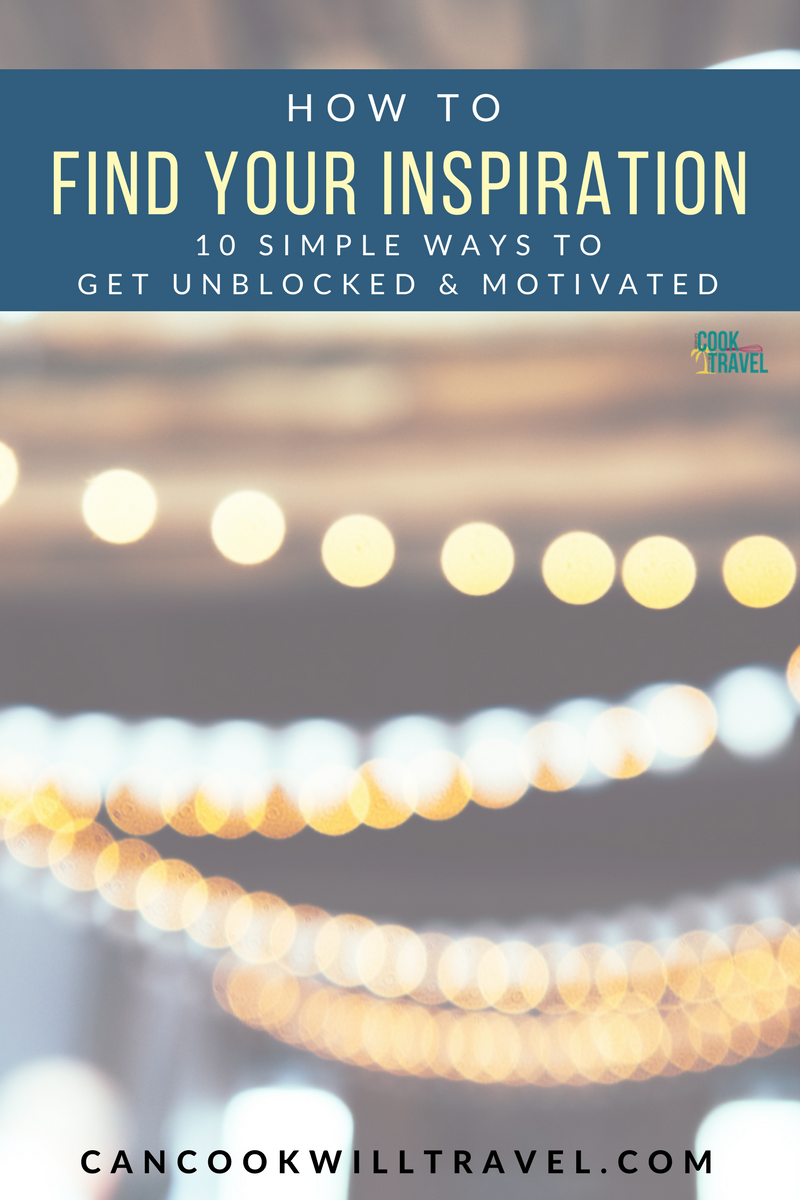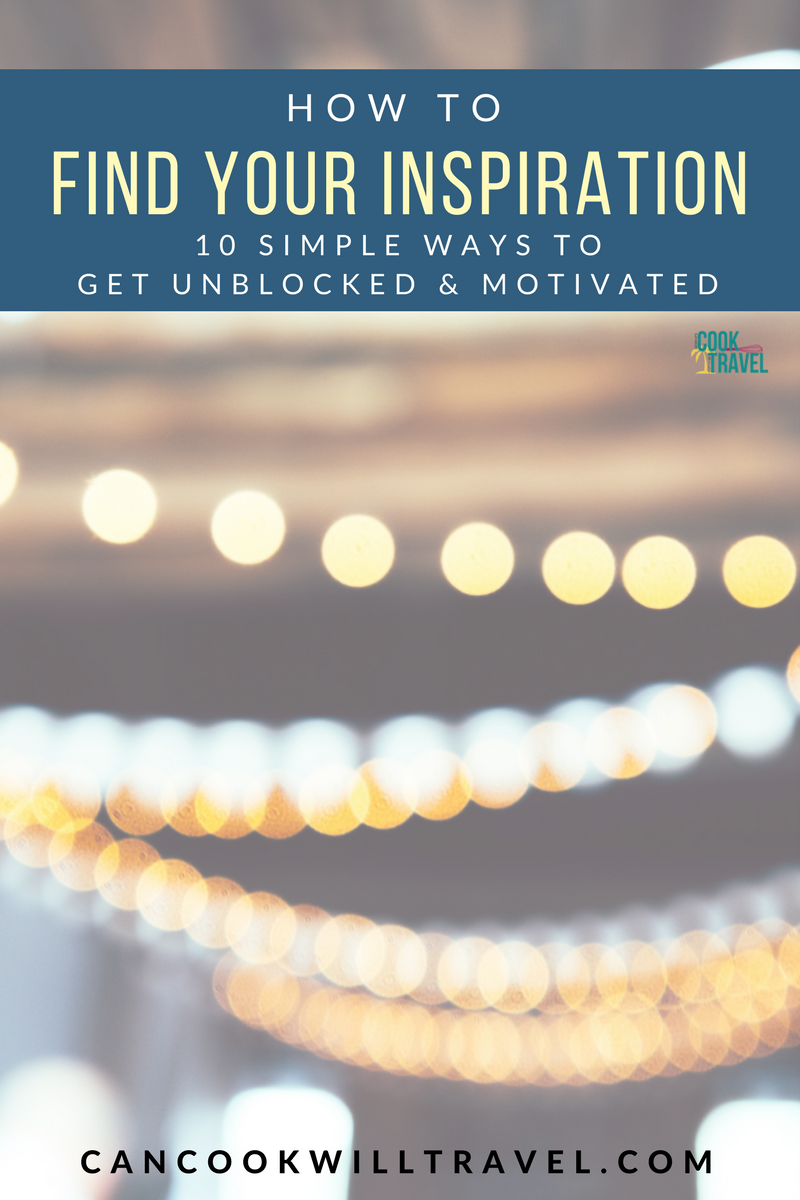 I work from home and getting in a boring routine that is uninspiring is crazy easy to do. So for me to find inspiration I need to inject something new and different. It may not be something I can do daily, but even a change every couple weeks helps.
One thing I love doing is working in a coffee shop for an afternoon once a month of so. That change of scenery is a great way to inspire my creativity.
What is your favorite thing to do to get back on track? I'd love to know what things you love doing to find inspiration in your life and keep yourself motivated. Comment below and let's start the convo!
Stay inspired!
~Kelli

0