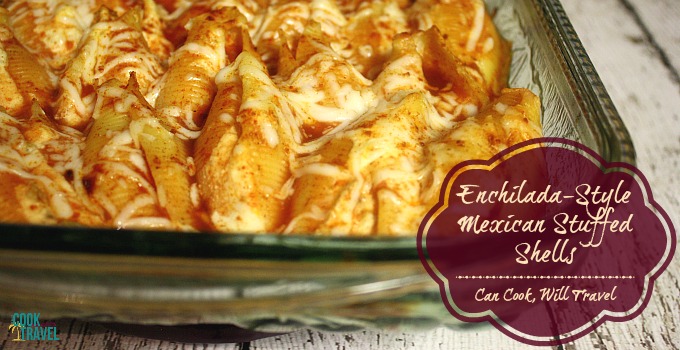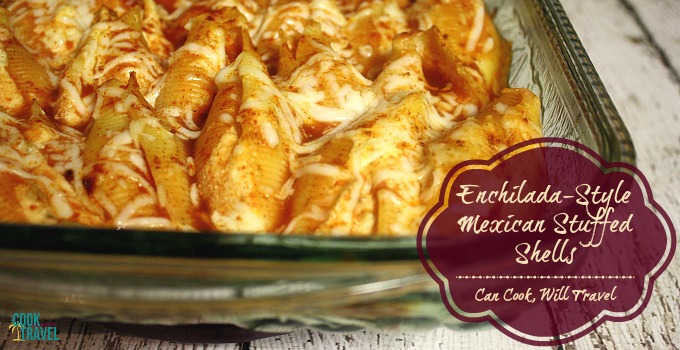 (This Enchilada-Style Mexican Stuffed Shells recipe can be found at the site A Spicy Perspective here.)
Step by Step Instructions:

Get excited, because these delightful Enchilada-Style Mexican Stuffed Shells will be on your table in no time. Here's what you'll need: Garlic Powder, Smoked Paprika, Enchilada Sauce (I went with red this time, but I'm looking forward to trying the green sauce next time), 2 cans of 4.5 oz Green Chiles, a box of Jumbo Shells (you'll need about 24 shells), Parsley (if you want for topping – I didn't end up using it), Salt, 15 ounces of Ricotta Cheese, 1 package of Cream Cheese, Shredded Mozzarella and an Egg.

Begin by preheating your oven to 350 degrees, so it's waiting on you. Then open the 2 cans of green chiles and drain them.

Bring a large pot of water to a boil and then add a good amount of salt to flavor the pasta.

Then add in the jumbo shells and cook them according to the package instructions. I cooked all of the shells, because often shells break while cooking, and that way I knew I'd have more than enough shells.

In a large bowl, add the ricotta, green chiles, softened cream cheese, an egg, a teaspoon of garlic powder and a teaspoon of salt.

Stir, stir, stir until the filling is well combined.

Grab a 9×13" baking dish and spray liberally with cooking spray. Then I spooned a little enchilada sauce on the bottom and spread it so it covered the bottom.

Then drain your shells once they are cooked.

These guys are really hot, so I put the good shells on a plate to help them cool faster. Then one by one, I filled each shell with a soup spoon full of filling. Add as much as you'd like but that seemed to work well for me.

Then place each filled shell in the dish until it's full of happy shells that almost seem to be cheering you on!

Spoon the enchilada sauce over the top. I made sure my shells were well-coated, so that they didn't dry out in the oven.

Finish by sprinkling mozzarella cheese over the top along with a nice sprinkle of smoked paprika. Then take a whiff of the paprika and marvel at how delicious it smells. Now it's time to pop it into the preheated oven and bake for 20 minutes, or until the sauce is bubbling and the cheese has melted. Serve the Enchilada-Style Mexican Stuffed Shells right away while they're still warm and enjoy! Happy eating!!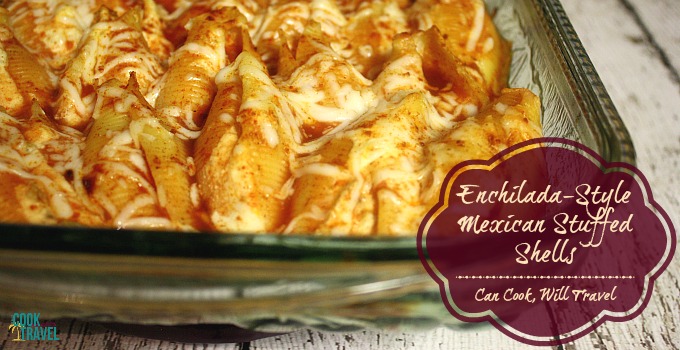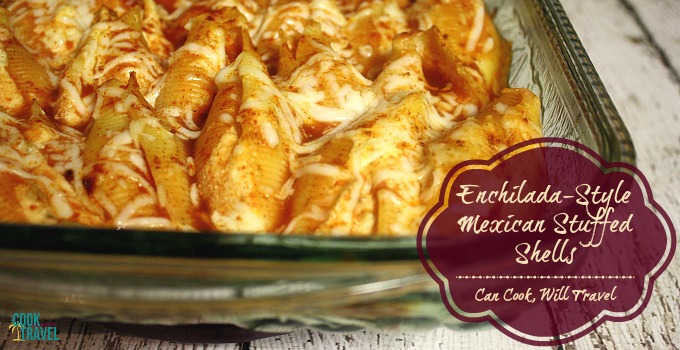 Enchilada-Style Mexican Stuffed Shells
Stuffed shells with a Mexican twist are seriously so good!
Ingredients
24 Jumbo Pasta Shells
15 ounces Ricotta Cheese
8 ounce Cream Cheese, softened (I used ⅓ less fat variety)
2 - 4.5 ounce cans Green Chiles, drained
1 large Egg
1 teaspoon Garlic Powder
1 teaspoon Salt
1 can Old El Paso Enchilada Sauce (Green or Red works)
1 cup shredded Mozzarella Cheese
Smoked Paprika
Preparation Instructions
Start off by preheating your oven to 350 degrees. Then bring a large pot of water to a boil, add salt, and cook the jumbo pasta shells according to package instructions stirring gently so the shells stay in tact. Then drain the cooked shells.
While the pasta cooks, drain the green chiles, soften the cream cheese, and then combine the ricotta, cream cheese, green chiles, an egg, garlic powder, and salt together in a large bowl. Stir really well to make sure that the cream cheese is equally distributed.
Spray a 9x13 baking dish with cooking spray and then spoon a little enchilada sauce over the bottom to coat it lightly.
Cool the shells slightly so they are cool enough to handle. Fill the shells with the filling (a large spoonful should do) and place each shell in the dish filling side up.
Once all of the shells are stuffed and your pan is full, spoon the enchilada sauce over the top of each shell so that they are pretty well covered and don't dry out in the oven. Sprinkle the mozzarella cheese over the top and then sprinkle a little smoked paprika over the top. Note that I had a few shells left over and a few where the shells had broken while cooking. You can just toss them if you want.
Bake the shells for at least 20 minutes or until the enchilada sauce is bubbly and cheese is melted. Serve while still warm and enjoy!
0