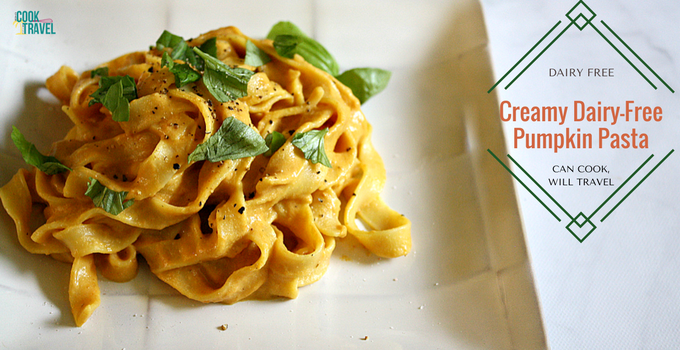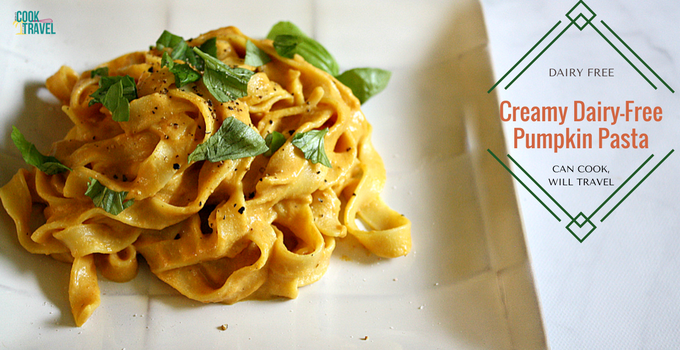 (This Dairy-Free Pumpkin Alfredo Pasta recipe is inspired by one by Pinch of Yum that I made last year, so check it out here.)
Step by Step Instructions:

Dairy-Free Pumpkin Alfredo Pasta is a cinch to make with a few key ingredients, so here's what you'll need: Nutritional Yeast, Pumpkin Purée, 2 cups canned Coconut Milk (full or reduced fat will be fine), Vegan Butter (I love the Earth Balance kind), 5 Garlic Cloves, Red Pepper Flakes, 8 ounces Fettuccine, Salt & Pepper, plus Jalapeño Tabasco and Fresh Basil (not pictured).

I think the most important part is to get all your ingredients prepped, so first start bringing a large pot of water to a boil for the pasta. Then measure out a cup of pumpkin, and save the rest for Pumpkin Cornbread perhaps!

Once the water is boiling, then add a little salt and cook your fettuccine according to the package.

Now measure out the coconut milk. I needed 2 cans, because 1 was just shy of a cup, and the key with this ingredient is to really shake the can and then stir up the milk well before using it. Because it sits around on a shelf, it can often separate a little.

Remove the skin and chop up 5 cloves of garlic, and then mince them.

Here's the minced garlic in my handy dandy garlic twist, and you can learn more about that here.

Once the pasta is cooked, drain it and rinse it immediately with cold water.

Then move onto the sauce for our Dairy-Free Pumpkin Alfredo Pasta by heating a large non-stick pan over medium heat and melting 2 tablespoons of Vegan butter.

Then add the minced garlic and about 1/2 teaspoon of red pepper flakes to the butter.

Stir the garlic until you start to smell it, which should take about 30-60 seconds.

Now add the pumpkin and coconut milk that you've already measured out.

Whisk the mixture together so the sauce is combined, and then cook over medium-low heat for about 10 minutes. Stir the sauce regularly, and once it begins to thicken, then you're all set.

Keep in mind the sauce won't be super thick, so add 1/2 cup of nutritional yeast and 1 teaspoon of freshly ground black pepper to it, and whisk it together.

The sauce will start to thicken thanks to the yeast, so begin tasting it and add 1 teaspoon of salt.

My secret ingredient to this Dairy-Free Pumpkin Alfredo Pasta is jalapeño Tabasco, because it always seems to cut the richness of dishes.

Then stir for about a minute so the sauce is well combined and you're happy with the flavors.

Now add the drained pasta to the sauce.

Now toss the pasta to coat it in the sauce, and you are ready to enjoy your Dairy-Free Pumpkin Alfredo Pasta! Serve it with fresh basil and a sprinkle more of salt and pepper, and then happy eating!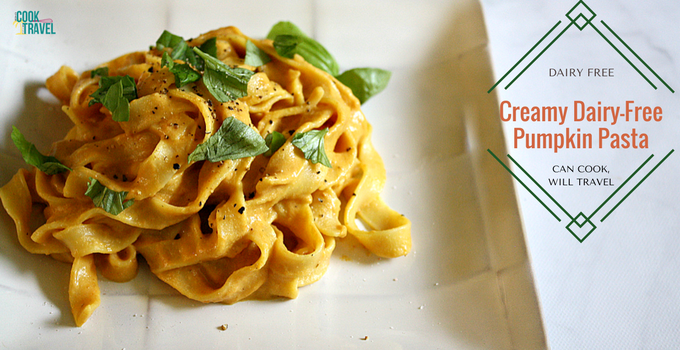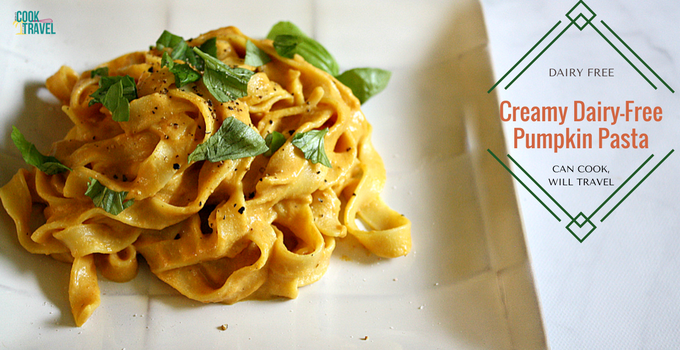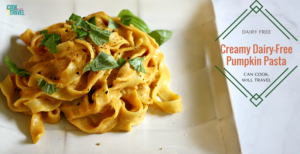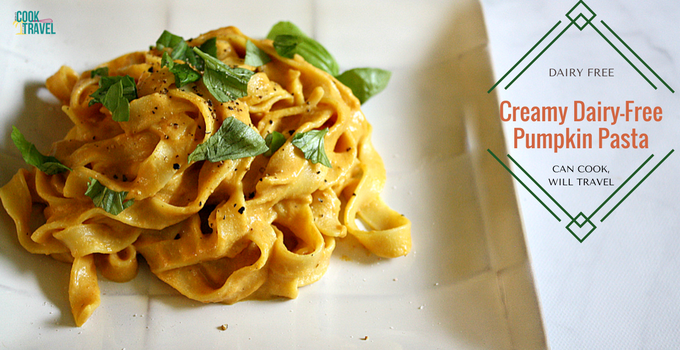 Print
Dairy Free Pumpkin Alfredo Pasta
Yield 4 servings
When you want something like fettuccine alfredo yet need it to be dairy free, then I've got you covered on this one!
Ingredients
Pasta Ingredients:
8 oz. Fettuccine
2 T. Vegan Butter (like Earth Balance)
5 Garlic Cloves, minced
1/2 t. Red Pepper Flakes
1 c. Pumpkin Purée
2 c. Coconut Milk (from a can and use either reduced-fat or full fat)
1/2 c. Nutritional Yeast
1 t. Freshly Ground Pepper
1/2 T. Jalapeño Tabasco
1 t. Salt
Fresh Basil, for topping
Instructions
Begin by cooking the pasta according to the package instructions, and then drain and rinse with cold water.

 

In a large, nonstick pan, melt 2 tablespoons of vegan butter over medium heat and then add the garlic and red pepper flakes. Stir until the garlic is fragrant, which will be 30-60 seconds.

 

Then add a cup of pumpkin purée and 2 cups of coconut milk (that you've stirred very well) to the pan. Still to combine, and then reduce the heat to medium-low and allow the sauce to thicken for about 10 minutes, stirring regularly.

 

The sauce will still be fairly thin, so add the nutritional yeast and ground pepper to the pan and stir to combine. Taste the sauce and add tabasco and salt, and then continue to taste and adjust seasonings to your liking.

 

Toss the pasta with the sauce until it's well coated and serve right away. When serving, top with fresh basil and more ground pepper and a sprinkle of salt and then enjoy!
Notes
Quick Tip: Topping this dish with fresh basil and a sprinkle of sea salt is a MUST! The basil adds some freshness and the salt brings out all the flavors.
Courses Dinner
Cuisine Side Dish
Nutrition Facts
Serving Size 1/4 of Dish
Amount Per Serving

Calories 311

% Daily Value

Total Fat 20 g

31%

Saturated Fat 14 g

70%

Unsaturated Fat 4 g

Cholesterol 9 mg

3%

Sodium 757 mg

32%

Total Carbohydrates 26 g

9%

Dietary Fiber 4 g

16%

Sugars 4 g

Protein 9 g

18%
* Percent Daily Values are based on a 2,000 calorie diet. Your daily values may be higher or lower depending on your calorie needs.
0