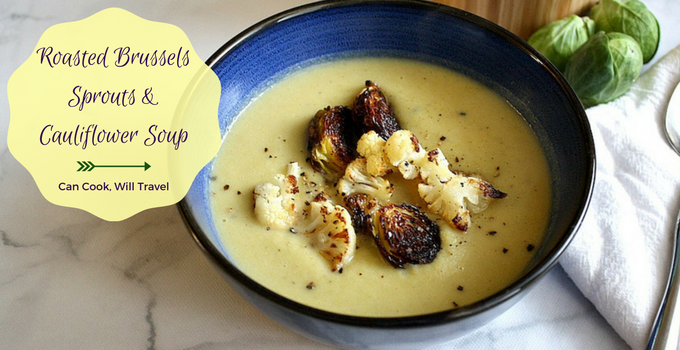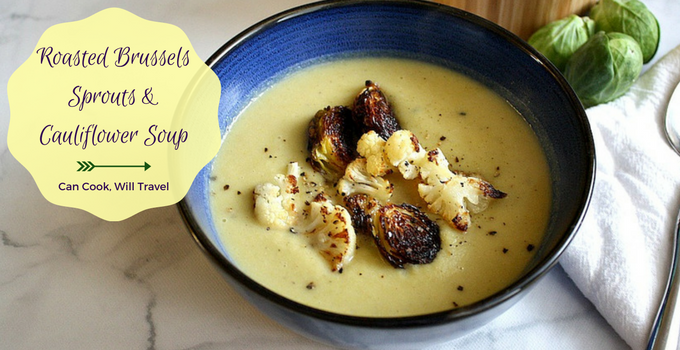 (This Roasted Vegetable Soup recipe can be found on the site Skinny Taste here.)
Step by Step Instructions:

This healthy Roasted Vegetable Soup is dairy free and gluten free, and here's what you'll need to quickly make this dish: 1 pound of Brussels Sprouts (cleaned and cut in half), 1 pound of Cauliflower florets (cleaned and cut into bite-sized pieces), Cooking Spray (optional), Olive Oil, Chicken Stock (or Vegetable stock or broth works too), Kosher Salt, dairy free Butter, 1/2 cup diced Shallots and freshly ground Black Pepper.

Preheat your oven to 450 degrees, and then make sure all of your veggies are chopped. Once they are, then line 2 baking sheets with Silpats (or you can use foil and spray with cooking spray). Then add about a cup of Brussels Sprouts/Cauliflower on one baking sheet and add the rest on the other baking sheet trying to put the sprouts cut-side down if possible. Because we'll be using these at different times, it helps to have them separated out. Then drizzle with olive oil and season with salt and pepper.

Bake for about 12 minutes, and then remove from the oven and toss the veggies and then swap positions in the oven and continue baking another 12 or so minutes until they are browning.

Measure out 3 1/2 cups of Chicken Stock (or broth or vegetable broth or stock), so that you've got it ready when you need it.

Heat a pot over medium-low heat, and then add a teaspoon of butter to the pot.

Once the butter is melted, add the shallots and then cook for about 5 minutes, so that the shallots are translucent.

Here you can see that the shallots have become pretty translucent and started to brown just slightly, so they look perfect.

Then add in the stock and let it simmer for about 5 minutes.

Once the veggies are roasted and nicely browned, turn off the oven and then leave the pan with 1 cup of veggies in the oven to stay warm.

Add the rest of the vegetables to the pot, and then let them heat for about 2 minutes in the soup.

Then use a handheld blender to blend the soup until smooth. Or if you don't have one of these gadgets, then you can transfer the soup in a couple of batches to a blender and blend until smooth. Using the handheld blender is just way more fun and leaves you with fewer dirty dishes, so it's a favorite gadget of mine!

It'll take a few minutes, but you can see the soup starts to turn this light green color from the sprouts. Yum!

Here's the lovely Roasted Vegetable Soup all finished, and it's smooth and thick and super creamy!

Give the soup a taste, and then add more salt and pepper if needed.

Remove the remaining veggies from the oven, and then serve the Roasted Vegetable Soup. Finally add a small handful of the leftover vegetables to the top of each serving of soup. This recipe should make about 4 servings, so you can divide up the veggies that way. Top the Roasted Vegetable Soup with more freshly cracked pepper and then dig in. Happy healthy eating!!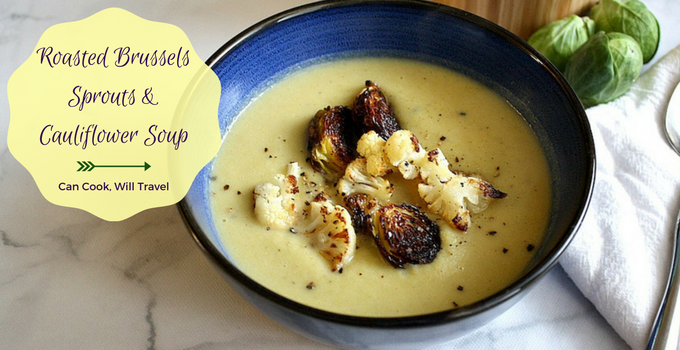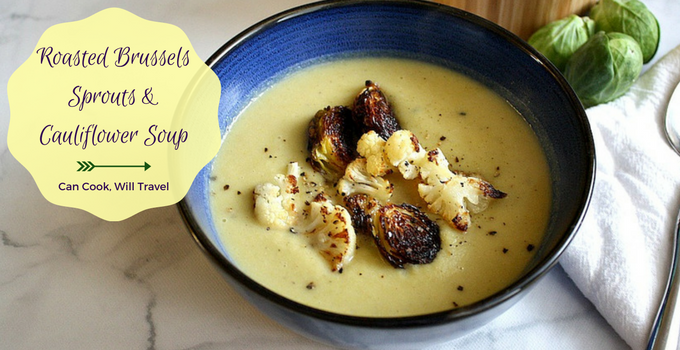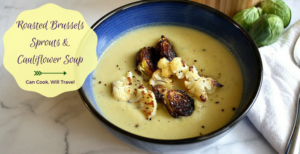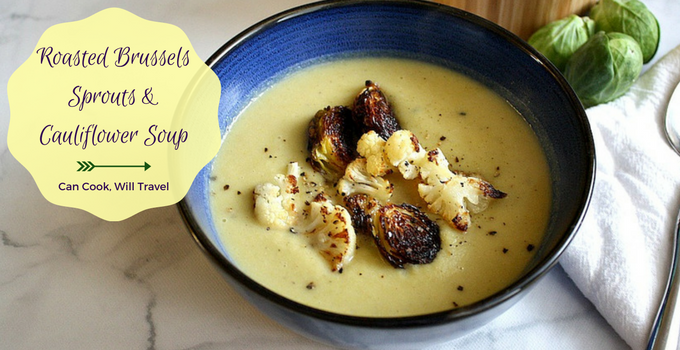 Print
Roasted Brussels Sprouts & Cauliflower Soup
Yield 4 servings
This dairy free, gluten free, and vegan soup is not only healthy but really delicious. You'll love the simple, clean flavors!
Ingredients
Soup Ingredients:
Canola Cooking Spray (optional - use if roasting with foil)
16 oz Cauliflower Florets, cut in bite-sized pieces
16 oz Brussels Sprouts, cut in half
2 T. Olive Oil
1 t. Dairy Free Butter (like Earth Balance or else olive oil)
1/2 cup Shallots, diced
3 1/2 cups Chicken Stock (Kitchen Basics has dairy free stocks, or broth will work too and you can use Vegetable stock/broth)
Kosher Salt, to taste
Freshly Ground Black Pepper, to taste
Instructions
Begin by preheating your oven to 450 degrees. while the oven heats, clean and cut the cauliflower and Brussels Sprouts. Then chop the shallots.
Use 2 baking sheets lined with Silpats and put about a cup of the Brussels sprouts and cauliflower on one sheet. Then put the rest of the sprouts and cauliflower on the other baking sheet. Drizzle with olive oil, and then season with salt and pepper.
Bake the veggies in the oven for 22-25 minutes and toss the vegetables and switch spots in the oven halfway through so they bake evenly.
While the vegetables roast, heat the butter in a pot over medium-low heat. Then cook the shallots for about 5 minutes so they start to become translucent. Add the chicken stock to the pot and heat for 5 minutes.
Once the vegetables are roasted, turn off the oven and leave the baking sheet that has one cup of veggies in the oven. Remove the other baking sheet and add those vegetables to the stock. Heat through for a couple of minutes.
Use a handheld blender to blend the veggies in the pot until it's smooth. Alternatively you can use a blender and blend the soup in about 2 batches, but I find the handheld blender perfect for blending soup . . . and it's fun! Once the soup is blended, taste and add more salt and pepper if needed.
Serve the soup right away and top with the remaining roasted veggies that are reserved in the oven. Add some freshly cracked pepper to the top and enjoy!
Notes
Useful kitchen equipment for this recipe include Silpats and a Handheld Blender.
Courses Lunch
Cuisine Soup
Nutrition Facts
Serving Size 1/4th of Soup
Amount Per Serving

Calories 162

% Daily Value

Total Fat 8 g

12%

Saturated Fat 1 g

5%

Unsaturated Fat 6 g

Sodium 651 mg

27%

Total Carbohydrates 14 g

5%

Dietary Fiber 7 g

28%

Sugars 1 g

Protein 9 g

18%
* Percent Daily Values are based on a 2,000 calorie diet. Your daily values may be higher or lower depending on your calorie needs.


1