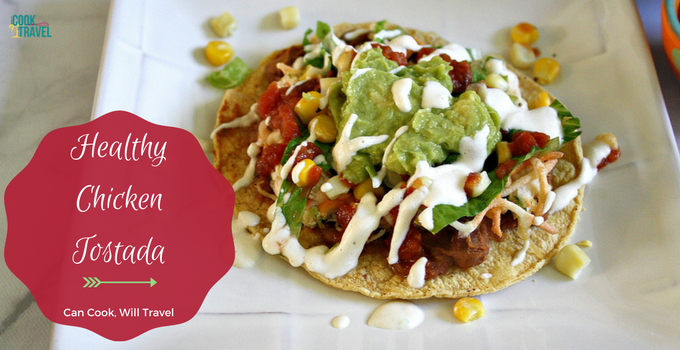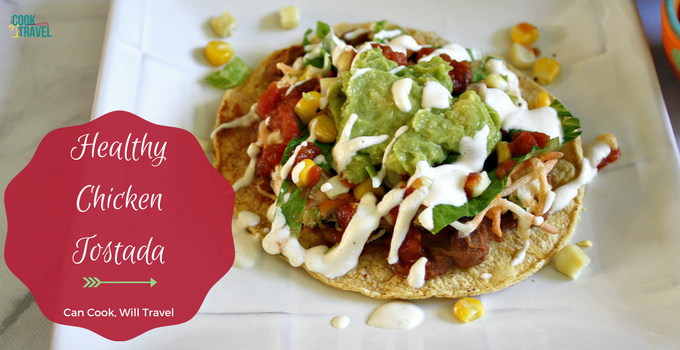 Mexican Chicken Tostada Step by Step Instructions:

You're about to enjoy this Mexican Chicken Tostada recipe, so here's what you'll need: Shredded Cheese (or cheese alternative as I used), Cooking Spray (I used Coconut Oil), Guacamole, Romain Lettuce, 1 can of Refried Beans, Mexican Lime Crema, 1 Lime, Salsa, Salt & Pepper to taste, Corn Tortillas, 2 Chicken Breasts, and 1/2 cup of fresh or frozen Corn.

There are 3 parts to whipping up this Mexican Chicken Tostada dish: The chicken, refried beans, and the tortillas. The first step is to get the chicken cooked, so it can be shredded. This is my preferred method, which you can do by filling a large pot about 2/3's full of water and bring it to a boil. Once it's boiling, add the chicken breasts to the water, cover and let it stand off the heat for 12-18 minutes. After about 12 minutes, cut into the chicken to make sure it's cooked through and if it isn't, return it to the water and continue checking it every 2-3 minutes.

Now it's time to heat up your refried beans, so heat your pan over medium heat. Then add the can of refried beans to it, and I like to add a couple of tablespoons of salsa as well.

Stir it until it's well combined, and then heat it through. Set it aside once it's warm, so it's ready for you.

While the chicken and beans are cooking, wash and dry your romaine lettuce. Then cut out the thicker stems.

I then like to slice the lettuce leaves in half lengthwise, and stack them on top of each other.

Then thinly slice the lettuce and set it aside until you're ready to put the tostadas together.

Finally it's time to crisp up the tostadas, so we can eat this Mexican Chicken Tostada ASAP. Rather than fry them and make this super unhealthy, I used my NuWave oven, but you can preheat your oven to 350 degrees. Spray the tortilla on both sides with your cooking spray of choice, and then use an oven safe item like a ramekin to weigh down an edge of the tortilla. This was perfect to keep the tortilla from flying around in the NuWave, and then cook it for 2 minutes, then flip and repeat this process flipping 3 times for a total of 6 minutes.

While the tortillas were cooking, the chicken was fully cooked through. So let the chicken rest until it's just cool enough to handle.

Once the chicken is easy to work with, use 2 forks or your hands to shred the chicken into bite-sized pieces.

Then transfer the chicken to a bowl.

Flavor the chicken by adding salt and pepper along with the zest of half a lemon.

Then stir to combine the chicken.

After 6 minutes the tortilla is nice and crispy, so we're ready to put together a Mexican Chicken Tostada!

First add an even layer of refried beans to the tortilla.

Next up add some chicken over the beans.

Now add a layer of shredded cheese if you'd like, and I used a dairy free option (faux cheese as I like to call it).

Now if you want to melt the cheese pop it back in the NuWave or oven for a minute or two. But if your chicken and beans are still warm, you can skip that part.

For the corn, I just popped some frozen corn in the microwave for a minute or so until it cooked. Then I added salt and pepper.

Over the cheese add a little shredded let's and a couple tablespoons of corn.

Spoon a little salsa and guac over the Mexican Chicken Tostada for some creaminess and spice!

Finally add that Mexican lime crema to the top by drizzling it over the Mexican Chicken Tostada and you're ready to enjoy. Pick this up with your hands and dig in, and this is a healthy version of a Tex-Mex classic! Happy eating!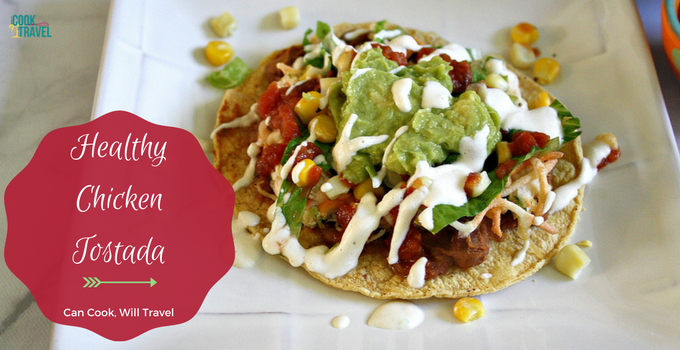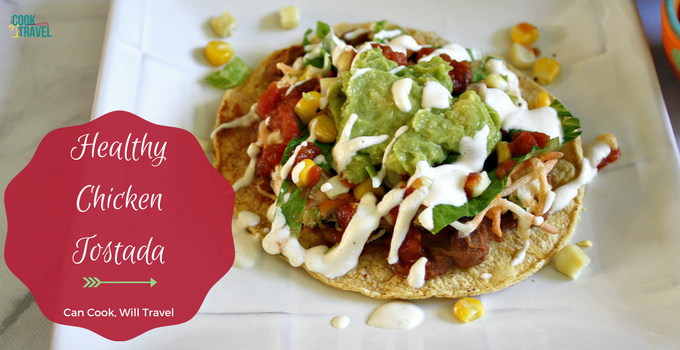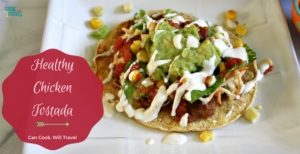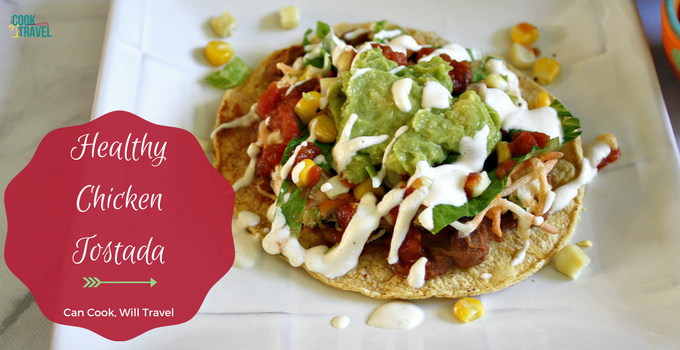 Print
Healthy Chicken Tostada
Yield 6 tostadas
This dairy free and non-fried tostada is the perfect way to get your Mexican cravings taken care of guilt free!
Ingredients
Tostada Ingredients:
6 Corn Tortillas
Cooking Spray
1 can of Refried Beans
2 T. Salsa (plus more for topping)
2 Chicken Breasts
Salt & Pepper, to taste
Zest of 1/2 Lime
Shredded cheese (non dairy if you prefer)
Romaine Lettuce (1 bunch)
1/2 cup of Corn, fresh or frozen
Guacamole
Dairy Free Mexican Lime Crema (or Sour Cream if you eat dairy)
Instructions
Start off by preparing your chicken. I prefer to each my chicken and shred it. The easiest way I've found is to bring a large pot of water to a boil, and once the water is boiling add the chicken breasts, cover and remove the pot from the heat. Let the chicken stand for 12-18 minutes or until the chicken is cooked through. Let the cooked chicken sit until it's cool enough to handle, and then shred with 2 forks or your hands. Toss the chicken with the zest of half a lime along with salt and pepper to taste.

 

While the chicken cooks, heat a pan over medium heat and add the can of beans to the warm pan. Add 2 tablespoons of salsa to the refried beans and stir to combine. Once it's heated through, place the beans on low and cover until you're ready for them.

 

To create the tostada base without frying it, spray both sides with cooking spray. I used my NuWave oven and heated the tortilla for 2 minutes then flip and repeat 2 more times cooking it a total of 6 minutes. If you use a NuWave, I find using a ramekin or something oven proof to help keep the tortilla from flying around. You can preheat an oven to 350 degrees, and then flip the tortilla every couple of minutes until it's crispy.

 

Now it's time to put the tostada together. First spoon some refried bean mixture and spread it in an even layer on the tortilla. Add the chicken next and top with a little cheese or non-dairy cheese. Next add shredded romaine over the tostada and sprinkle 1-2 tablespoons of corn over the tostada. Finally top with salsa, guacamole, and the Mexican Lime Crema (or sour cream if you choose).

 

Serve right away and enjoy!
Courses Main Dish
Cuisine Mexican
Nutrition Facts
Serving Size 1 Tostada
Amount Per Serving

Calories 248

% Daily Value

Total Fat 6 g

9%

Saturated Fat 1 g

5%

Unsaturated Fat 1 g

Cholesterol 28 mg

9%

Sodium 562 mg

23%

Total Carbohydrates 28 g

9%

Dietary Fiber 6 g

24%

Sugars 2 g

Protein 19 g

38%
* Percent Daily Values are based on a 2,000 calorie diet. Your daily values may be higher or lower depending on your calorie needs.


0