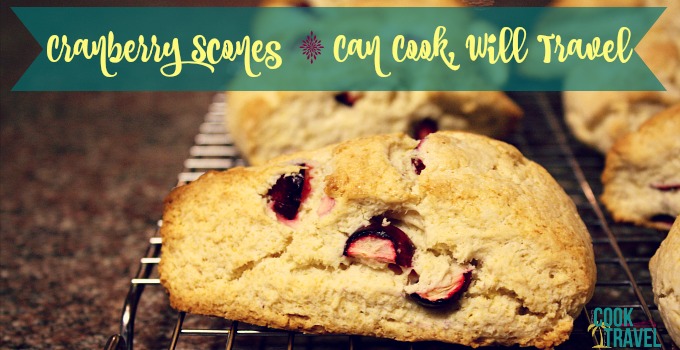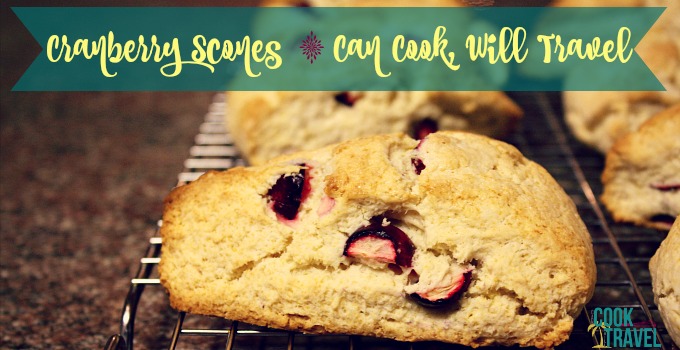 (Recipe can be found on Martha Stewart's site here.)
Step by Step Instructions:


Aside from the fact that these cranberry scones are AH-MAZ-ING!, they also have ingredients that you'll likely have on hand aside from the cranberries. Here's what you'll need: Salt, Sugar, 1/2 cup of halved fresh cranberries (dried cranberries can be used if it's out of season), Flour, Baking Powder, Half and Half (fat free for me), and 6 tablespoons of cold butter that has been cut into small pieces.

Start off by preheating the oven to 425 degrees. In a large bowl combine 2 cups of flour, 5 tablespoons of sugar, 1 tablespoon of baking powder, and 1/2 teaspoon of salt…

…and whisk it together.

Six tablespoons of chilled butter that are chopped into small pieces are added to the flour mixture.

Using a pastry blender, two knives or your hands (I opted for the latter), work the butter into the dry ingredients until it looks like course crumbled pieces as you'll see above.

Then add 2/3 cup of half and half to the mixture. I used a wooden spoon to combine it until it's just moistened. You don't want to overwork the dough.

Now it's time to gently fold in the cranberries.

Don't worry it won't look super combined. Just aim to get the cranberries mixed throughout the dough.

Lightly flour your work surface and turn the dough out onto it. You'll see that it looks pretty crumbly, but fear not!

Just knead the dough 5-10 times and shape it into a one-inch thick round of dough. *If you haven't kneaded dough before, it's easy. Just use the heels of your hands to combine the dough, and rotate the dough and press it together with your hands repeating 5-10 times.

Using a sharp knife, cut the into 8 pieces. (Anyone who has ever watched me cut a pizza is shocked by how nice my cutting skills are in this photo. Go me!)

Then move the scones to a lined cookie sheet (insert plug for the Silpat here), and space them about 2 inches apart.

To get a lovely crust on the scones, brush the tops of each one with 1 tablespoon of half and half (I had some left over) and sprinkle about a tablespoon of sugar over the tops (I also had sugar left over and didn't use the entire tablespoon).

Then bake these cuties for 12-15 minutes or until they are golden brown on top. Once they look lovely and golden, remove them from the oven and cool them on a wire rack. Then do a happy dance because you are fancy-schmancy and just made scones from scratch in about 30 minutes!!

Once the cranberry scones are cool, dig in. I'm not a big butter-spreading person, so I ate them as is, but if you like that sort of thing slather away and they will be delicious! They also made the perfect breakfast with my mandatory morning coffee. Hope you enjoy these amazing scones…seriously the perfect amount of sweet, tart, and buttery goodness in a treat! Happy baking!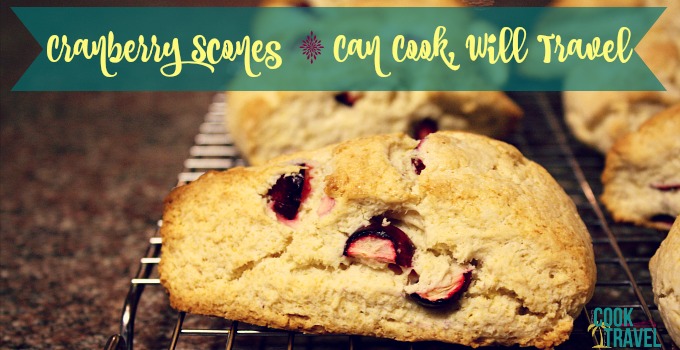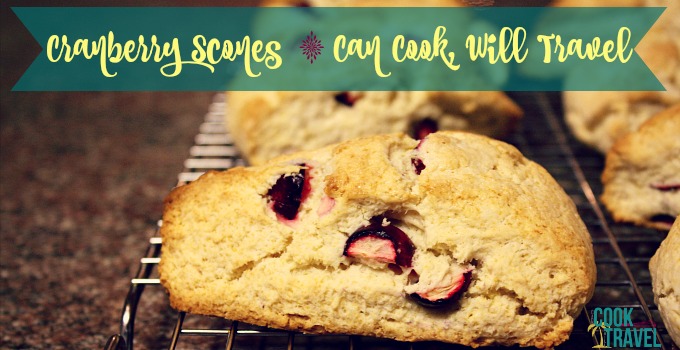 Cranberry Scones
Say hello to buttery scones that aren't overly sweet and perfect with your coffee at breakfast!
Ingredients
2 cups all-purpose Flour, plus more for work surface
5 tablespoons Sugar, plus 1 tablespoon for topping
1 tablespoon Baking Powder
½ teaspoon Salt
6 tablespoons chilled unsalted Butter, cut into small pieces
⅔ cup (plus 1 tablespoon) Half and Half
½ cup halved Cranberries, drained on paper towels
Preparation Instructions
Preheat oven to 425 degrees.
In a bowl, whisk together flour, 5 tablespoons sugar, baking powder, and salt.
Cut in butter with a pastry blender or two knives until mixture resembles coarse crumbs.
Stir in ⅔ cup half-and-half until just moistened. Gently fold in cranberries.
On a lightly floured surface, knead dough gently, 5 to 10 times. Pat into a 1-inch-thick round. Cut into 8 wedges; place on a baking sheet, 2 inches apart. Brush tops with remaining tablespoon half-and-half; sprinkle with remaining tablespoon sugar.
Bake until golden brown, 12 to 15 minutes.
Let cool on a wire rack.
0