Cranberry Scones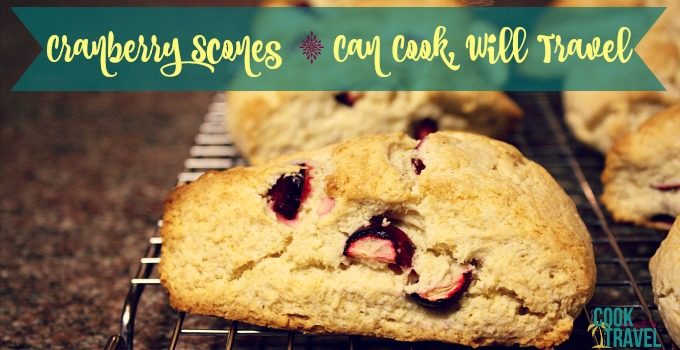 2 cups all-purpose Flour, plus more for work surface
5 tablespoons Sugar, plus 1 tablespoon for topping
1 tablespoon Baking Powder
½ teaspoon Salt
6 tablespoons chilled unsalted Butter, cut into small pieces
⅔ cup (plus 1 tablespoon) Half and Half
½ cup halved Cranberries, drained on paper towels
Preheat oven to 425 degrees.
In a bowl, whisk together flour, 5 tablespoons sugar, baking powder, and salt.
Cut in butter with a pastry blender or two knives until mixture resembles coarse crumbs.
Stir in ⅔ cup half-and-half until just moistened. Gently fold in cranberries.
On a lightly floured surface, knead dough gently, 5 to 10 times. Pat into a 1-inch-thick round. Cut into 8 wedges; place on a baking sheet, 2 inches apart. Brush tops with remaining tablespoon half-and-half; sprinkle with remaining tablespoon sugar.
Bake until golden brown, 12 to 15 minutes.
Let cool on a wire rack.