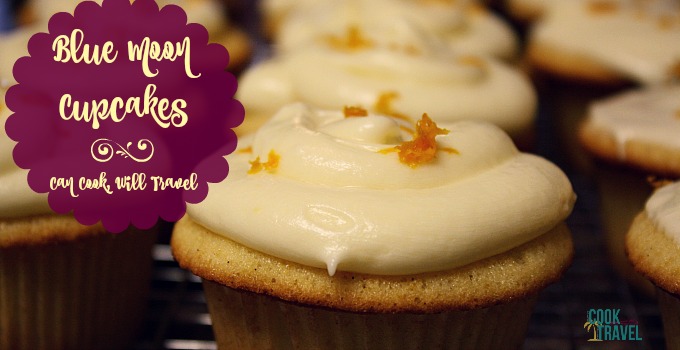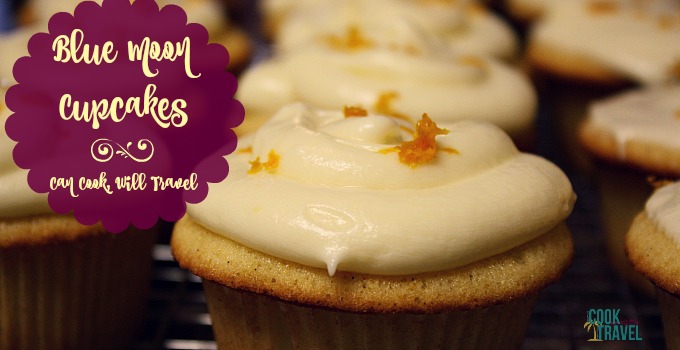 (Recipe can be found on the Spoon Fork Bacon site here.)
Step by Step Instructions:


The cupcakes come together beautifully with the following ingredients: All-Purpose Flour, Sugar, Skim Milk (the recipe calls for whole, but I decided on skim, and it worked wonderfully), 1 bottle of blue moon (2/3 cup is needed, and I'm sure you can find someone to finish off the rest of the bottle), Baking Powder, 1/2 stick of room temperature Butter, Vanilla Bean Paste (or Vanilla extract if you only have it on hand), 1 Orange that will be zested), 2 room temperature eggs, and Salt.

Begin by preheating the oven to 375 degrees. Then zest an orange and reserve the zest.

Combine and sift 1 2/3 cup of all-purpose flour, 1 teaspoon of baking powder, and 1/8 teaspoon of salt. Set the dry ingredients aside until they are needed for the batter.

In a stand mixer, beat the butter for about one minute with a paddle attachment. I have a paddle that is specific for batters, because it scrapes the sides as it mixes, which is crazy handy. I love that attachment!

Add 1 1/4 cup of sugar to the mixer…

…and mix the butter and sugar for 3-4 minutes until the butter and sugar are creamed and create a light, fluffy mixture.

Once the butter and sugar are nicely creamed, stop the mixer and add one room temperature egg and mix it complete.

Then add the second room temperature egg and fully incorporate it into the batter.

Next the orange zest that we zested at the beginning of the recipe gets added to the batter along with 1 teaspoon of vanilla extract. Again, I used Vanilla Bean Paste whenever a recipe calls for vanilla extract, and I adore how it shows flecks of vanilla bean in any dish/dessert it is added to…yum!

Then in a liquid measuring cup, measure 2/3 cup of Blue Moon beer and whisk in 2 tablespoons of milk.
T
hen it's time to finish up the batter. Begin by adding a small amount (1/4 cup or so) of the beer and milk mixture to the batter and mix it fully.

Then add a small amount of the sifted dry ingredients that were set aside. Continue to alternate the beer with the dry ingredients until everything has been added to the mixer…

…and the batter is fully combined.

Distribute the batter between muffin cups. Fill the cups about 1/2 to 2/3 full. I got about 14 regular sized cupcakes out of the batter, but if you use mini muffin tins, you should be able to get about 24 cupcakes.

Bake the cupcakes for 15-18 minutes (or slightly longer if you are doing larger cupcakes). The muffins should be slightly browned on top and a toothpick/tester should come out clean when stuck into the muffins. Remove the muffins from the tins and cool completely on a wire rack.

Now it's frosting time. You just need 1/2 stick of room tempearture Butter, 4 ounces room temperature Cream Cheese (I opted for the lower fat variety), Powdered Sugar, and Orange Zest (for garnish) and Orange Juice.

I began by sifting 2 1/2 cups of powdered sugar.

Then in my stand mixer, I combined the butter and cream cheese together.

Then I slowly added the powdered sugar to the creamed butter and creamed cheese until the mixture was fully incorporated.

I juiced one orange and measured two tablespoons of the juice, which I added to the frosting.

Using a spatula, I carefully combined the orange juice into the frosting until it was fully mixed into the frosting.

Using either a pastry bag or just an offset spatula or small spatula, frost each cupcake as you desire. Top with some additional orange zest for garnish and you are ready to dive in. You'll want to share these, because they are dangerous to have around. Plus your friends and family will think you are super cool when you bring them cupcakes with beer in them! I hope you enjoy…I know I did!
Mini Blue Moon Cupcake
Makes 24 mini cupcakes
Cupcake Ingredients:
1/2 cup unsalted butter, softened
1 1/4 cup granulated sugar
1 2/3 cup all purpose flour
1 teaspoon baking powder
1/8 teaspoon salt
2 eggs, room temperature
1 teaspoon vanilla extract
1 orange, zested (plus more for garnish)
2/3 cup Blue Moon beer
2 tablespoons whole milk
Orange Cream Cheese Frosting:
4 ounces cream cheese, softened
1/2 cup (1 stick) unsalted butter, softened
2 1/2 cups powdered sugar, sifted
2 tablespoons freshly squeezed orange juice
Preparation Instructions:
1. Preheat oven to 375°F. Line a mini muffin tin with 24 mini cupcake liners.
2. In a mixing bowl, sift together flour, baking powder and salt. Set aside.
3. In a stand mixer fitted with a paddle attachment, or with a hand mixer, cream butter for 1 minute. Add sugar and cream together with butter for about 3 to 4 minutes.
4. Add eggs, one at a time, scraping down after each addition.
5. Add vanilla and orange zest and mix until just combined.
6. In a mixing bowl whisk together beer and milk. Alternatively add beer mixture and flour mixture to butter mixture until fully incorporated.
7. Fill cupcake liners 1/2-2/3 full.
8. Bake for 15 to 18 minutes until golden brown and a toothpick inserted in center comes out clean.  Transfer cupcakes onto a cooling rack and allow to cool completely.
9. For frosting: In a stand mixer, or with a hand mixer, cream together butter and cream cheese. With motor running add sugar, 1/2 cup at a time until all sugar has been added, scraping down sides of the bowl after each cup of sugar. Stir in the orange juice until fully incorporated.
10. Pipe frosting onto cupcakes or spread with an offset spatula and top with fresh orange zest. Serve.
0