Oh the Kristen necklace…she's quickly grown to be a favorite necklace of mine. I have found that when I want a necklace that makes a little more of a statement, Kristen is the one. With her color, delicate gold details along the edges, and a hint of bling…what's not to love?!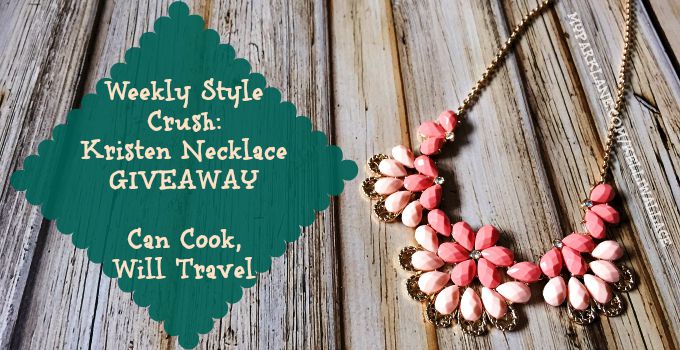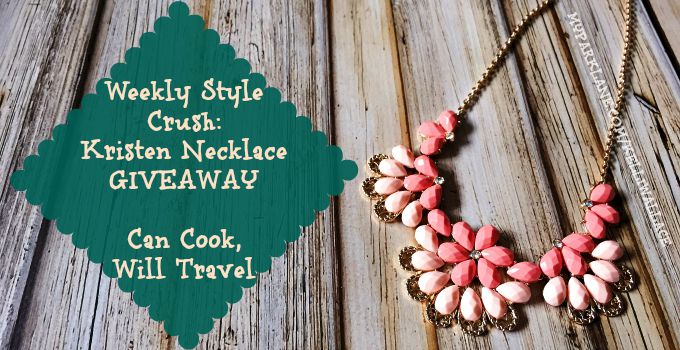 Here are 3 reasons why I'm LOVING the Kristen necklace:

Hello, Peach & Gold!
Admittedly, I'm not one to love wearing peach-colored clothing. So at first, I thought I might not get much wear out of this necklace.  I'm more of a jewel tone kinda girl. Cobalt blues, teals, purples, greens, and of course the standard neutrals of gray, black, navy, and white are a big part of my color story.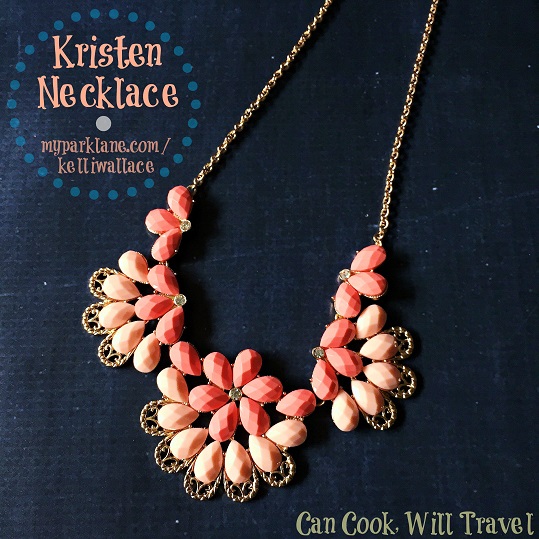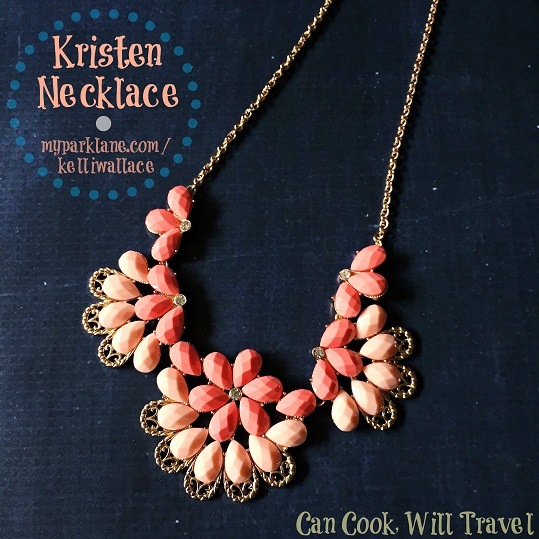 But what I found is that the peach colors in the Kristen necklace are GORGEOUS against these colors. They make this necklace pop, which makes me feel more polished and put together.
And can I just say that this necklace looks gorgeous when it's warm outside. It's beautiful with a tan, and I love how gold is able to warm up our skin.

It's All About the Length
I certainly know that I gravitate more towards short necklaces. This is mainly because of the necklines I choose, which tend to allow me to feature a short necklace.
The Kristen necklace is like a long, short necklace if that makes sense. At its shortest it's 20 inches and there's an additional 3 inches with the built in extender. It's not too short to where you feel uncomfortable and choked, but is long enough that it can be more of a bib style necklace that lays below your collar bone.
One great thing that I love about Park Lane Jewelry as well is that they provide necklace extenders so that if you have a necklace you wish were just a little longer, voila, now you can make it longer! Love that!

A Statement Necklace For Every Day
When you think of a statement necklace, the last thing you think quite often is that you can wear it with a tee and jeans, right? If you're at all like me, a tee and jeans often feels like dressing up. (At least in my work from home lifestyle it does for me.)
You may be thinking…well I am not sure how to wear a statement necklace, because I have a pretty casual wardrobe. How can I pull that off? That's totally the beauty of this piece of jewelry. It can be dressed up or down so easily, so that you can run errands feeling a lot more put together and beautiful.
Here I am in a white tee with featuring the Kristen necklace, but I also love wearing it with a dressier top. It's such a versatile piece.

GIVEAWAY ALERT: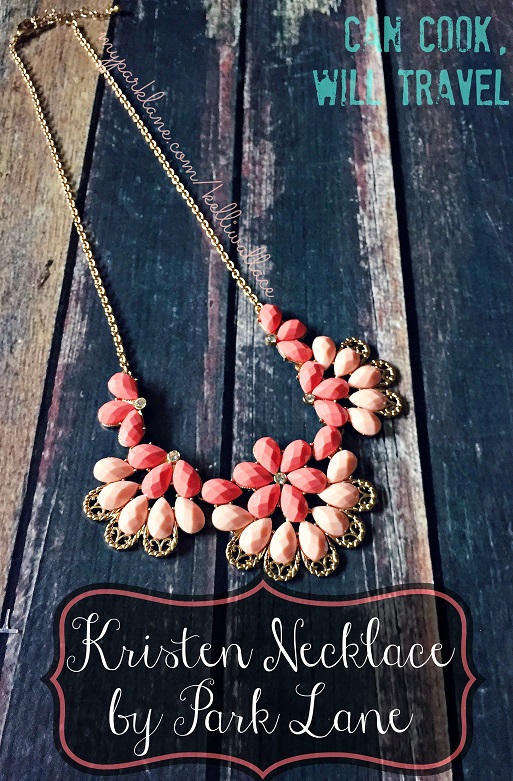 Enter to win this gorgeous Kristen necklace for yourself! Here are the 3 ways to get entered:
Simply comment on this post with what colors you love to wear right now.
Follow me on Instagram AND comment on my Kristen necklace pic for two more entries.
Follow me on Twitter AND tweet about the giveaway (click the link below) for two more entries.[bctt tweet="[bctt tweet="I love jewelry giveaways! Enter to win at http://bit.ly/thekristen by @Kelli_CCWT #PLbyKel #freebling" via="no"]

Giveaway ends on 7/22/15 at 12:00pm CST.
Good luck! And if you want to check out the styles online including this awesome necklace, click this link.
0