Wagamama's Yaki Soba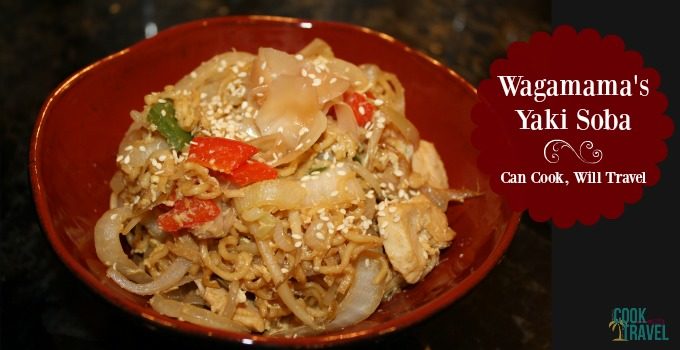 YAKI SOBA SAUCE INGREDIENTS:
½ Cup Light Soy Sauce
2 t. Salt
2 t. Sugar
1 T. Dark Soy Sauce
YAKI SOBA INGREDIENTS:
4 oz. Soba or Ramen Noodles
2 T. Yaki Soba Sauce
1 Small Onion
4 scallions, Trimmed and cut into 1-inch lengths
Large Handful of Bean Sprouts
15 small Cooked, Peeled Shrimp
2 T. Vegetable Oil
1 Boneless, Skinless Chicken Breast, cut into strips
½ Red Pepper, trimmed, seeded, and cubed
½ Green pepper, trimmed, seeded, and cubed
2 Eggs, beaten
FOR SERVING:
2 T. Pickled Ginger
1 T. Dried Shallots
½ t. Toasted Sesame Seeds
Put all yaki soba sauce ingredients in a small pan and bring to a boil.
Lower the heat right down and simmer for 10 minutes.
Once cool, it will keep for a few weeks in the fridge.
Cook the noodles in a large pot of boiling water for 2-3 minutes until just tender. Drain and refresh under cold running water.
Put the yaki soba sauce, the onion, scallions, bean sprouts, and shrimp in a large bowl and mix in the noodles.
Heat a wok over medium heat for 1-2 minutes or until completely hot and almost smoking and add the vegetable oil. Add the chicken and red and green peppers, and stir-fry for 2 minutes. Add the noodles and vegetables to the wok and stir-fry quickly for 3 minutes until warmed through. Add the eggs and continue to stir-fry for another minute or until the eggs are just cooked.
Serve with the pickled ginger, dried shallots, and sesame seeds.