If you've ever been to the movies with me in recent years (and you know who you are, my dear movie buddies!), you know that I prefer a dine in theater and I almost always order the same thing…Southwest Fajita Chicken Wraps. I'm not currently near the happiest place on Earth (that's the movie theater if you ask me), and I've been missing not only the latest films but also my wrap.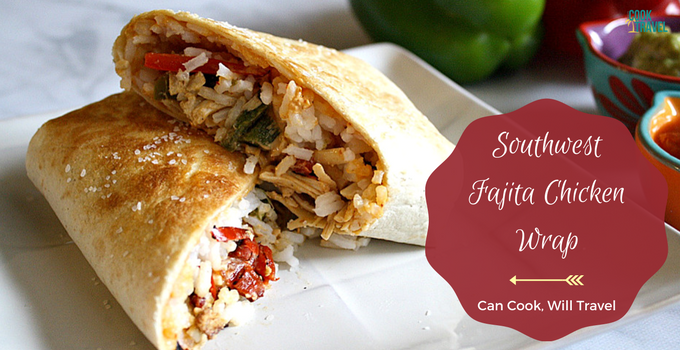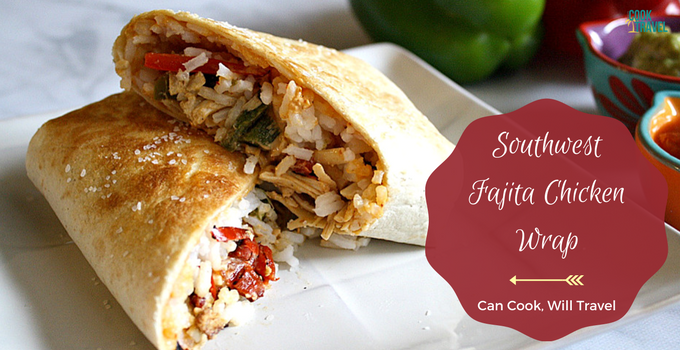 I decided that my next culinary adventure would be to try to recreate this Southwest Fajita Chicken Wraps recipe so that I could curb this craving occasionally. I couldn't really find a recipe anywhere that came close to what I was looking for, so I looked at the menu item description and did my best to figure it out myself.
What I especially love about this wrap is that it's a warm wrap and has a spicy chipotle sauce in it. I tracked down a chipotle aioli recipe from the site Self Proclaimed Foodie and used that to create the much-needed spice for these wraps.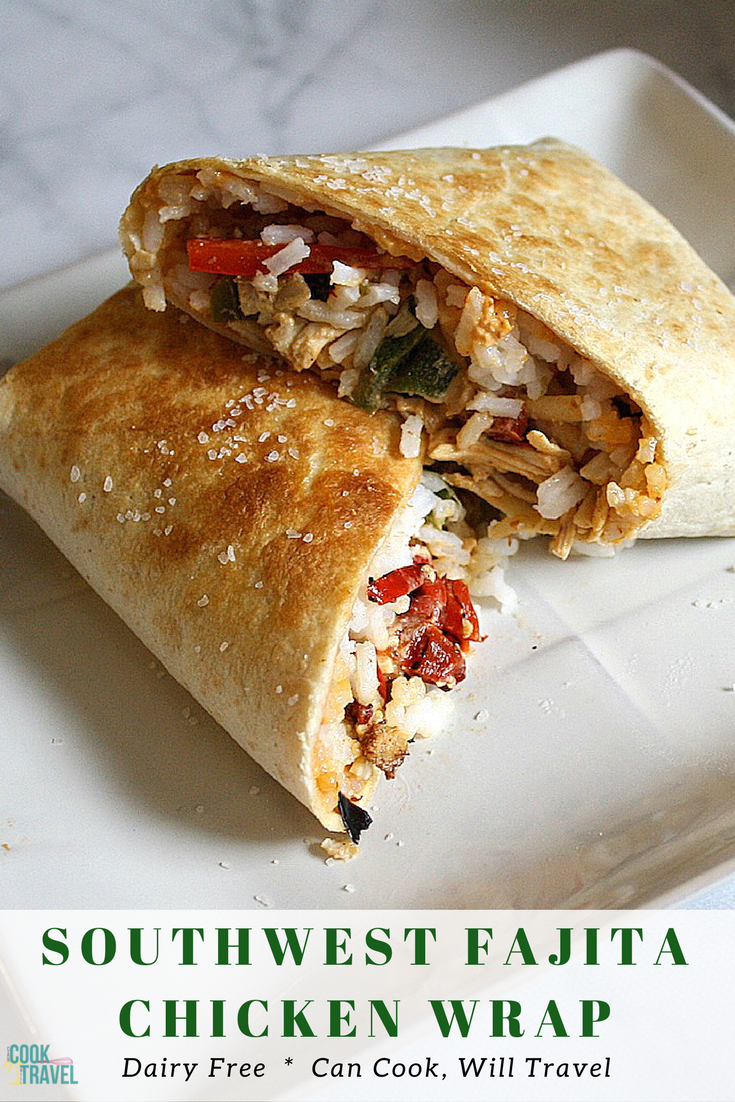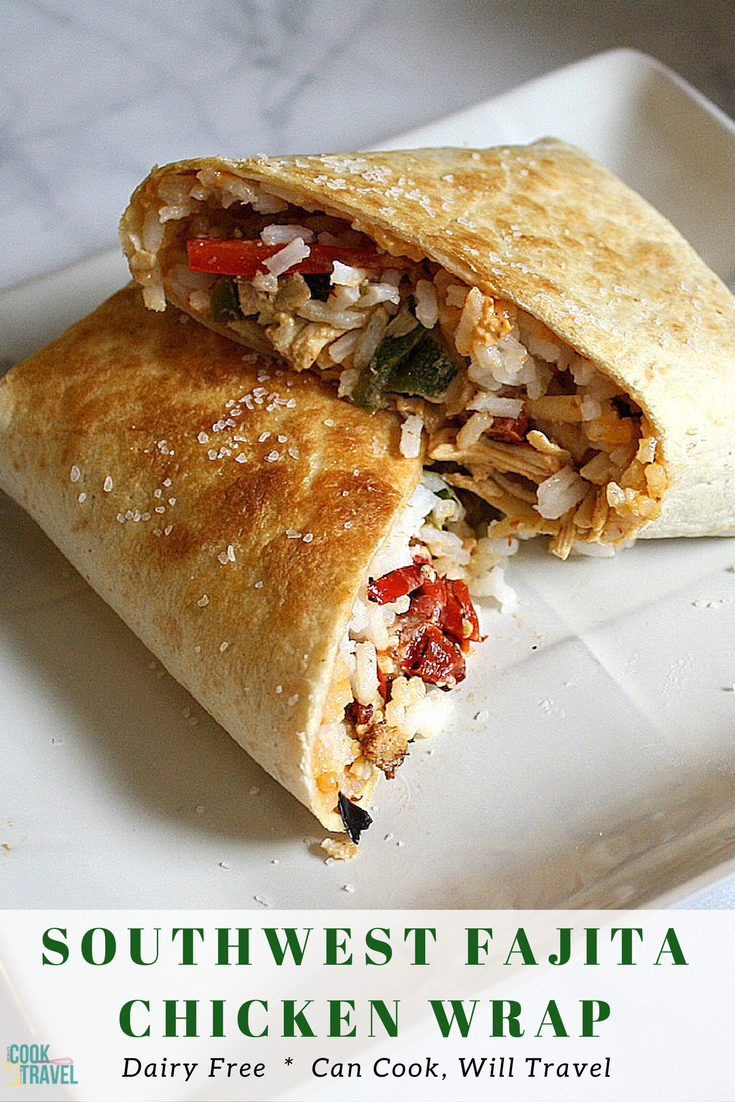 I particularly enjoy doing prep work ahead of time to cut down on time when I'm throwing the meal together. First thing I did was cook about of cup of uncooked long-grain white rice. Then while the rice cooked, I cooked 2 chicken breasts in a skillet until they had a nice brown crust and were cooked through. Then I sliced my red and green bell peppers, and sliced the chicken breasts once they were cool.
When it came to putting this wrap together, it didn't take much. I cooked my peppers over high heat and didn't stir too much so that they got nice and brown. I zested a lime and added the zest and juice of half a lime to the cooked rice and stirred. Once the peppers were nice and brown/verging on charred and smelled amazing, I threw the sliced chicken in to heat the chicken through for about a minute. The chipotle aioli was a cinch to throw together in a blender. Just combine a couple of egg yolks, juice of half a lemon, salt and sugar, and a couple tablespoons of chipotle in adobo sauce. Blend it for a few seconds then drizzle in the canola oil slowly while blending the sauce. It magically forms this beautifully thick sauce that had a lovely kick!
I heated my tortillas in a large skillet to warm them on each side and make folding them easier. Place rice, the chicken and pepper mixture, some cheese (lots of it), and chipotle aioli on it. Roll the tortilla up, and then bake for a few minutes so the cheese is melted and the outside is slightly crispy. You don't want to bake too much and have them be super brown and crispy. Just a good heat-through will do it!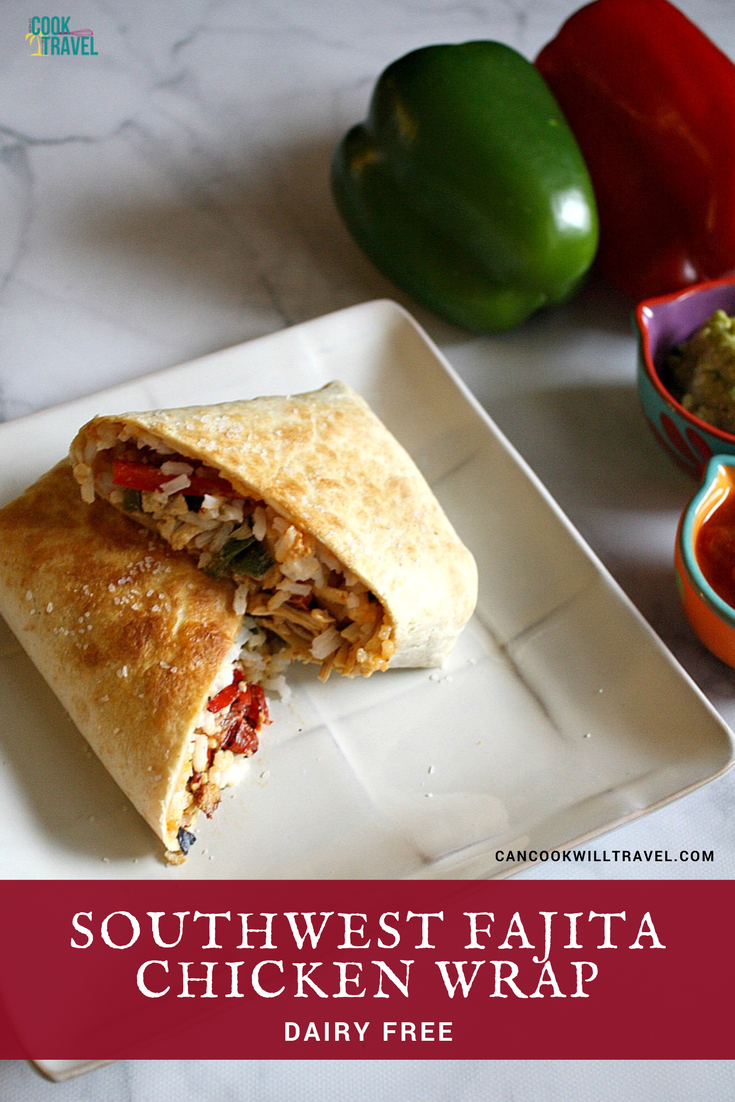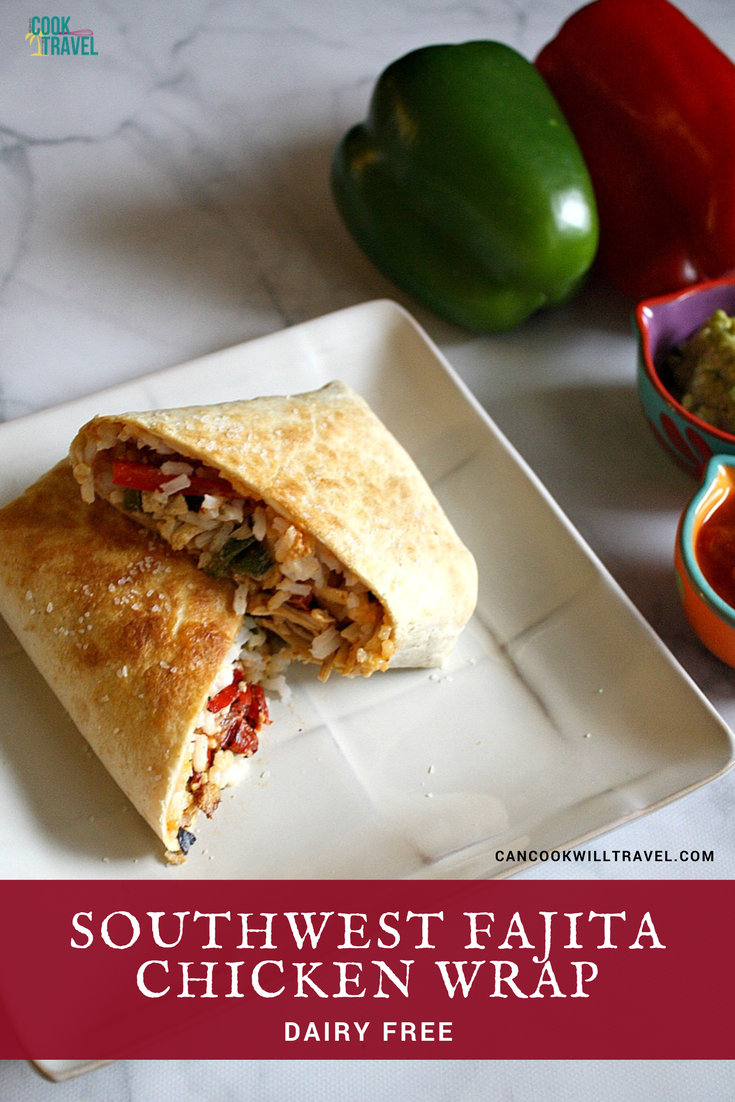 Update: I wanted to provide a note on the cheese if you're looking for a dairy free option. I tried Daiya's pepper jack style cheese shreds for this wrap along my dairy free journey. I'm happy to report they melted and worked so well in these southwest fajita chicken wraps. I also used their cheddar flavor as well, and it hit the spot!
And then serve the Southwest Fajita Chicken Wraps with whatever you'd like. To me sour cream and salsa are typical for dipping your wrap in. If you're wanting to go dairy free, then swap out the sour cream for some homemade guacamole. We served ours with some tortilla chips but I also love fries with mine. Truly pick your favorite Mexican-inspired side and enjoy!
I cannot wait for you to try out this Southwest Fajita Chicken Wraps recipe! Click that link for the recipe and step by step directions.
A look back:
One year ago: Spicy Pasta with Sweet Potatoes…So Freaking Good!
Two years ago: Get Your Dip On!…Lightened Jalapeno Popper Dip
Three years ago: Shrimp Penne Bake…It's Lighter than you Think!
Four years ago: Mixin' It Up with My Rice Cooker


0