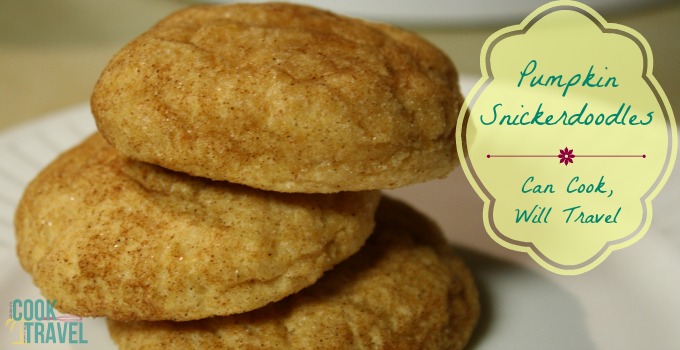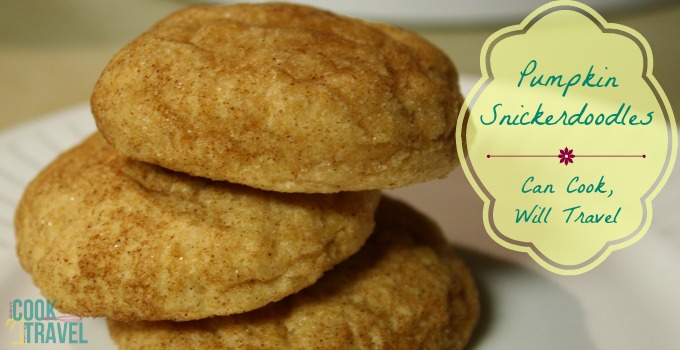 (Recipe can be found on the Pennies on a Platter site here.)
Step by Step Instructions:


These delightful cookies come together with the following ingredients for the cookie dough: 2 sticks of softened, unsalted Butter, 1 cup granulated Sugar, Ground Nutmeg, Cinnamon, Vanilla Extract, 1 Egg, Pumpkin Puree, Salt, 1/2 cup of Light Brown Sugar, and 3 3/4 cups of Flour.

Begin by putting the softened butter and 1 cup of sugar in a mixer…

…don't forget the brown sugar – I'm not saying I did that or anything…

…and cream the butter and sugar in the mixer for 2-3 minutes until it's light and fluffy.

Then 3/4 cup of canned pumpkin puree gets added to the butter/sugar mixture and is mixed lightly.

Then one egg and 2 teaspoons of vanilla are added to the mixer, and mixed until it's well combined.

Once it's well incorporated, the mixture should look like the above.

In a separate bowl, 3 3/4 cups of flour, 1/2 teaspoon of salt, 1/2 teaspoon of ground cinnamon and 1/4 teaspoon of ground nutmeg are added…

…and whisked together.

The flour mixture needs to be slowly added to the mixer and combined gradually until all of the dry ingredients have been combined. The dough should look like the above. I placed it in a separate bowl, covered with plastic wrap, and chilled it for at least an hour in the fridge.

While the dough chilled, I preheated the oven to 350 degrees. I went ahead and made the coating. The following 4 ingredients were needed: 1/2 cup of granulated Sugar, Ground Ginger, Ground Cinnamon, and Ground Allspice.

To the sugar, 1 teaspoon of cinnamon, 1/2 teaspoon of ground ginger, and a dash of allspice are added…it smelled so good!

Then I combined the 4 ingredients, covered the dish and set it aside.

This recipe makes 3-4 dozen cookies (I made about 3 dozen and had just a little dough left over). I covered the cookie sheets with parchment paper, and had my coating and chilled dough ready.

Using a cookie scoop so that each cookie was basically the same size, I scooped the dough, rolled it into a ball in my hands, and then coated it in the spice/sugar mixture and placed the cookies on the cookie sheet about 2 inches apart.

After the cookies were on the cookie sheets, I used a glass with a flat bottom, dipped it in water and then in the cinnamon sugar. Then I lightly pressed the glass onto each cookie to flatten them slightly.

The cookies will look like so (see above). 😉

After the cookies baked for 12-14 minutes, then they will cool on the baking sheet for 5 minutes. I let the cookies bake for 12 minutes, because I like them more cake-y.

Then cool the cookies on a wire cooling rack. Beware that people can't help but walk by and snag a few, so there may be fewer than you started with after they have cooled. You have got to give these cookies a try. They aren't overly pumpkin-y and are nice and chewy but still have a slight crunch from the sugar & spice coating. Get thee some pumpkin puree ASAP and enjoy!! Happy Baking!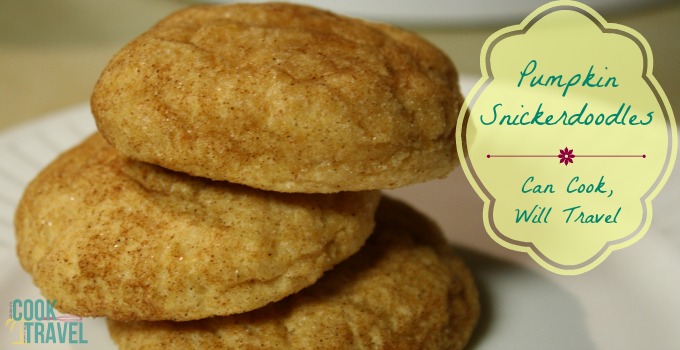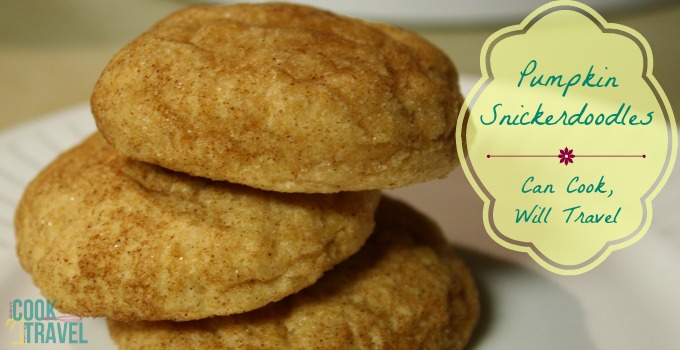 Pumpkin Snickerdoodle Cookies
Nothing says Fall quite like these Pumpkin Snickerdoodle Cookies. Packed with spices and pumpkin, these cookies are sure to hit the spot!
Ingredients
For the cookies:
1 cup unsalted butter, at room temperature
1 cup granulated sugar
½ cup light brown sugar
¾ cup pumpkin puree
1 large egg
2 teaspoons vanilla extract
3¾ cups flour
1½ teaspoon baking powder
½ teaspoon salt
½ teaspoon ground cinnamon
¼ teaspoon ground nutmeg
For the coating:
½ cups granulated sugar
1 teaspoon ground cinnamon
½ teaspoon ground ginger
Dash of allspice
Preparation Instructions
In the bowl of an electric mixer, beat together the butter and sugars on medium-high speed until light and fluffy, about 2 to 3 minutes. Stir in the pumpkin puree, then beat in the egg and vanilla.
In a separate medium bowl, whisk together the flour, baking powder, salt, cinnamon an
d nutmeg. With the mixer on low speed, gradually add the dry ingredients to the wet ingredients. Stir until fully incorporated. Cover and chill the dough for at least an hour.
Preheat the oven to 350 degrees. Line baking sheets with parchment paper or silicone liner. Mix the coating ingredients in a small bowl. Scoop equal dough balls and roll into the sugar mixture. Set on cookie sheet, about 2 inches apart. Dip the bottom of a flat drinking glass into water, then into the sugar mixture and use to slightly flatten the dough balls. Recoat the bottom of the glass in the sugar-spice mixture as needed.
Bake the cookies for 12 to 14 minutes, or until baked through. Let cool on the baking sheets about 5 minutes, then transfer to a wire rack to cool completely. Repeat with remaining dough.
0