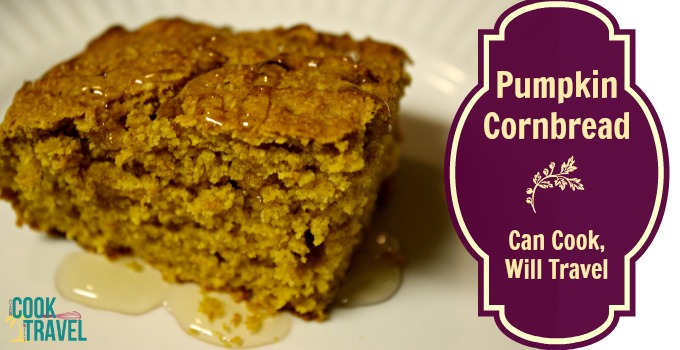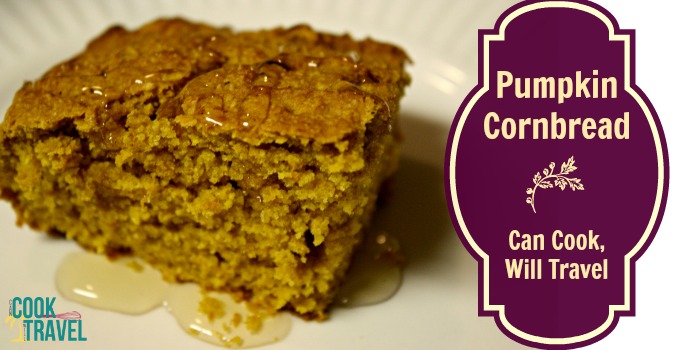 (Recipe can be found on the Tasty Kitchen site here.)
Step by Step Ingredients:


This delicious cornbread comes together with the following ingredients: Brown Sugar, Kosher Salt, Corn Meal, Cinnamon, Flour, Baking Powder, 2 Eggs, Pumpkin Puree, Olive Oil and Molasses.

Begin by preheating the oven to 400 degrees. Then combine the flour, baking powder, salt, cinnamon, nutmeg, brown sugar, and cornmeal in a large bowl.

Using a whisk, I mixed the ingredients until there were no lumps.

In a smaller bowl, I whisked my eggs together.

To the eggs, the pumpkin puree, olive oil, and molasses were added.

The wet ingredients are whisked together until well combined.

Then I added the wet ingredients to my dry ingredients and stirred with a wooden spoon.

I mixed the cornbread batter until just combined.

The batter gets poured into an 8×8 dish sprayed with cooking spray. Then I used my offset spatula to level the top. (Sorry for the blurry image there…) 🙂

The cornbread is baked for 30 minutes and should be served warm. I served mine with a little spray butter and drizzled with some honey…hello Fall!!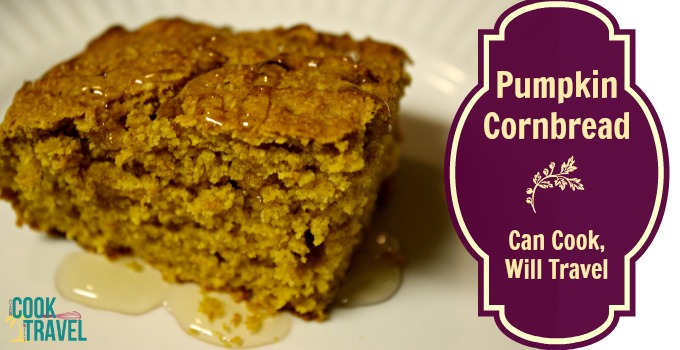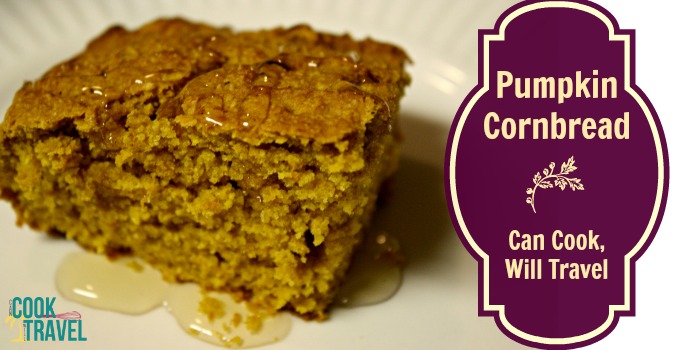 Pumpkin Cornbread
Oh this cornbread is the perfect compliment to your favorite chili or hearty soup! With a hint of pumpkin and a drizzle of honey ... this recipe definitely one to enjoy every Fall!
Ingredients
1 cup Flour
1 Tablespoon Baking Powder
1 teaspoon Kosher Salt
½ teaspoon Ground Cinnamon
¼ teaspoon Ground Nutmeg
½ cup Brown Sugar
1 cup Cornmeal
2 whole Eggs
1 cup Pumpkin Puree
¼ cup Olive Oil
1 Tablespoon Molasses
Preparation Instructions
Preheat the oven to 400 degrees F and grease an 8×8″ baking dish.
In a medium bowl, whisk together the flour, baking powder, salt, spices, brown sugar, and cornmeal.
In a small bowl, lightly beat the eggs, and then stir in the pumpkin, oil, and molasses.
Stir the wet ingredients into the dry ingredients just until combined, and then pour the batter into the pan, smoothing out the top as much as possible.
Bake 30 minutes or until a knife inserted in the center comes out clean. Serve warm.
0