Ah Scotland, you are one beautiful country! This trip to England and Scotland was such a renewing trip for me, and when we got to the latter, I was quickly reminded why my heart loves Scotland so. And to think we almost didn't go to Scotland!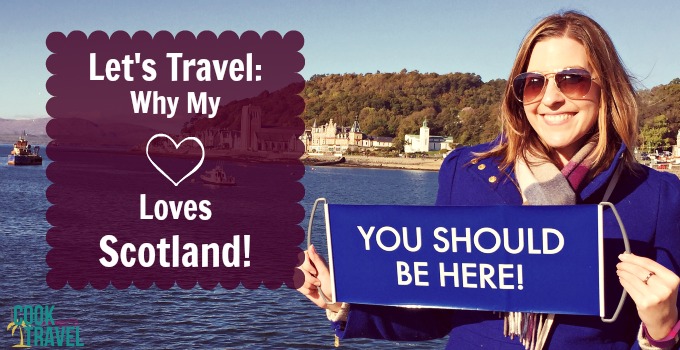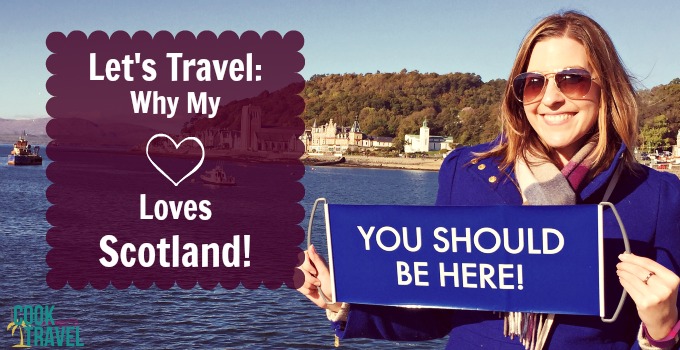 I knew I'd be in London for a few days (not long enough, but that's another story), and the amount plane tickets cost made me desire to extend our trip and explore the UK. Gotta get my money's worth and all!
Initially my sister and I were going to go on a cool trip to Ireland, specifically to Kerry. But that trip sold out before we could book it. I've only been to Ireland once, and it was just to Dublin and I've been dying to see the countryside.
However when our trip fell through, we were soooo bummed. I had been looking forward to that part of the trip because it was pretty much planned out for us. All we had to do was show up … but alas, that was not to be. #SoBummed
However, as is my mindset, it was time to end the pity party and find something else to get excited about. I suddenly had a thought: What if we went to Scotland instead?
This idea seemed pretty perfect to me. I've been to Scotland twice. The first was a trip to Glasgow to stay with my bestie's great-aunt, Margaret Rose. She took us around Glasgow, Edinburgh, to Loch Lomond, Holyrood Castle. It was amazing and I loved having her as our tour guide!
Trip #2 to Scotland was while I was in graduate school. Two of my friends and I headed to Scotland during our Fall break. (Apologies to our director who told us not to leave London, as he called the week "Fall Reading Week" and we should use it to catch up!) But we needed a BREAK and badly! So off we went to Loch Lomond and Oban. We loved it so much that we didn't want to leave. We daydreamed of buying 3 houses next to each other and opening a coffee shop to avoid the impending essay writing we had in store in London. True story!
The thought of getting to show my sister Scotland got me so excited I could hardly stand it!
**Fun fact about my family: We are descendants of King Robert the Bruce and William Wallace (aka: Braveheart) on my mom's side, funny enough, among many other famous relatives we have. We just HAD to go explore where our ancestors lived! Oh and a word to the wise here, don't go watching Braveheart expecting historical accuracy. Action and adventure, you'll get, but facts … not so much.
I hadn't had a chance to explore Scotland much on past trips and that was definitely our goal for this trip. Best. Decision. Ever.
I'll go into more detail about what we did in Scotland in a separate post, but the thing to know is that Scotland will feed your soul. Especially if you love nature!
Here's just a hint of what I love about Scotland:
The People – Seriously they are the nicest! So kind, helpful, and proud! The Scots love their country and their history, and love sharing it with you! (And enjoy explaining why it's better than England.)
The History – Getting to see churches, buildings, and castles that pre-date America is mind blowing. Realizing that the place that you are walking is not only old but has seen so much action from royalty to battles to the Reformation. Everywhere you go holds its own unique history. It's so cool!

The Landscapes – Whether you like a busy, modern city (Glasgow is for you), or a city steeped in history (Edinburgh is your girl), or you want to get out and see BIG landscapes, your heart will be so happy and satisfied. There is something for everyone in Scotland!
The Atmosphere – It's a bit difficult to put into words, but there is sense of awe and wonder that you get in Scotland. The stillness of the mist as it settles around you, the wide open spaces of the highlands, the knowledge of the history and battles that took place where you stand. It quiets your mind, gets you in a more spiritual place, and fills your heart with appreciation and wonder.
Getting to walk where my ancestors did centuries ago, feeling the peace and quiet of the Highlands, the excitement of Loch Ness and if we'd see Nessie (she was a bit shy that day), and feeling so welcomed by the Scottish people … it was my favorite trip I've taken in a very long time. My heart loves Scotland and I know yours will too.
It was very difficult leaving Scotland, I have to admit. Knowing that sense of peace that I had as I walked about. Life felt beautiful again and I felt so grateful for this trip. I felt so grateful for our Ireland plans getting cancelled, so that I could have this experience. While I look forward to seeing Ireland again, my soul needed Scotland more.
So if Scotland is your desire (and why shouldn't it be?!, then it's time to start thinking about how you can make it a reality for you too. It will happen!
Stay inspired & feed your soul in Scotland!
~Kelli
0