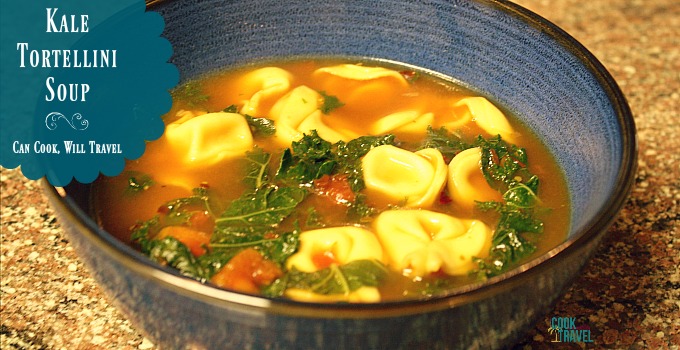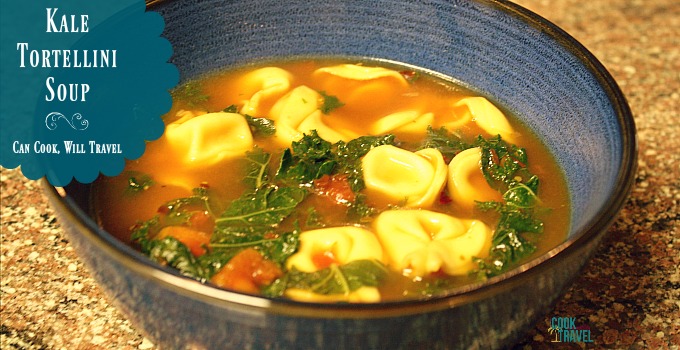 (This Kale Tortellini Soup recipe can be found on the Running With Tweezers site here.)
Step by Step Instructions:


For this crazy, good Kale Tortellini Soup, the following ingredients are needed: Kale, Your favorite Pesto, Diced Tomatoes, Olive Oil (or whatever oil you like cooking with), Crushed Red Pepper Flakes, Salt and Pepper, 2 Garlic Cloves, Vegetable Stock, and Cheese Tortellini.

I began by prepping my kale. The large stems of the kale need to be cut out from each piece, because you don't want to eat the tough stems in the soup.

I then took each leaf (sans stem) and roughly chopped it so I would have small pieces of kale to cook in the soup.

One tablespoon of olive oil gets heated in a large pot over medium heat until it's shimmering.

The garlic is then sautéed in the oil for 1-2 minutes until softened but not brown.

I then added a (heaping) tablespoon of crushed red pepper flakes to the garlic and oil and sautéed it for another minute.

To the oil, garlic, and pepper flakes, I added the liquids. Add a full 5 cups of vegetable stock. Alternatively add 3 cups of vegetable stock and 2 cups of water to the pot along with one 14 ounce can of diced tomatoes. Stir everything together, and then I heated the mixture to nearly boiling and then simmered, covered for 15 minutes so that all of the spicy, garlic-y wonderfulness infuses the soup.

In addition, toss in the uncooked tortellini to the pot. I turned the heat up to about medium and covered the soup and cooked the tortellini for 6-8 minutes.

The tortellini, once cooked, will have gotten larger, which is easy to see in this photo.

Add the chopped kale to the soup.

Stir for a minute, and the kale will immediately start to wilt. The kale cooks for about 4 more minutes until the leaves are are softened.

I then added a very heaping tablespoon of pesto to the soup to add even more flavor.

Finally taste the soup and season with salt and pepper. I sprinkled a little grated Parmesan on top of the Kale Tortellini Soup, but honestly, it doesn't need it. I was one happy camper with this meal, and I hope you enjoy it!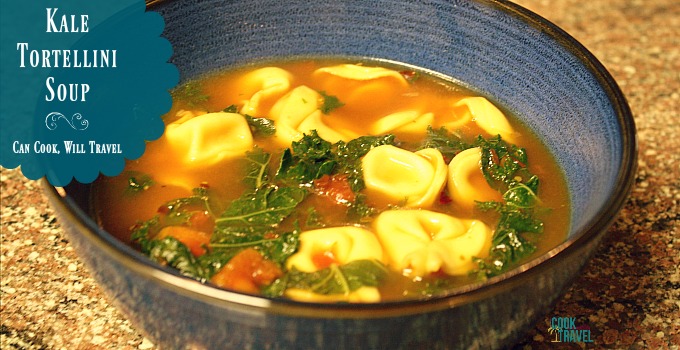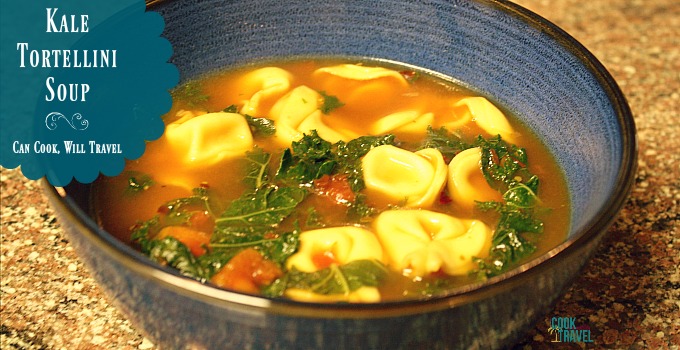 Kale Tortellini Soup
If you want a spicy, healthy soup with a little pasta to keep you full and satisfied...then this is the soup for you! One of my favorites!
Ingredients
1 tbsp. grapeseed oil or preferred oil for sauteing
2 large cloves garlic, minced
1 tbsp. dried red chili flakes
5 cups good quality vegetable stock – you can also split this with some water – i used 3 cups vegetable stock and 2 cups water
14 ounces chopped tomatoes with their liquid or tomato passata
¾ pound roughly chopped kale – tough stems removed (you can eyeball this or reduce the amount of kale)
8 ounces fresh or frozen cheese tortellini
1 tbsp. good quality pesto
salt and fresh ground black pepper, to taste
Preparation Instructions
In a large soup pot, heat the oil over medium heat until shimmering. Add the minced garlic and sauté until soft but not brown – 1 to 2 minutes. Add in the dried red chili and sauté for another minute.
Pour in the vegetable stock (and/or water) and chopped tomatoes and simmer for 15 minutes.
Throw in the tortellini and cook until tender, which takes between 6 and 8 minutes.
Stir in the kale leaves and cook until wilted (and the ribs are tender), which will take about 3 to 4 minutes.
0