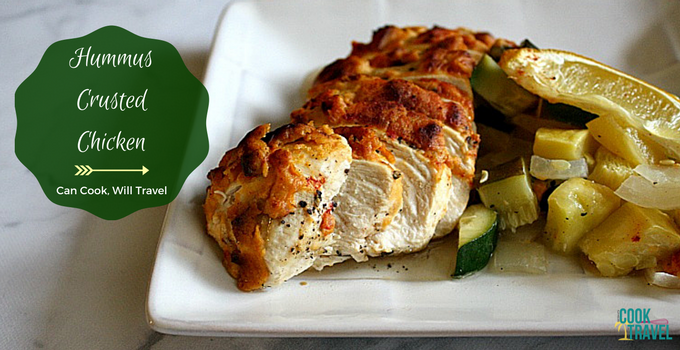 (This Hummus Crusted Chicken recipe can be found on the site Gimme Some Oven here.)
Step by Step Instructions:

Not only is this Hummus Crusted Chicken dish super easy, but it doesn't require many ingredients. Here's what you'll need, and this healthy dish will be on the table in no time: Salt & Pepper, Olive Oil, 1 Medium Onion Diced, Chopped Yellow Squash and Zucchini (all I could find were small squashes so I used 2 smaller ones for each type of veggie), Smoked Paprika, 2 Lemons, Hummus (as you can see I opted for a roasted red pepper hummus), and Chicken Breasts (I went for a smaller package of chicken).

Begin by preheating your oven to 450 degrees, because no one wants to wait on the oven. I used a medium-sized baking dish, because I was halving the recipe, and spray with cooking spray.

Then season both sides of the chicken with salt and pepper.

In a large bowl add the onions and squash, 1 tablespoon of olive oil, and salt and pepper and then combine the mixture until the veggies are nicely coated.

Then layer the veggies in the baking dish in a single layer, and place the chicken breasts over the top of them.

I stirred up my hummus to combine everything, and truth be told, I could have just made a meal of the hummus!

Then you coat each chicken breast with the hummus, and make sure that the chicken is completely covered. Because I only used 2 chicken breasts I only used 1/2 cup of hummus instead of a full cup for 4 breasts. It was also at this point that I used my juicer and juiced one lemon over the top of the chicken and veggies.

Sprinkle the smoked paprika over the top of the chicken and vegetables, and then cut the second lemon into small slices (I went with wedges) and place them around the dish. Then bake the chicken for 25-30 minutes. I cooked mine for about 35 minutes, because I am always nervous my chicken won't be fully cooked.

After 35 minutes, the chicken is removed from the oven (albeit slightly blurry), but you get the idea. 😉

And here is the Hummus Crusted Chicken served up and ready to enjoy. Eat this dish while it's still warm, but allow the chicken to rest for about 5 minutes before slicing into it. You will not believe how deliciously juicy and tangy (in a really good way!) this chicken and the veggies are! So delightful! Happy baking my friends!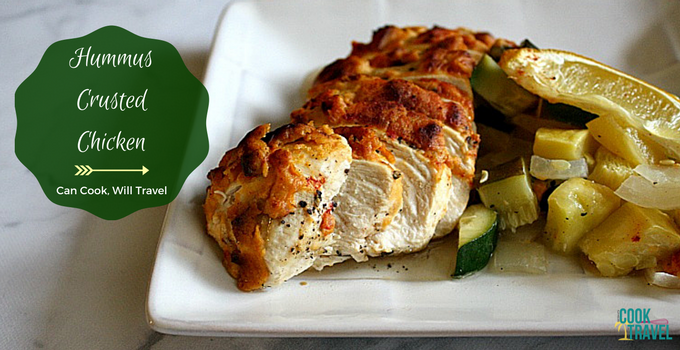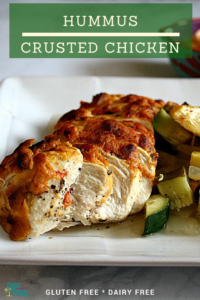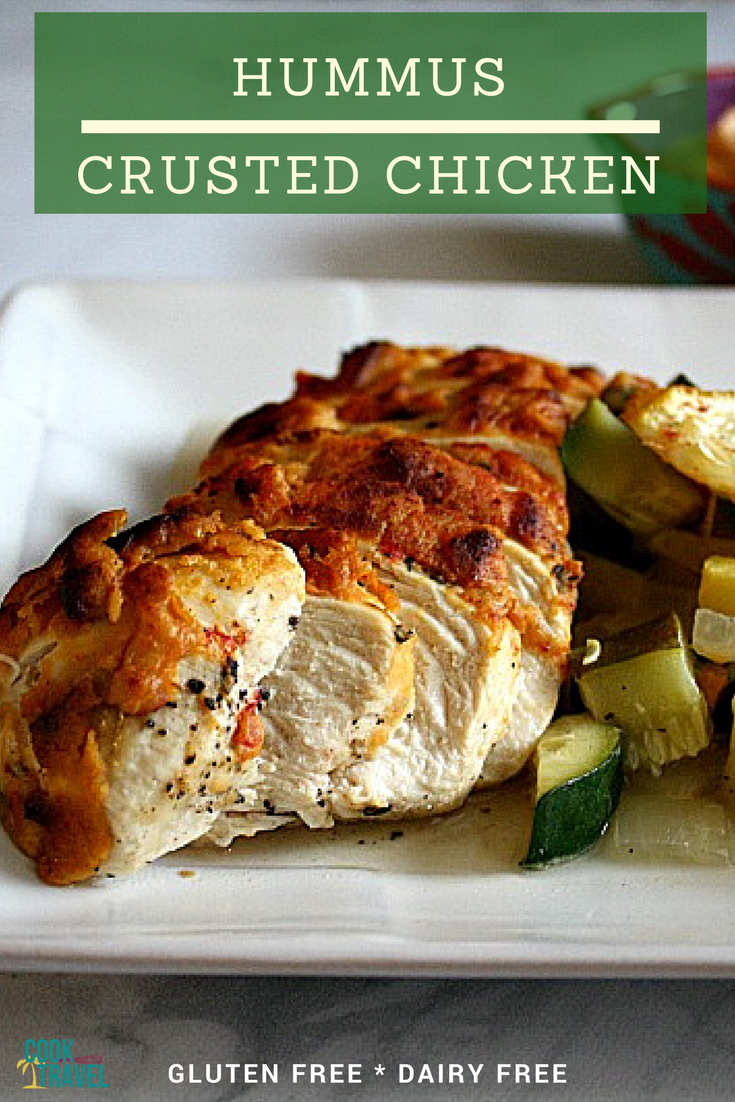 Print
Hummus Crusted Chicken
Yield 4 people
This low carb, gluten free, and dairy free dish is simple and oh so good!
Ingredients
4 boneless, skinless Chicken Breasts
Salt and Pepper, to taste
Zucchini, chopped (medium or large sized)
Yellow Squash, chopped (medium or large sized)
Yellow Onion, diced (medium)
1 cup Hummus, homemade or store-bought (I like roasted red pepper hummus in this recipe)
1 tbsp. Olive Oil
2 Lemons
1 tsp. Smoked Paprika
Instructions
Preheat your oven to 450 degrees. Spray one large baking dish (or smaller dish if halving the recipe as I did).
Season both sides of the chicken breasts really well with salt and freshly ground black pepper.
Add the zucchini, yellow squash, and onions to a large bowl and toss with the olive oil and a nice pinch of salt and pepper.
Layer the vegetables in the bottom of the baking dish in a single layer.
Place the seasoned chicken on top of the vegetables. Then spoon the hummus over the top of each chicken breast and spread it so that it completely coats the outside of each piece of chicken.
Sprinkle smoked paprika over the top of the chicken. Then bake for 25-35 minutes or until the chicken is fully cooked. I usually bake mine for 35 minutes and it comes out so juicy and perfectly cooked through.
Once the chicken is cooked, let it sit for 5 minutes on a cutting board before slicing, and enjoy right away!
Courses Dinner
Nutrition Facts
Serving Size 1 chicken breast & 1/4 of vegetables
Amount Per Serving

Calories 208

% Daily Value

Total Fat 14 g

22%

Saturated Fat 3 g

15%

Cholesterol 11 mg

4%

Sodium 557 mg

23%

Total Carbohydrates 11 g

4%

Dietary Fiber 5 g

20%

Sugars 1 g

Protein 9 g

18%
* Percent Daily Values are based on a 2,000 calorie diet. Your daily values may be higher or lower depending on your calorie needs.

1