(If you love this Homemade Cranberry Orange Sauce, then you'll have to check out all of these delicious cranberry recipes.)
Step by Step Instructions:

Homemade Cranberry Orange Sauce doesn't involve many ingredients, so grab 12 ounces of cranberries (fresh), coconut sugar, 1 orange, allspice, and cinnamon.

Weigh out 12 ounces of cranberries, and note I did a little more to factor in any bad berries.

Wash the berries well and then use your hands to feel for any soft cranberries and toss those.

Wash your orange and then zest the entire orange.

Squeeze enough orange juice to get about 1/4 cup, which with a large orange ended up being about half.

Then add enough water to fill the measuring cup to the 1 cup line.

In a large bowl add the liquid and a cup of coconut sugar, and then stir.

Now it's time to cook the Homemade Cranberry Orange Sauce! Bring the water and sugar to a boil, but be sure you stir a couple of times.

Then add the rinsed berries plus 1 teaspoon of cinnamon and 1/2 teaspoon of allspice. Stir and let it cook for about 10 minutes.

You notice how much it bubbles up, so make sure to stir regularly until the sauce is thick and reduces.

The Homemade Cranberry Orange Sauce is done when you can scrape it from the bottom and it doesn't immediately fill back in.

Remove the pan from the heat and then add about a teaspoon of zest and stir it in.

Transfer the Homemade Cranberry Orange Sauce to a glass bowl so it can go in the fridge.

Use plastic wrap to cover the sauce and make sure it touches the top of the sauce so it doesn't form a skin. Then cool completely, and this Homemade Cranberry Orange Sauce is great to make in advance the day ahead. Happy holidays!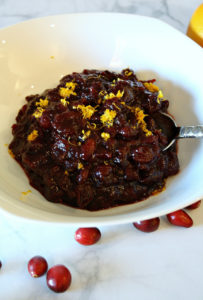 Print
Orange Cranberry Sauce
Yield 6 servings
Cranberry sauce is a holiday favorite, and this one with a citrus twist and deeper sweetness thanks to coconut sugar make it a great holiday dish!
Ingredients
Cranberry Sauce Ingredients:
12 oz. Cranberries, fresh & rinsed
Juice of Half Orange + Zest of Orange
Plus enough Water to make 1 cup
1 cup Coconut Sugar
1 t. Cinnamon
1/2 t. Allspice
Instructions
Begin by juicing enough of an orange to get about 1/4 cup of water and then fill up the rest of the measuring cup with water until you have 1 cup of liquid total.

 

Add the liquid and 1 cup of coconut sugar to a pan and bring it to a boil. Then add the cranberries, cinnamon and allspice and cook for 10 minutes or until the sauce is thick.

 

Remove from the heat and stir in about 1 teaspoon of orange zest and then transfer the sauce to a glass dish. Then cover with saran wrap so the wrap touches the top of the sauce so it doesn't form a skin.

 

Chill completely and the enjoy, so feel free to make this a day in advance! Top with extra orange zest and then dig in!
Notes
Quick Tip: You can use regular sugar instead of coconut sugar, but I used the latter to avoid refined sugar and it's lower on the glycemic index.
Courses Side Dish
Cuisine Holiday
Nutrition Facts
Serving Size 1/2 cup
Amount Per Serving

Calories 152

% Daily Value

Sodium 1 mg

0%

Total Carbohydrates 40 g

13%

Dietary Fiber 3 g

12%

Sugars 35 g
* Percent Daily Values are based on a 2,000 calorie diet. Your daily values may be higher or lower depending on your calorie needs.
0