(This Shrimp Rice Noodle Pasta Salad in inspired by this recipe on the Honest blog, so check that out here.)
Step by Step Instructions:

Shrimp Rice Noodle Pasta Salad is the perfect light meal, so here's what you'll need: Red Pepper Flakes, Salt & Pepper, Extra-Virgin Olive Oil, Sesame Oil, Low-Sodium Tamari, 1 pound Raw Large Shrimp (thawed), Rice Noodles, Honey, Purple Cabbage, Kale (Lacinto/Dinosaur variety), Fresh Ginger, 2 Green Onions, 3 Garlic Cloves, 1 Red Pepper, 2-4 Limes (depending on how much juice you can get), Fresh Basil, Fresh Cilantro, and then not pictured are Papaya and Pineapple (sorry I forgot!).

Begin by placing 8 ounces of rice noodles in a large dish and then cover them with cold water. Let the noodles soak for 30 minutes, so they can get tender.

Now start the marinade for the Shrimp Rice Noodle Pasta Salad by mincing 2 cloves of garlic and adding it to a bowl. Then mince one clove and set it aside for the dressing.

Now you'll want to just guess here, and peel what you think will give you 4 teaspoons of fresh ginger. These two ginger nubs ended up being the right amount, so peel with a knife or spoon.

Now mince half the ginger until you have 2 teaspoons and add it to the bowl with 2 tablespoons of ginger. Then mince the remaining ginger and reserve that 2 teaspoons for the dressing (with the extra clove of garlic you minced).

Now juice enough limes to add a tablespoon to the marinade bowl plus 1/4 cup of juice that you'll reserve for the dressing. I'm all about being efficient, in case you can't tell, so get all your chopping done right away.

Then add the remaining marinade ingredients including 2 T. tamari, 1 T. honey, 1 T. EVOO, and 1/4 teaspoon of red pepper flakes for a little heat.

Whisk away the marinade until it's well combined, and then pour it over the shrimp.

Toss the shrimp with the marinade until it's well coated, and then let it sit for 15 minutes.

Now move onto prepping the veggies by thinly slicing the purple cabbage until you have about a cup. Be sure you remove the outer leaves of the cabbage, because those leaves are often bruised and dirty.

I saved time by using pre-cut and washed kale, so I grabbed a nice handful and removed the tough stems from the leaves.

Now thinly slice the red pepper by cutting off the ends as I did here.

Here's a fresh papaya, and I ended up using about 1/4 of it in the salad.

Now carefully slice the papaya lengthwise to reveal this gorgeous orange fruit.

Use a large spoon to scoop out the seeds and discard, and then peel the papaya. I only peeled half of the fruit, and will use the rest of it for smoothies or DIY beauty recipes. It's great for your skin, so pick one up if you see one sometime!

You can play with the sizes and shapes of the papaya. I did some thin slices for garnish, and then diced it up for bite-sized pieces for the salad.

For a little natural sweetness, I thawed 1/2 cup of frozen pineapple for 60 seconds in the microwave.

Whisk together the dressing, so that includes the 1/4 cup of lime juice, garlic, and ginger that you reserved. Along with 2 T. tamari, 1 T. honey, 1/4 teaspoon of sesame oil, 2 T. EVOO, and salt and pepper to taste. Taste the dressing and add more honey or tamari or whatever you think it needs.

Bring a large pot of water to a boil, so you can cook the noodles.

While the water comes to a boil, put the kale and cabbage in a large bowl. Then add 1-2 T. of the dressing and use your hands to massage in the dressing to help tenderize the veggies a little.

Then cook the noodles for 1-2 minutes (I did 2) until they're tender like your favorite pasta.

Immediately drain the noodles and then rinse with cold water so they stop cooking.

Let's move onto the shrimp for the Shrimp Rice Noodle Pasta Salad, so heat a large skillet over medium heat. Then add a little olive oil and lay the shrimp in a single layer to cook for 3 minutes.

Then flip the shrimp and cook another 2-3 minutes, and then transfer them to a plate so they stop cooking.

Now add the noodles and peppers to the bowl with the veggies, and use tongs to toss everything together.

Now add the fresh herbs (a nice handful of basil and cilantro) plus the green ends of 2 green onions. Then pour a little dressing (1-2 T.) over the top and toss really well so everything is well coated.

At the end, add the fruit to the salad and toss it gently, so the fruit isn't too bruised. Then serve immediately by topping each serving with 4-6 shrimp along with papaya and fresh herbs to garnish, and then enjoy your Shrimp Rice Noodle Pasta Salad!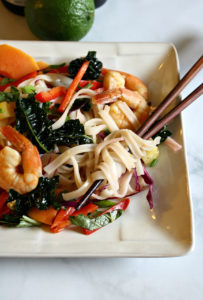 Print
Shrimp Rice Noodle Pasta Salad
Yield 6 servings
Get ready for a healthy and light pasta salad that's also gluten free to have you eating well all week long!
Ingredients
Dressing:
1/4 cup Lime Juice
2 tablespoon Tamari
1 tablespoon Honey
2 teaspoon Ginger, minced
1/4 teaspoon Sesame Oil
2 tablespoon Extra-Virgin Olive Oil
Salt and Pepper, to taste
Shrimp & Marinade:
1 lb. Raw, Large Shrimp (peeled and de-veined)
2 tablespoon Tamari, low sodium
1 tablespoon Honey
1 tablespoon Extra-Virgin Olive Oil
2 cloves Garlic, minced
1 tablespoon Lime Juice
2 teaspoon Fresh Ginger, minced
1/4 teaspoon Crushed Red Pepper Flakes
Salad Ingredients:
8 oz. Rice Noodles
1/4 of Large Papaya, diced (peeled & seeds removed)
1/2 cup Pineapple (I used frozen pineapple I thawed)
1 Red Bell Pepper, thinly sliced
1 cup Dinosaur (Lacinto) Kale, chopped
1 cup Purple Cabbage, chopped
2 Green Onions, chopped
Handful of Cilantro, chopped
2 T. Fresh Basil, chopped
Instructions
Noodles: Begin by soaking the rice noodles in a dish covered in cold water for 30 minutes. Then cook for 1-2 minutes or until it's your desired consistency. Immediately drain and then rinse with cold water.

 

Shrimp: While the noodles soak, whisk together the marinade ingredients, and then toss the shrimp in the marinade. Let the shrimp sit for at least 15 minutes. Then heat a large skillet over medium heat with a little olive oil. Add the shrimp and cook for 3 minutes, then flip and cook another 2-3 minutes.

 

Salad Dressing: Whisk all of the ingredients together and set aside.

 

Finish: In a large bowl massage the kale and cabbage with a little salad dressing for about 60 seconds. Then add the noodles and red pepper and toss. Finally add the pineapple, papaya, green onions, cilantro, basil, and 1/2 the dressing to the bowl and toss together. I kept the shrimp separate to add to each individual serving, so take up the salad, top with shrimp and a few more fresh herbs and enjoy!
Notes
Quick Tip #1: You can make the dressing in advance, so you save some time.
Quick Tip #2: For leftovers, keep the shrimp, dressing, and salad separate, because then you can reheat the shrimp separately and have control over how much dressing you have on the salad.
Courses Main Meal
Cuisine Asian
Nutrition Facts
Serving Size 1/6 of salad
Amount Per Serving

Calories 356

% Daily Value

Total Fat 9 g

14%

Saturated Fat 1 g

5%

Unsaturated Fat 6 g

Cholesterol 120 mg

40%

Sodium 681 mg

28%

Total Carbohydrates 48 g

16%

Dietary Fiber 2 g

8%

Sugars 12 g

Protein 19 g

38%
* Percent Daily Values are based on a 2,000 calorie diet. Your daily values may be higher or lower depending on your calorie needs.
0