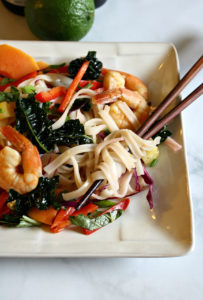 Shrimp Rice Noodle Pasta Salad
Yield 6 servings
Get ready for a healthy and light pasta salad that's also gluten free to have you eating well all week long!
Ingredients
Dressing:
1/4 cup Lime Juice
2 tablespoon Tamari
1 tablespoon Honey
2 teaspoon Ginger, minced
1/4 teaspoon Sesame Oil
2 tablespoon Extra-Virgin Olive Oil
Salt and Pepper, to taste
Shrimp & Marinade:
1 lb. Raw, Large Shrimp (peeled and de-veined)
2 tablespoon Tamari, low sodium
1 tablespoon Honey
1 tablespoon Extra-Virgin Olive Oil
2 cloves Garlic, minced
1 tablespoon Lime Juice
2 teaspoon Fresh Ginger, minced
1/4 teaspoon Crushed Red Pepper Flakes
Salad Ingredients:
8 oz. Rice Noodles
1/4 of Large Papaya, diced (peeled & seeds removed)
1/2 cup Pineapple (I used frozen pineapple I thawed)
1 Red Bell Pepper, thinly sliced
1 cup Dinosaur (Lacinto) Kale, chopped
1 cup Purple Cabbage, chopped
2 Green Onions, chopped
Handful of Cilantro, chopped
2 T. Fresh Basil, chopped
Instructions
Noodles: Begin by soaking the rice noodles in a dish covered in cold water for 30 minutes. Then cook for 1-2 minutes or until it's your desired consistency. Immediately drain and then rinse with cold water.

 

Shrimp: While the noodles soak, whisk together the marinade ingredients, and then toss the shrimp in the marinade. Let the shrimp sit for at least 15 minutes. Then heat a large skillet over medium heat with a little olive oil. Add the shrimp and cook for 3 minutes, then flip and cook another 2-3 minutes.

 

Salad Dressing: Whisk all of the ingredients together and set aside.

 

Finish: In a large bowl massage the kale and cabbage with a little salad dressing for about 60 seconds. Then add the noodles and red pepper and toss. Finally add the pineapple, papaya, green onions, cilantro, basil, and 1/2 the dressing to the bowl and toss together. I kept the shrimp separate to add to each individual serving, so take up the salad, top with shrimp and a few more fresh herbs and enjoy!
Notes
Quick Tip #1: You can make the dressing in advance, so you save some time.
Quick Tip #2: For leftovers, keep the shrimp, dressing, and salad separate, because then you can reheat the shrimp separately and have control over how much dressing you have on the salad.
Courses Main Meal
Cuisine Asian
Amount Per Serving

Calories 356

% Daily Value

Total Fat 9 g

14%

Saturated Fat 1 g

5%

Unsaturated Fat 6 g

Cholesterol 120 mg

40%

Sodium 681 mg

28%

Total Carbohydrates 48 g

16%

Dietary Fiber 2 g

8%

Sugars 12 g

Protein 19 g

38%
Recipe by Can Cook, Will Travel at https://cancookwilltravel.com/healthy-shrimp-rice-noodle-pasta-salad/