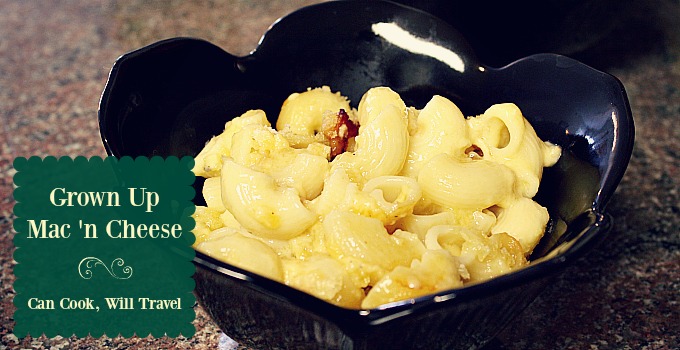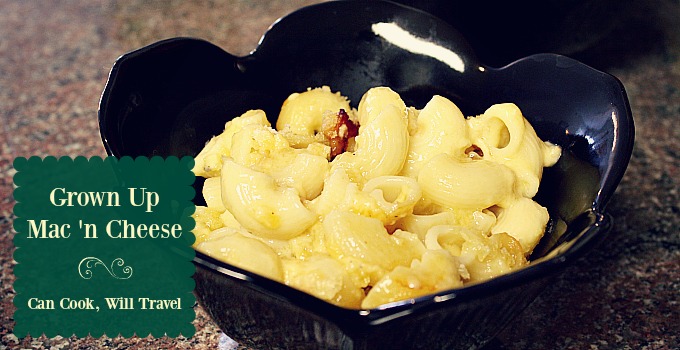 (Grown up Macaroni and Cheese recipe can be found on the Food Network's site here.)
Step by Step Instructions:


I made this delightfully, decadent Grown up Macaroni and Cheese dish. Here's what you'll need: Flour, Butter, Thick Cut Bacon, Panko Bread Crumbs, Large Elbow Macaroni, Salt and Pepper, Milk, Sharp Cheddar Cheese, Blue Cheese Crumbles, Gruyere Cheese, Nutmeg, and Canola Oil.

I started off by preheating my oven to 400 degrees. While the oven preheated, I got a lined baking sheet and placed a metal rack on it. Then I placed 4 oz of thick cut bacon on the rack.

I baked the bacon for about 15 to 20 minutes, or until crispy. It took me about 20 minutes. I placed the bacon on a plate with paper towels to let them cool.

Once the bacon was done, I cooked the macaroni per the box's instructions. I cooked it in salted water with a drizzle of canola oil just before adding the uncooked pasta to the boiling water.

Meanwhile, I began my cheese sauce. Note that I doubled the sauce ingredients, so that I could have a fair amount of leftovers. Thus, in a small saucepan, I heated 3 cups of milk until it was hot, but NOT boiling!

I then melted 4 tablespoons of butter in a medium saucepan.

Once the butter was melted, I added 4 tablespoons of flour and cooked it for about 2 minutes. This is known as the roux for a classic béchamel sauce.

After 2 minutes, I slowly whisked in the hot milk to my roux and stirred pretty constantly…

…until the sauce was smooth and thickened.

At this point, I removed the sauce from the heat and added the cheese. (This is where the 'grown up' part of Grown up Macaroni and Cheese comes in.) Since I was doubling my sauce, I doubled my cheeses and added: 6 ounces of shredded sharp cheddar cheese, 4 ounces of blue cheese crumbles, and 4 ounces of grated gruyere cheese.

To the cheese sauce I added 2 teaspoons of salt, about 1/2 teaspoon of pepper, and a pinch of freshly grated nutmeg.

Once the cheese sauce is well-combined, I crumbled up the bacon slices into small pieces. Then I added the bacon and cooked pasta to the cheese sauce.

When the ingredients were mixed together, I poured it into a casserole dish that had been coated with cooking spray. At this point, I put the dish in the refrigerator overnight, so that I could just throw it in the oven the next day. Whenever you're ready to bake it, proceed.

Ina suggests pulsing 2 crustless slices of white bread and some fresh basil leaves in a food processor as the crust. I had neither on hand, so I simply sprinkled some Panko bread crumbs over the top of my mac 'n cheese, and it worked perfectly to add a nice, crunchy crust.

In a 400 degree oven, I placed the casserole dish on a sheet tray with edges and baked for 35 minutes or until the topping was brown and the sauce was bubbling.

I served up this Grown up Macaroni and Cheese right away and thoroughly enjoyed it. It was an absolute winner, and I can't wait to make this one again! Please make this straight away and enjoy!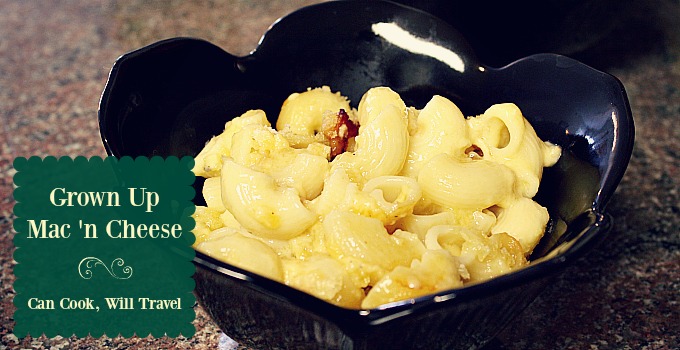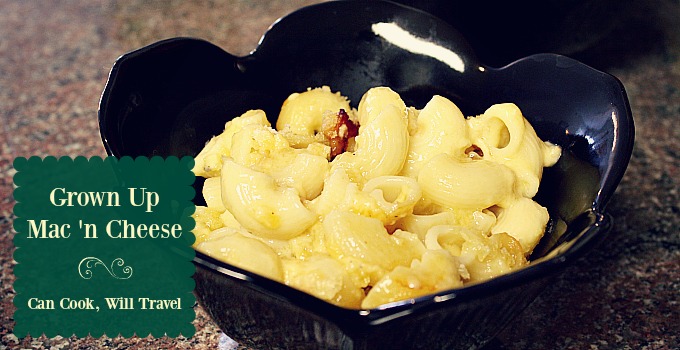 Grown up Macaroni and Cheese
This macaroni and cheese is for those of us who love all cheeses and want to elevate our mac 'n cheese a bit.
Ingredients
4 ounces thick-sliced bacon
Vegetable oil
Kosher salt
2 cups elbow macaroni or cavatappi
1½ cups milk
2 tablespoons unsalted butter
2 tablespoons all-purpose flour
4 ounces Gruyere cheese, grated
3 ounces extra-sharp Cheddar, grated
2 ounces blue cheese, such as Roquefort, crumbled
¼ teaspoon freshly ground black pepper
Pinch nutmeg
2 slices white sandwich bread, crusts removed
2 tablespoons freshly chopped basil leaves
Preparation Instructions
Preheat the oven to 400 degrees F.
Place a baking rack on a sheet pan and arrange the bacon in 1 layer on the baking rack. Bake for 15 to 20 minutes, until the bacon is crisp. Remove the pan carefully from the oven - there will be hot grease in the pan! Transfer the bacon to a plate lined with paper towels and crumble when it is cool enough to handle.
Drizzle oil into a large pot of boiling salted water. Add the macaroni and cook according to the directions on the package, 6 to 8 minutes. Drain well.
Meanwhile, heat the milk in a small saucepan, but don't boil it. Melt the butter in a medium pot and add the flour. Cook over low heat for 2 minutes, stirring with a whisk. While whisking, add the hot milk and cook for a minute or 2 more, until thickened and smooth. Off the heat, add the Gruyere, Cheddar, blue cheese, 1 teaspoon salt, pepper, and nutmeg. Add the cooked macaroni and crumbled bacon and stir well. Pour into 2 individual size gratin dishes.
Place the bread slices in a food processor fitted with a steel blade and pulse until you have coarse crumbs. Add the basil and pulse to combine. Sprinkle the bread crumb mixture over the top of the pasta. Bake for 35 to 40 minutes, or until the sauce is bubbly and the macaroni is browned on the top.
0